Celebrate National Sandwich Day with these Uniquely Michigan Eats
November 3, 2017
Today is National Sandwich Day. If you're in Michigan, you can celebrate by chowing down on one of these regional favorites.
Coney Island Hot Dog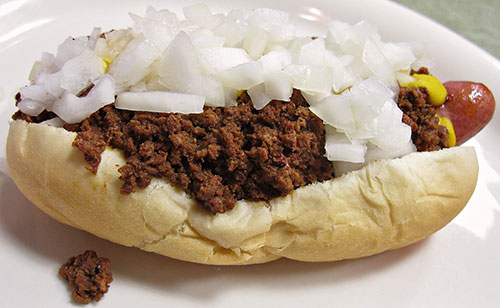 Is a hot dog a sandwich? Well, it fits the definition of meat or another filling between two pieces of bread. So, yes, for our purposes, it is a sandwich. And we love our Coney Island Hot Dogs here in the Mitten State.
First, let's get one thing straight. Coney Dogs have nothing at all to do with Coney Island in New York. They were invented in Michigan. There are theories, but no one really knows why they share their name with an East Coast amusement park.
Most people say the first Coney Dog was served in Detroit, but a few folks say Jackson was the rightful birthplace. Wherever it came from, the Coney Dog is firmly entrenched in Michigan culture today. A true Coney Dog features a hot dog smothered with chili or "Coney Sauce", topped off with onions and mustard. You'll find Coney Island eateries all over the state. Lafayette Coney Island in Detroit, one of the locations that claims to have invented the culinary delight, is probably the most well-known.
Cudighi Sandwich, Ralph's Italian Deli
You'll need to make a pilgrimage to Michigan's remote western Upper Peninsula to get your hands on a Cudighi Sandwich. Cudighi is a spicy Italian sausage that's flavored with a special blend of cinnamon and clove. It's so unique, you're unlikely to find it anywhere outside of the U.P. They don't even make it in Italy anymore.
Yoopers like to put the unusual sausage on pizza, but to really get a taste of local flavor you need to bite into a Cudighi Sandwich from Ralph's Italian Deli in Ishpeming. First, you choose mild, medium or hot sausage. Locals recommend the hot. Then Ralph's grills it up, slaps it on a homemade roll with melted mozzarella, ketchup, mustard, onion and pizza sauce, if you order the works. If that sounds like too many toppings, you can go with just the mozzarella and the pizza sauce and still have an authentic experience.
 The Pasty
OK, the hot dog was a bit of stretch. And calling the pasty a sandwich is really taking liberties, but they're just so good and so uniquely Michigan, we couldn't leave them out. They do feature a meat filling, as well as a carbohydrate and gluten laden pastry shell, and you eat them with your hands. So they're sandwich-ish. Let's just go with it, OK?
Technically, a pasty is a hand pie. They were first brought over to the Upper Peninsula by Cornish miners back in the 19th century. Traditionally, a pasty is filled with beef, onion and potato, sometimes rutabaga and carrots too. There's a small controversy among Yoopers about what a purist puts in their pasties. We're not going to delve into that cultural white whale here. Another hot-button issue to avoid, if you're a troll visiting the other side of the bridge, is whether or not you should eat your pasty with ketchup or gravy on the side. It's a feverish, ongoing debate in the Yooper community.
What you should definitely do when you're in the U.P. is bite into a pasty. Warm and robust, just out of the oven, they're the ultimate comfort food on a snowy Michigan winter night. You'll find pasty shops all over the Upper Peninsula, and there are a few in the Lower Peninsula. Lehto's in St. Ignace, just across the Mackinac Bridge, is a favorite of Yoopers and summer tourists alike.