Celebrate Spring in Michigan at These Events and Festivals
March 19, 2015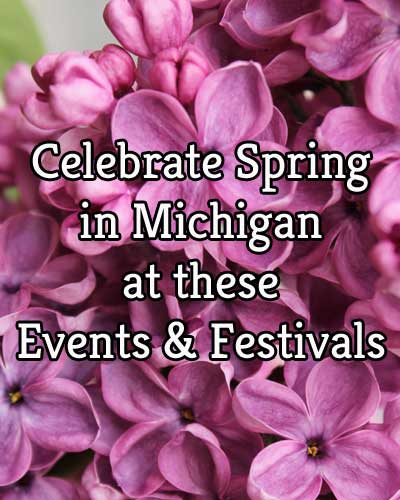 About two weeks ago the temperatures rose above freezing for the first time in months. The snow that buried us since January began to slowly melt. Kids played in their backyards. Moms stored away boots and snow pants. People put on shorts. If it's above 40 degrees in March, its common to see Michiganders wearing shorts and sandals with winter coats. We just can't wait for warmer weather. Spring is very anticipated, and when it arrives we celebrate. These are just some of the events around the state that offer opportunities to enjoy the best of the season.
Butterflies are Blooming, Fred Meijer Gardens and Sculpture Park, Grand Rapids, now until April 30th – The Meijer Gardens' indoor Tropical Conservatory transforms into a magical butterfly garden every spring. You'll see tropical butterflies of all kinds up close, among the flowers and greenery. If you stand very still, one may even land on you.
Detroit Tigers Opening Day, April 6th – They may call them the boys of summer, but nothing says spring like the start of baseball. This year the Tigers kick off their season at Comerica Park with a home opener against the Minnesota Twins. Folks from Minnesota probably appreciate spring just as much as Michiganders.
Vermontville Maple Syrup Festival, April 24-26 – Vermontville is home to the oldest and largest Maple Syrup festival in Michigan. At the festival you can indulge in pancakes soaked in the delicious, golden syrup. You'll even find maple syrup cotton candy! A midway, talent show, arts & crafts fair and petting zoo and more provide entertainment for festival goers.
Blossomtime Festival, St. Joseph, April 26-May 2 – Blossomtime celebrates Michigan's agricultural industry, especially the many fruit growers in the Mitten State. The Grand Floral Parade is one of the highlights of the event featuring over 120 entries including marching bands, floats and a motorcycle drill team. The Blessing of the Blooms is also a main event. The nondenominational ceremony is the official kickoff of the festival.
Tulip Time, Holland Michigan, May 2-9 – A celebration of the tulip flower and Dutch heritage, Tulip Time is an internationally famous festival people travel to from all over the world. Tulips of every color and variety line streets in Holland, turning the small city into a flower garden. Dutch dancers in traditional costume, including wooden shoes, perform in the streets. You can sample Dutch cuisine, take in a concert and even buy your own pair of wooden shoes to take home.
Flower Day, Detroit Eastern Market, May 17th –  Hundreds of flower growers from Michigan, around the the U.S. and Canada offer quality annuals, perennials, foliage, shrubbery, trees, exotics, tropical plants, flats, hanging baskets and more for purchase. The colorful sale covers over 15-acres and is attended by more than 200,000 visitors.
Petoskey Stone Festival, Eastport, May 23 – This festival in Antrim county celebrates Michigan's favorite stone, the Petoskey Stone. Almost everyone who's ever visited a beach at the top of Michigan's lower peninsula has spent some time hunting these unique stones. Many people find a few to bring home as souvenirs. The festival features a kids' stone skipping contest and a Petoskey Stone hunt that offers prizes.
Lilac Festival, Mackinac Island, June 5-14 – In the month of June Mackinac Island is dotted with lilac bushes in full bloom. So many cover the island that their sweet scent follows you wherever you go. Festivities include an all horse drawn parade through downtown, an elegant afternoon tea at the Grand Hotel, walking tours and a 10K run.
Wine and Food Festival, Leland, June 13th – This festival takes place in Leland on the beautiful Leelanau Peninsula on Lake Michigan. The event celebrates the local wineries and specialty gourmet foods the area is known for. Sample wines and foods while listening to listening to live music. You can also explore the Manitou Islands, the beach and Fishtown, a historic fishing village in the heart of Leland.