Cream-Cheese Frosting Grandma Style
September 9, 2015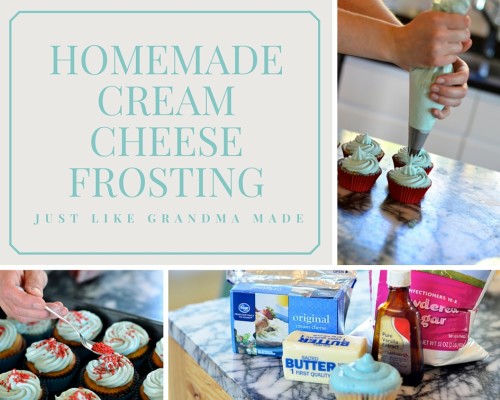 Delectable treats make any occasion you are celebrating very special.
Putting the time in to ensure the person you are throwing the party for has something sweet they will enjoy lets them know you really care.  Ordering a cake or making it yourself has the same impact – everyone loves to be remembered.  That is the most important thing.
This year my mom offered to make cupcakes for my son Carl's 4th birthday party.  What kind of cake does Carl love?  Well, funfetti of course!
So my mom whipped up 2 boxes of funfetti and we decided to use a homemade cream-cheese frosting to make it extra yummy.  Honestly, friends I think a boxed cake mix is a great way to go if you are doing it yourself.  I have a most fantastic baker that I love to use, Amber, owner of Top Tier Cakes and she does the most amazing works of art with cakes.  But, if you are DIYing it don't stress about a cake mix – it's ok to make it easy on yourself, planning the party is busy enough.
I really loved my mom's idea to use the funfetti mix and make a homemade icing for a bold taste.  Cream-cheese or buttercream are my favorite frostings and I was thrilled she choose one that is not so over the top sweet.  This is a great frosting to use for any cake and is very traditional on a carrot cake as well, which I love too.
Cream-Cheese Frosting Grandma Style Recipe
– 8 Ounces Cream-Cheese
– 3 Cups Confectioners Sugar
– 6 tablespoons sweet butter
– 1 teaspoon vanilla or almond
– Food Coloring optional
Instructions:
Soften cream-cheese and butter to room temperature then blend together with the beaters.  Then add the confectioners sugars and beat until mixed well – add the flavoring and food coloring last.
After you pipe or spread the frosting onto your dessert, cover and place in the fridge to firm it up.
A good frosting is a nice and easy way to make a dessert memorable.
Taking time to remember your loved ones and dear friends – is something that really matters.  It is very important to stop and take time to celebrate milestones.  And, families be sure to remember your mama's too – they always throw the parties and fuss over every detail so be sure to celebrate them.
Until Next Time,
Alex Shorter
West Coast Shorter Wife