Downtown Petoskey Holiday Open House
December 1, 2014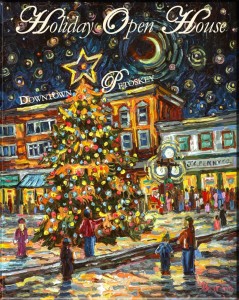 I love the Christmas Season. It is absolutely my favorite time of year. We finally have snow on the ground, the air is crisp and cold and Christmas is only weeks away but years, according to the kids. I haven't decorated yet but I'm close and I'm hoping to get our tree up this evening or tomorrow and let the kids help decorate this year. They are finally at the age where they love the holidays as much as me and want to do everything to help out when it comes to setting up the tree, decorating it and making Christmas cookies.
We kicked off the holiday season by visiting Santa this past Saturday at the Perry hotel after watching Petoskey's downtown holiday parade and lunch at the Noggin room. It was perfect and the kids had a great time waiting in line to visit Santa and then sitting on his lap telling them their Christmas wish lists.
I'm looking forward to this weekend also, as Petoskey's annual downtown open house is Friday December 5th, 6-9pm. The open house has always the first Friday evening in December here in Petoskey as long as I can remember and it's a fabulous tradition that brings the community together for a fun filled evening that includes lighting the huge Christmas tree in Pennsylvania Park, visits with Santa in the park gazebo, carolers, a huge bonfire with marshmallows to roast on Lake Street and bean pots with hot delicious soup donated by local groups. The Petoskey High School Steel Drum Band (my favorite as well as the kids favorite, they are honestly worth the trip up north alone!) will also be on hand playing popular Christmas music you an sing along with and the kids can have fun running around and dancing.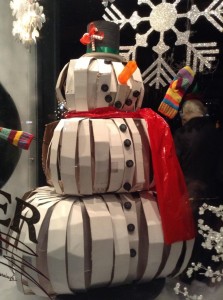 Almost all the downtown business's participate in the tradition with snacks, beverages and even some in-store specials. If you're in the area Friday evening or making a weekend trip up north make sure you stop by Grandpa Shorter's for a special offer perfect for holiday shopping and check out their unique Northern Michigan gifts, Petoskey Stone Jewelry and fun lake products. While you are shopping, make sure you also save time and your sanity by taking advantage of Grandpa Shorter's free gift wrapping service. Their fabulous staff will be on hand to help you pick out that special Christmas gift for your someone special and give you some ideas on what to by if you're not sure.
Come out and enjoy the evening with friends and family this weekend!
For more information on the Holiday Open House please visit the Petoskey Downtown site.