Downtown Petoskey Ladies Opening Night
October 22, 2018
With November only being less than a few weeks away opening day of deer season is on the horizon. My husband is an active outdoorsman and also hosts hunters safety classes in the City of Petoskey. Soon, him and many other husbands will be venturing off for a week or weekend at the infamous deer camp leaving their wives and significant others at home. Some wives relish this time of year and it's the perfect time to get away with girlfriends, even if that means enjoying a short staycation close to home here in downtown Petoskey.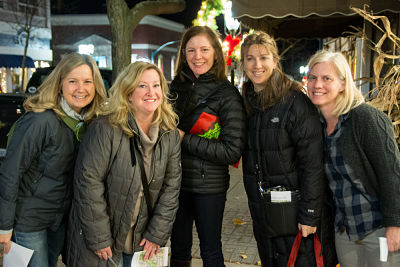 (photo courtesy of Petoskey Downtown) 
With the holidays only being several weeks away from November 15th, Ladies Opening Night is the perfect time to start your holiday shopping. We at Grandpa Shorter's love shopping local and keeping the economy going here in Petoskey. With so many unique shops and restaurants to choose from it's easy to find something for everyone on your holiday shopping list.
Opening Day of deer season is Thursday November 15th and Friday November 16th marks Downtown Petoskey's annual Ladies Opening Night. From 5-9pm, participating downtown shops will offer in-store specials as well as beverages and snacks. take your time perusing the downtown shops while creating your holiday wishlist and picking up a few gifts here and there for loved ones.  At 8:30 head over to Staffords Perry Hotel for Doe camp. Show your wishlist and participating store receipts for entry in the Ladies Opening Night buck pole happening at 9:30pm.
Remember to stop into Grandpa Shorter's, The Katydid and J.W. Shorter & Son Mercantile for some great specials plus FREE holiday gift wrapping by friendly staff members. Save time AND sanity this busy holiday season by shopping local!
American Spoon
Bearcub Outfitters
Beards Brewery
Basket Shop
B.Jeweled
Chatham House Interior Design
Cheekade Meekade
Ciao Bella! Home and Gifts
Craig Ryan
Cutler's Kitchen & Gifts
Dunworkin
Emma.
Fustini's
Grandpa Shorter's Gifts
Glass Lakes Photography
Haystacks
Items
J.W. Shorter & Son Mercantile
J. Phillips
The Katydid
Lake Affect
McLean & Eakin Booksellers
Meyer Ace Hardware
Mettler's American Mercantile
Northgoods
Northern Michigan Artists Market
Petoskey Cheese
Petoskey Pretzel
Petoskey Print Studio
Petoskey Farms Vineyard and Winery
Robert Frost Fine Footwear
Rocking Horse Toy Co.
Ruff Life Pet Outfitters
Stafford's Gallery
Somebody's Gallery
Sunglass Shoppe
Stillwillow
Threads
V2V
Have you participated in previous Ladies Opening Night events?