Fat Biking in Petoskey
January 6, 2023
The slang is just plain fun: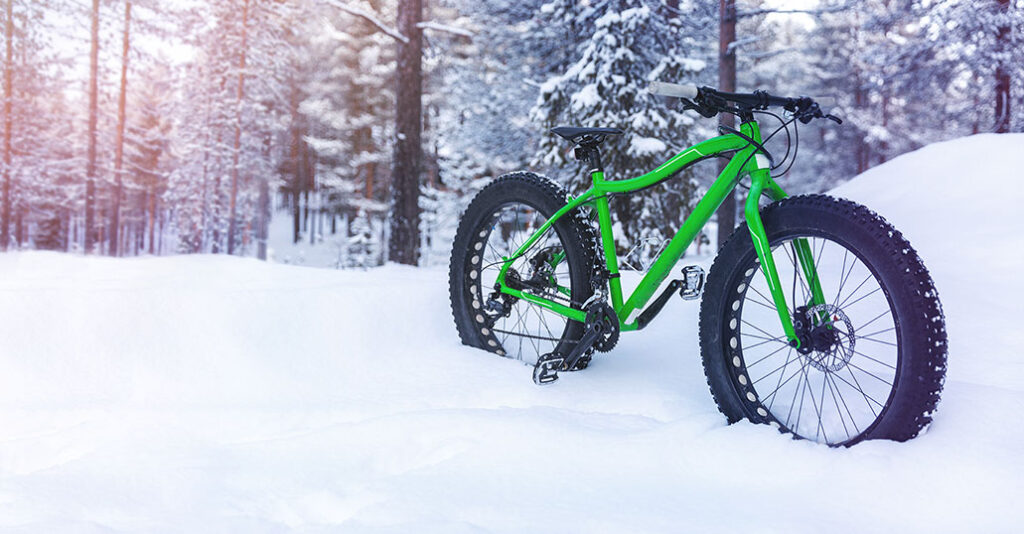 Do you have a fatty?
It's fatty weather!
Let's rent some fatties!
Fat bikes are all the rage and for good reason. These bikes are outfitted with wide tires and knobby tread that roll through everything – mud, sand and snow. And with winter upon us, it's their time to shine. If you love summer biking, it's time to try snow biking in Petoskey on a fat bike!
Fatty Tips
This is a different kind of ride. There's not much "coast" on these beasts of the Northern Michigan Woods, so be ready to break a sweat and go slow and steady, admiring the gorgeous scenery all around. You'll be inching along on some stretches and bumping along with joy on others.
And because they are extremely stable, they make for perfect family outings – for elementary-age kids and up, everyone can putz around on groomed trails.
If you've never gone, consider renting and getting advice from the pros at the shop for a more enjoyable outing. You'll need to pay attention to conditions: You can't ride mushy trails and leave a deep tread. This ruins groomed trails that refreeze after you've left your mark, making grooves that groomers can't easily fix.
On the flip side, a deep, fresh snowfall can make trails hard to ride, as you'll have trouble not sliding side to side in the deep white stuff. A great ride means hitting the conditions at the right time – after groomed trails are set up and the temp is below 30. And always remember, ice is still ice, and even a fat bike can't conquer that! (Unless you add studs to your tires – which is next-level fatty.)
We know, that's a lot of rules. Which is why it's best to put yourselves in the hands of the experts at area bike shops. (Here's a great article with more tips as well: https://www.singletracks.com/mtb-trails/fat-bike-etiquette-10-dos-donts-riding-snow/)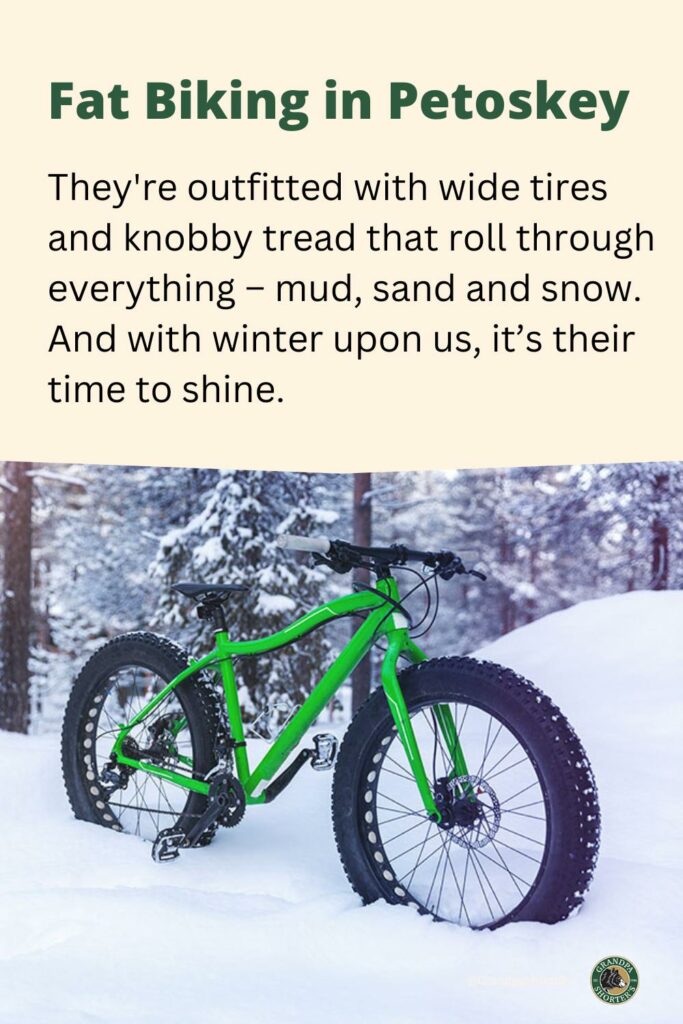 All in all, fatties are a must-try for exploring Petoskey's gorgeous wilderness. You get the serenity of the woods, the beauty of snow on the trees (Hallmark movie, anyone?) and the thrill of riding a new trail.
Fat Bike Trails
Overall: For bike trail maps in Michigan, visit michigantrailmaps.com and mitrails.org. Visit https://www.tommba.org/page-18538 for Petoskey and Harbor Springs trails.
And below are several places to try fat biking:
Avalanche Mountain Preserve: There are groomed trails for fat tire biking at this 300-plus-acre park. North Country Cycle Sport has bikes to rent nearby.
Boyne Forest Trail: There are three fat bike loops and nearly 15 miles of trails. (Note: The parking lot address for winter is 1500 Erickson Road, Boyne City, MI.) North Country Cycle Sport has bikes to rent nearby.
Boyne Mountain: This is a great spot for newbies! They offer 5 kilometers of trails and rentals – and get this – ELECTRIC fat bikes. May we suggest those for a day of pure fun and no sweating – ha!
The Highlands: Ride the loop at The Highlands at Harbor Springs and enjoy the beauty that surrounds the resort.
Little Traverse Conservancy Nature Preserves: The Offield Family Viewlands and Tanton Family Working Forest Reserve (formerly known as Christmas Mountain) are perfect spots for fat-tire biking.
Fat Bike Rentals
Latitude 45 Bicycles and Fitness: They sell and rent fatties – be sure to call ahead to set up your party plan.
North Country Cycle Sport: They offer fat bike rentals and are just a few miles from Avalanche Preserve and Boyne Forest Trail. NCCS is also a good place to check for trail updates and grooming reports.
Now, go call up a buddy and have fun with the fatty lingo while enjoying Petoskey in a whole new way!