Grinch Hot Cocoa Recipe
December 17, 2018
Christmas Eve is only a week away. Are you ready for Christmas break? My kids are super excited and even though I'm nervous to have them home for several days, I secretly cannot wait. My husband and I finished up Christmas shopping earlier today for the kids. I grabbed some fun stocking stuffers from Grandpa Shorter's Gifts and because my oldest is growing out of toys he will love the Mclean & Eakin bookstore and Petoskey Pretzel gift cards we got him!
My family is on the go a lot, but when we get do get a chance to sit down together we love watching movies, especially during the holidays. Last night we watched The Christmas Chronicles on Netflix. Have you seen it yet? It's really cute and perfect for a family holiday movie night!
This evening we're going to watch the holiday classic, The Grinch. Even though my kids are getting older they still really enjoy this movie and so do I! What is a better way to enjoy the movie than with some homemade stovetop popcorn and some Grinch Hot Cocoa!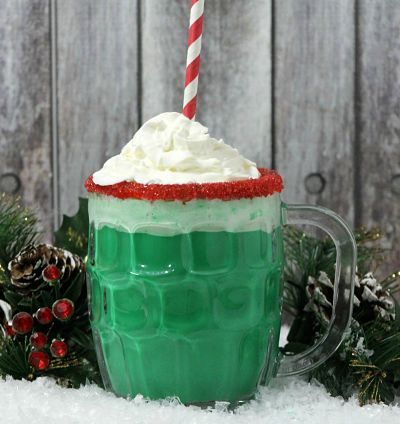 While you're doing some online shopping, sip some delicious Grinch Hot Cocoa, which pairs well with our Homemade Chocolate Chip Cookies, Easy Christmas Kiss Cookies or our Michigan Sugar Cookies!
Grinch Hot Cocoa Recipe
Ingredients:
4 cups of milk of your choice
2 tsp. vanilla extract
8 oz. mint chocolate chips
2 drops of Green food coloring
whipped cream
Instructions:
Dip the glass in water then in red sprinkles
Stir together milk, vanilla, food coloring, and mint chocolate in a medium saucepan.
Cook over medium-low heat, stirring often, until the white hot chocolate comes to a simmer and melts.
Do not let it boil.
Remove from heat and serve immediately, topped with whipped cream.