Haunted Attractions Make Michigan the Halloween Capital of the World
October 20, 2017
Did you know Michigan may be the unofficial Halloween Capital of the World?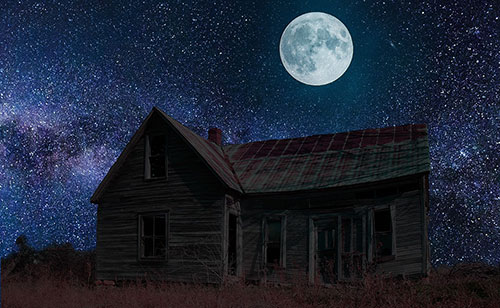 Last year, Ed Terebus, one of the owners of Erebus Haunted Attraction in Pontiac, told the Detroit Metro Times he came to that conclusion after doing some research. He discovered Michigan has more haunted attractions than any other state. He says since no one challenged his claim, he believes his numbers are right. So Michigan earns the title of Halloween Capital of the World.
If you want a good old-fashioned scare to celebrate Halloween, apparently Michigan is the place to be. There are around 100 haunted attractions in the Mitten State, with new ones added every year. (Terebus said compare that to some southern states where he couldn't find even one haunted house.)  We were able to find them in every region of Michigan, except for the Upper Peninsula. Here are six of the best from all over the state.
1. Screams in the Dark Haunted Attractions, Traverse City
Get ready for a terrifying experience when you visit Screams In The Dark at the Northwestern Michigan Fairgrounds. They have something for everyone, from a milder Hayride and Haunted Trail to the bone chilling chaos of Pandemonium, complete with creepy clowns. They're scaring folks on Fridays and Saturdays  from 7 p.m. to 11 p.m. and Sundays from 7 p.m. 10 p.m., now through Oct. 29. Admission is $5 for the trail and hayride for everyone and $10 for all attractions for children 11 and under, $15 for ages 12 and up.
2. The Nightmare at Challenge Mountain, Boyne Falls
This interactive theater haunted house at Challenge Mountain in Boyne Falls tells the story of an old wizard who lives in a castle with a menagerie of creepy creatures and characters. They have separate shows for children and adults, so everyone can enjoy a good age appropriate scare. You can also tailgate or grab a hot dog or S'more at the Dead Branch Saloon. They even have babysitters on-site to watch the little ones while adults visit the most frightening haunts. They're open every Friday and Saturday in October from 7 p.m. to 10 p.m. Admission is $10 for adults, $5 per child or $10 for three children. All proceeds go to support Challenge Mountain's programs that teach adaptive recreation to the physically impaired.
3. Exit 13 Haunted House, Mt. Morris
Exit 13 says they transport you to a creepy world full of terrifying horrors with there own original characters and story lines. You won't find any tired old Jasons or Freddys here. They open at 8 p.m. Sunday and Thursday, and 7 p.m. on Friday and Saturday. They're closed Monday through Wednesday, except they are open on October 30th and 31st. Halloween is their last day. Get there early, because people start lining up about 45 minutes prior to opening. General Admission is $20 per person.
4. Erebus, Pontiac
From 2005 to 2009, Erebus held the Guinness Book World Record for Largest Walk-through Haunted Attraction. The walk is over a half-mile long today. This four-story haunted house tells the tale of a mad scientist who uses the building for his evil experiments. The owners build 95 percent of their own props, which means you won't see anything at Erebus someplace else. They also use state-of-the-art Hollywood special effects to curdle your blood. They claim over 7,000 people have been too scared to complete the tour. Hours are Monday through Thursday, 7:30 p.m. to 10:30 p.m., Friday and Saturday, 6 p.m. to 1 a.m. and Sunday 6 p.m. to 11 p.m. They're open through the first weekend in November. Admission varies from $19 to $28 per person, depending on the day.
5. Niles Scream Park, Niles
Niles Scream Park has 44 acres of terror with five different attractions. It's considered one of the top haunted parks in the country. Along with a traditional haunted house, it is also has a Field of Screams, complete with a Zombie Alley, a haunted hayride and something they call Hooded, an attraction that you tour blindfolded! They're open 7 p.m. to 11p.m. on Friday and Saturday, and 7 p.m. to 10 p.m. on Sunday and Halloween. They are open through the first weekend in November. Prices start at $8 for individual attractions. A $35 combo pass for all attractions is available on Saturdays in October.
6. Moonlight Manor Haunted House, Wyoming
You'll twist and turn your way through this haunted house as you're pursued by a cast of scary characters. Moonlight Manor is an interactive, outdoor haunted house. Participants take a self-guided tour of a complex series of winding pathways where terror waits around every corner. They say they're sure to give you living nightmares! This haunt is open one night only, on Halloween, from 7 p.m. to 10 p.m. Admission is by donation.
*We recommend checking each attraction's website or calling ahead to ensure that dates and prices haven't changed.