Holiday Cooking – with Michigan Chefs!
November 14, 2022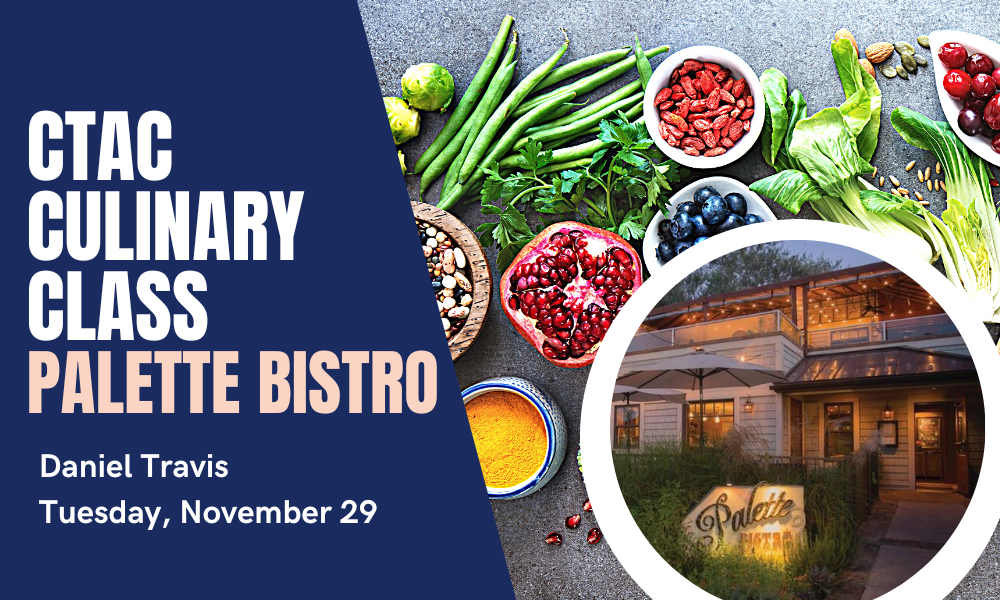 What a wonderful time of year – pots simmering, roasts roasting and families gathering. And the perfect time to learn something new to bring to your family's holiday meals! Here's a look at what's "cooking" in Petoskey, from in-person to virtual cooking classes to recipes and dip mixes to take to the holiday get togethers (and make you extremely popular!)…
In-Person Cooking Classes in Petoskey
Crooked Tree Arts Center (CTAC) offers cooking classes all year long, but come this time of year, the place heats up. A class might be the perfect gift for your Petoskey-based foodie (after they hosted you for a week this summer) or a perfect excuse to get a few friends together and spend a Tuesday night making a warm meal together.
CTAC has two upcoming classes this season: Nov. 29 with Chef Daniel Travis of Palette Bistro (on Bay Street in Petoskey); and Dec. 13 with Chef Kulin Froelich of NoMi Kitchen (a personal chef service). There are several other classes but are selling out as we speak, so be sure to register early.
Both classes are on a Tuesday, from 6-8 p.m., and the chef will demonstrate how to prepare the meal, with recipes provided for you to take home and recreate. Bonus – red and white wines are provided. Reservations can be made here and includes meal and wine. The cost is $55 for CTAC members and $65 for non-members.
Virtual Cooking Classes based in Petoskey
Fustini's Oils and Vinegars is a true foodie's delight – with olive oils and vinegars imported from artisans and small-batch growers all over the world. Combine that with their 2,000-plus recipes (and recipe videos) online, and the combinations are endless!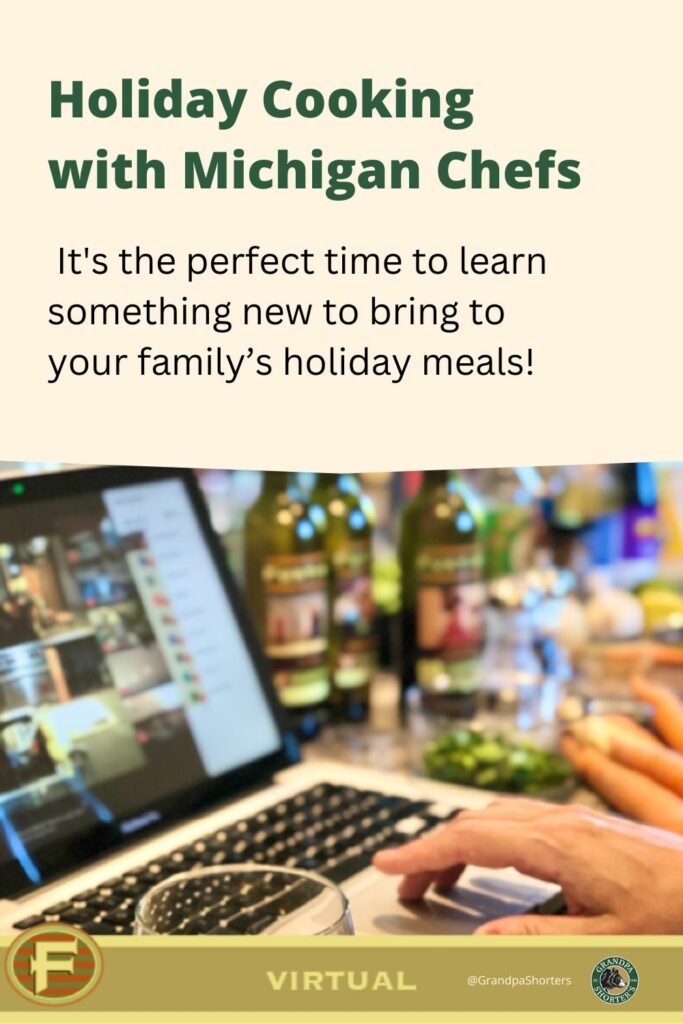 Fustini's offers virtual cooking classes, so anyone can bring a taste of Michigan into their kitchens!
On Friday, Nov. 18, they are offering a "Fall Flavors" Virtual Cooking Class from 6-7:30 p.m. with Chef Laura Rainey. (Read a "get to know the chef" feature here on Laura.) The autumn-inspired menu will be: braised chicken with sage and apple, brown butter mashed potatoes, green beans with lemon thyme dressing, and apple cake with cinnamon icing. Fustini's even reached out to Good Harbor Vineyard to suggest a wine pairing for this class menu, and they suggested Good Harbor Harbor Red. (They've thought of everything!)
Ten days before the class, attendees will get an email that includes recipes, ingredients list, Fustini's product list (sage & wild mushroom olive oil, champagne vinegar, Michigan apple balsamic), equipment needed, pre-class suggestions, and a discount code to purchase Fustini's supplies in store or over the phone. The cost for this virtual class is $39 per household.
The next day, Saturday, Nov. 19, catch Fustini's "Steak Night" Virtual Cooking Class from 6-7:30 p.m. with Chef Laura as well. This class demos New York steaks with chive butter and merlot sauce, swiss chard au gratin and wine macerated berries with cherry whip cream. Good Harbor Vineyard suggests pairing this meal with Good Harbor 2020 Pinot Noir Zweigelt.
Fustini's cooking classes change with the seasons, so watch for more wintery offerings ahead!
Food goodies to find online
Grandpa Shorter's Gifts also offers a great assortment of take-home, Michigan-made dips and spreads.
Check out our Michigan Dip Lovers Box, which includes Michigan-made mixes for: Sweet Onion and Bacon dip, Farmhouse Ranch dip, Bacon and Cheddar Cheese Spread dip, Cheesy Veggie dip and more!
A favorite in the collection is our Mom's Apple Pie Dip Mix. Just add the mix to 8 oz. of softened cream cheese, 1 cup sour cream, and 1/4 cup hot water for a delicious, sweet dip. This pairs perfectly with fruits, graham crackers, cookies and other goodies. (Consider this an easy, no-fail way to bring a Michigan-made dish to pass at a holiday party that will be a total hit!)
As the nights get cooler and the white stuff starts falling, happy cooking!