Homemade Blueberry Cobbler
July 10, 2017
With summer being in full swing, it's also berry season and what is more delicious than cobbler? Farm fresh strawberries have pretty well come and gone in our area and now we are onto fresh blueberries! The closest blueberry farm for fresh berries and u-pick is the Up North Blueberry Farm in Gaylord. Up North's farm fresh blueberries will hit the local farm markets this week July 12th and their u-pick will soon follow. I grew up on a berry farm and u-pick is great if you prefer picking your own berries and my kids love u-picking! If you prefer to purchase already picked berries, check our local Petoskey Farmer's Market on Friday's or Harbor Springs on Wednesday and Saturday.
Fresh blueberries are my favorite fruit! We grew strawberries and raspberries on our farm but I always loved picking wild blueberries in the woods with my grandmother. We would head over toward Onaway on M-68 and my grandmother always knew where the best hidden two tracks were. They were filled with delicious plump, ripe blueberries! I always tried hard to not eat them all before putting them in my bucket.
Once you have your fresh blueberries, you'll need a few recipes: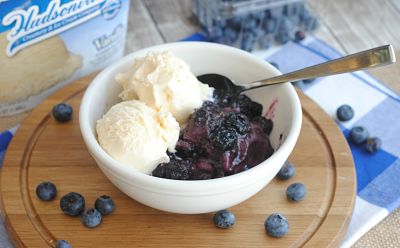 Blueberry Cobbler Ingredients:
6 tbsp. butter, melted
1 C. flour
1 C. sugar
1 C. milk
2 tsp. baking powder
1/2 tsp. cinnamon
4 C. fresh blueberries
Directions:
Preheat the oven to 350 degrees.
Pour the melted butter in an 8×8 or 9×9 baking dish.
Combine the sugar, flour, milk and cinnamon.
Pour the batter into the baking dish over the melted butter.
Sprinkle the fresh blueberries on top.
Bake for 1 hour.
Remove from oven, let cool and serve as is or with ice cream.