Hot Cocoa Cupcakes Recipe
December 27, 2017
If you're looking for a delicious way to use those candy canes after Christmas, try these Hot Cocoa Cupcakes. These are great for holiday parties…even the adults will rave about these cupcakes.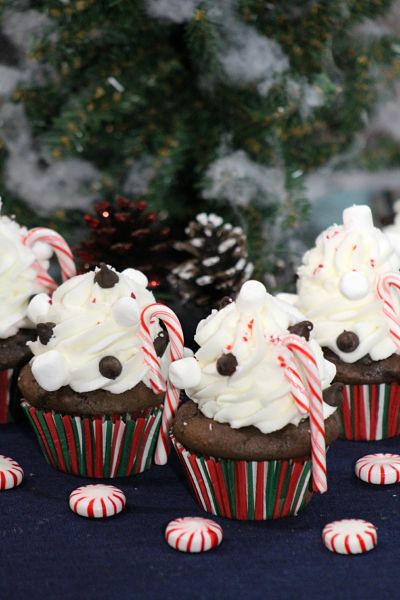 Cupcake Ingredients:
1 C all-purpose flour
1 tsp cinnamon
3/4 tsp baking soda
1/2 tsp salt
1/2 C hot water
1/2 C cocoa powder
6 TBSP butter, room temp
3/4 C sugar
1 large egg
1/4 C vegetable oil
1 tsp vanilla extract
Frosting Ingredients:
2 C powdered sugar
1/2 C unsalted butter, room temp
3 TBSP whipping cream
1/2 tsp peppermint extract
1 bag mini marshmallows
1 C mini chocolate chips
1 C crushed peppermint candy
1 bag small candy canes
Cupcake Directions:
Preheat oven to 350 degrees. Line a cupcake tin with cupcake paper liners.
Whisk flour, cinnamon, baking soda, salt in s medium bowl. Set aside.
Whisk hot water and cocoa powder in a small bowl. Set aside.
Using a stand mixer, cream together butter and sugar until light and fluffy.
Mix the egg, vegetable oil, and vanilla until well combined.
Add in the flour mixture, alternate with hot cocoa mix until there are no lumps.
Using a large ice cream scoop the batter into the lined cupcake tins until they are 3/4's filled.
Bake at 350 degrees for 20-25 minutes or until an inserted toothpick comes out clean.
Remove from oven allowing cupcakes to cool in cupcake pan for 10 minutes.
Take out of cupcake pan and place individual cupcakes on a wire rack to cool completely.
Frosting Directions:
Cream the butter, peppermint extract and powder sugar until it looks light and creamy.
If it doesn't cream add several drops of the heavy whipping cream until it creams.
Test to see if the frosting can form and hold a stiff peak by taking a spoonful of frosting and turning the spoon upside down. If the frosting stays on the spoon it is ready if not then..
Add more powder sugar 1/2 C at a time. Mix well.
If ready scoop the frosting into a pastry bag with a round tip.
Twist the open end of the pastry bag to push the frosting to the tip.
Start by frosting on the outside edge of the cupcake working to the center of the cupcake.
Push mini marshmallows onto the frosting.
Add mini chocolate chips into the frosting.
Sprinkle the crushed peppermint on top of the frosted cupcake.
Add a small candy cane onto the side of cupcake with the top of the candy cane sticking into the frosting.