How to Talk like You're From Michigan
September 18, 2015
Like anywhere else, Michigan has its own set of colloquialisms. If you want to understand the Michigan vernacular, start with this list of vocabulary words. Don't worry, there won't be a test!
The Mitten – A nickname for Michigan, because the lower peninsula is shaped like a mitten.
Michigander – Someone from Michigan.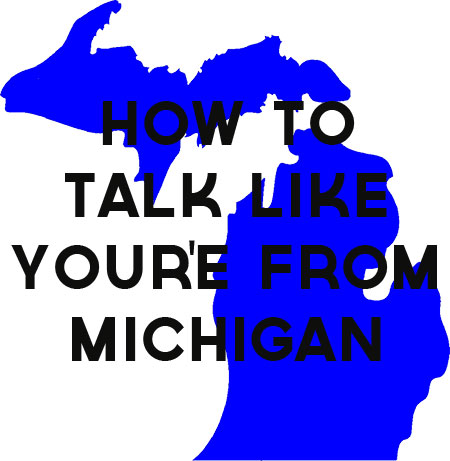 The Bridge – There are a lot of bridges in Michigan, but when we say, "The Bridge," we always mean the Mackinac Bridge that links the Upper and Lower Peninsulas.
U.P. – Short for Upper Peninsula.
Yooper – Yoopers are residents of the U.P.
Troll – Trolls are what Yoopers call the people who live in the Lower Peninsula, below the Mackinac Bridge.
Up North – Where you go on vacation to get away from the cities in southern Michigan. Really it could be anywhere north of where you live, but most Michiganders agree that Up North begins around Cadillac. More than a place, it's also a state of mind. Think quiet, unspoiled wilderness, clean rivers, wildlife, uncrowded beaches and charming beach towns where life moves at a slower pace.
Pop – We drink pop, not soda. Soda is something you use to bake.
Michigan Left Turn – At many intersections you can't make a regular left turn. You must proceed through the intersection, use a special lane to make a U-turn onto the opposite lane of traffic, return to the intersection and turn right.
Fudgies – Fudgies are tourists who visit Mackinac Island and Northern Michigan. Local fudge shops are a big draw for visitors.
You Guys – You Guys is our version of Y'all.
The Big Lake – The Big Lake is whichever Great Lake is closest to you. We have a lot of small inland lakes as well, over 60,000. So when we say, "The Big Lake," you know we're not headed to the neighborhood lake down the road.
Party Store – If you go to a party store in Michigan to buy a pinata for your kid's birthday party, you'll be disappointed. That's what we call our liquor stores here. But you probably will find a great selection of locally made craft beer, which you should definitely try.
The Soo – No, we didn't just sneeze. When Michiganders say, "The Soo," they're talking about the locks in the St. Mary's river in Sault Ste. Marie. (Sault is pronounced like Soo.) The locks allow boats to travel between Lake Superior and the lower Great Lakes.
The Thumb – The eastern part of Michigan, above Detroit on the Lake Huron side, is called the thumb. When you look at a map, it's the part of Michigan that makes the thumb of the mitten.
Pasty – No, it's not what you look like the first time you hit the beach after a long Michigan winter. A pasty (p-ah-st-ie) is a hand pie filled with meat and root vegetables. It's a staple in Michigan's Upper Peninsula.
Coney Island – To most people Coney Island is an entertainment district on a beach in New York. In Michigan, it's a hot dog topped with chili, onion and mustard.