Irish Soda Bread Recipe
February 26, 2015
My great-grandmother was Irish, and I'm fortunate enough to have a few of her favorite recipes that were handed down. One that I like to make often is her Irish soda bread. It will make a great addition to your St. Patrick's Day meal this year.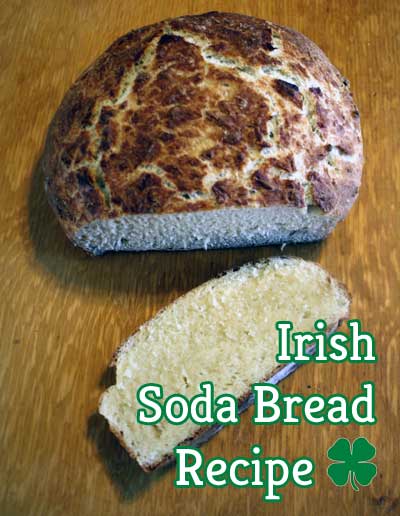 One of the original rustic artisan breads, Irish soda bread comes together quickly, requires no raising and just a little kneading. It's perfect if you don't have a lot of time, but want a fresh, hot loaf of bread to serve with dinner. Crusty on the outside, moist and chewy on the inside, this hardy bread goes great with a stew or that famous Irish dish, corned beef and cabbage.
To make the bread, you just need four simple ingredients: flour, baking soda, salt and buttermilk.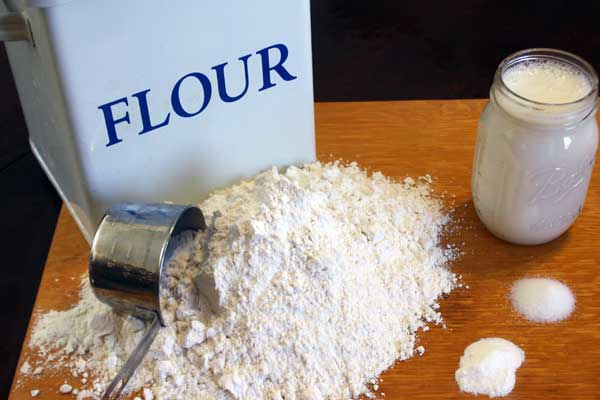 It's important to use buttermilk, because you need the acid in it to help this yeast-free bread rise. If you don't have buttermilk on hand, you can make your own by placing a tablespoon of vinegar in a measuring cup then filling it with enough milk to make one cup. Stir and let it sit for 10 minutes before using.
You can also add mix-ins to the dough. Caraway seeds and raisins are traditional, but some people also use sunflower seeds or dried cranberries.
Mix all the ingredients together in a bowl. It makes a soft, sticky dough that's easy to stir by hand. No electric mixer needed! Turn the dough out onto a lightly floured surface and knead gently, just enough to make sure all the flour is incorporated. You don't want to overwork the dough. It will cause the bread to not rise in the oven.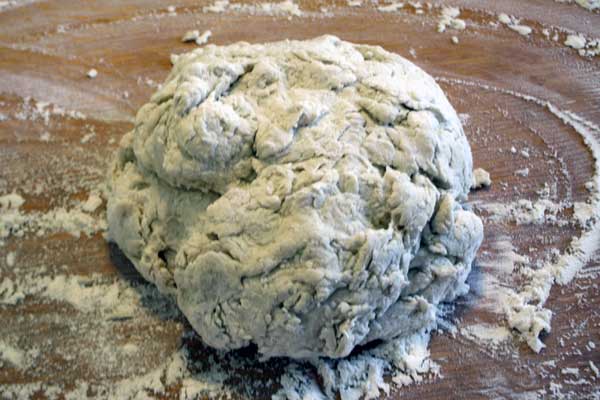 Place the dough in a round cake pan. Traditionally you use a knife to slash an X in the top of the dough before baking, but my great-grandmother's recipe leaves this step out.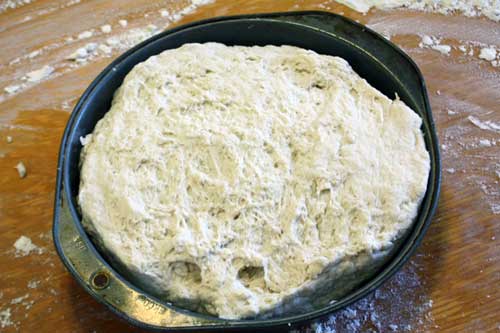 Cover the bread with another cake pan and bake.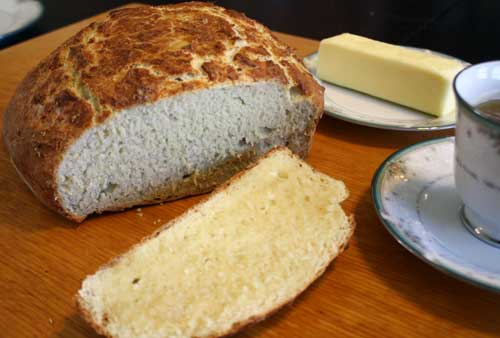 I think this bread it best served warm, spread with butter. Let it cool about 10 minutes, then slice and serve!
Irish Soda Bread Recipe
Author:
Ingredients
Four cups all-purpose flour
1 teaspoon baking soda
1 teaspoon salt
1 3/4 cups buttermilk
Instructions
Pre-heat over to 425 degrees.
In a large bowl, stir together all the ingredients.
Turn dough out on a lightly floured surface and knead gently, just until all the flour is incorporated.
Shape into a round and pat into a round cake pan.
(Optional, using a knife, slash an X into the top of the dough.)
Cover with another cake pan.
Bake for 30 minutes.
Uncover and bake an additional 15 minutes.
Let cool 10 minutes before slicing.
3.2.2929