National love a tree day
April 29, 2019
All around us now, sunshine and rain are greening up our lawns and our woods, making this a great time to appreciate all the natural beauty of the area.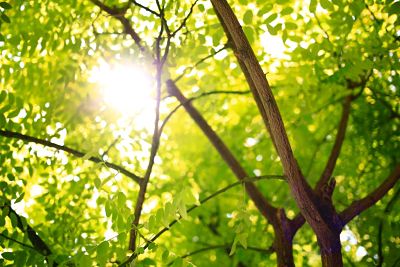 Another a perfect way to appreciate all that beauty is to celebrate National Love a Tree day, which comes around May 16, smack in the middle of Garden for Wildlife Month. Celebrating trees is a great way to show your acknowledge how trees—and other plants of many sizes and colors—positively impact our daily lives.
Trees, whether evergreens or deciduous, are a surefire way to draw in wildlife, from birds to deer and more.
Arbor Day on April 26 is of course about planting trees. But National Love a Tree Day is about this and much more.
According to the World Wildlife Fund, there are several great ways to celebrate National Love a Tree Day.
These several ways include a simple hug. The stereotype of the tree hugger suggests someone who prefers trees or nature over other human activity, so the NWF suggests timing your hug to ensure neighbors will see and wonder if you have finally cracked up. For a more dramatic response, invite them to join you the next time.
A less dramatic, but no less useful idea is giving your trees a long, cool drink. Trees need regular watering, even between rains, and NWF recommends slowing down while watering to ensure soaking the roots, where trees most need moisture.
Another solid way to show support for your woody neighbors on National Love a Tree Day is offering support to Archangel Ancient Tree Archive, a Copemish, Michigan-based environmental organization.
Archangel's mission includes propagating the world's most important old trees, reforesting the landscape with the offspring of these ancient trees, and archiving the genetics of ancient trees in what they call "living libraries" for future planting.
From their Manistee County facility, the group strives to ensure the well-being and continued good health of ancient trees. For example, as part of their propagation program, Archangel staff successfully collected genetic samples from Lady Liberty, a 2,500 year old bald cypress tree in Florida. After Lady's cousin The Senator burned down in 2012, the work took on new urgency.
In addition, as part of their education initiatives, the group provides a K-12/Adult program of hands-on activities emphasizing tree identification, tree climbing and field work, as well as permaculture design, among other curricula.
For more information about Archangel non-profit efforts, visit their website at www.ancienttreearchive.org
Of course, the most lasting way to celebrate National Love a Tree Day is to plant a tree. Or three. Whether a spruce or an birch, fruit tree or arborvitae, the visible evidence of your dedication to trees will be clear not only on May 20, but long after.