Northern Michigan Area Thrift Stores
August 13, 2018
I love shopping at our local thrift stores. Thrifting as I like to refer to it. Ever since I was a kid, I've loved a good deal. I grew up on a farm and we didn't have a lot of money. My dad was big into buying everything used. He worked a lot in the Detroit area during the farming off-season and I remember shopping at Value Village with him. He was always on the hunt for a good deal and it was just fun to look at everything!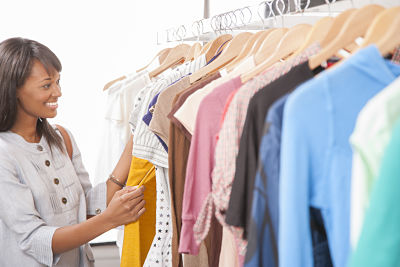 Now that I'm an adult, I still love to thrift more than ever! It's my 'me' time. I enjoy going alone while the kids are at camp during the summer months or in school during the winter months. When I am by myself, I can take my time and really hunt for bargains. If you love saving money or just finding a bargain in general, thrift store shopping can be a great way to do both!
Today on the blog I'm sharing several of our local Petoskey area thrift stores and some tips for finding a bargain!
Northern Michigan Area Thrift Stores:

Goodwill, 1600 Anderson Rd, Petoskey: I love Goodwill. I know some don't care for it, but politics aside, you can score some awesome deals here! If you donate your gently used items, make sure to request a 10% off coupon good for your next in-store purchase. Also make sure you check the weekly 1/2 off color while you are browsing!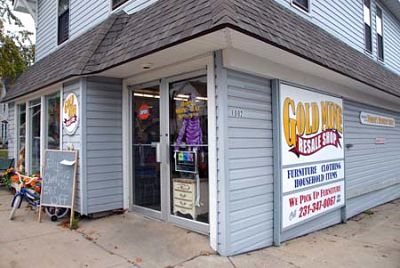 (Photo Courtesy of Women's Resource Center of Northern Michigan)
Goldmine Resale Shops, 1878 US-31 North, Petoskey and 1002 Emmet Street, Petoskey: Both locations accept donations of gently used clothing and household items and 100% of proceeds go toward the Women's Resource Center of Northern Michigan. Both Goldmine locations are very clean with friendly staff and a nice selection of clothes and household goods. Both Goldmine typically locations separate the 'higher end' clothing from their regular racks so make sure to check all the racks.

(Photo Courtesy of Salvation Army of Petoskey)
Salvation Army Family Store, 1615 Clarion Avenue, Petoskey: Petoskey Salvation Army is a hidden gem. I love going here 1-2 times a week to check out new inventory. Prices are the lowest in the area (in my opinion) and you can really find some great items. Salvation Army also run a 1/2 off sale for a certain color every week and children's clothing is always $0.99 = fantastic prices! Each store also offers a punch card for regular customers (only good at that location), so make sure you ask about the punch card when checking out.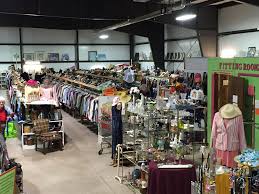 (Photo courtesy of  New Beginnings Thrift & Resale) 
New Beginnings Thrift & Resale, 650 West Conway Rd, Harbor Springs: If you haven't been into New Beginnings before, it's worth a stop. It's HUGE. No, really, it's a giant warehouse packed full of hidden treasures. I often peruse the children's and women's clothing and shoes and I hardly ever walk out empty handed. New Beginnings also offers 1/2 off a select color every a week.

Northwest Michigan Habitat for Humanity and ReStore, 8469 M-119, Harbor Springs: If you're in need of a new piece of furniture or have a home renovation project, Habitat for Humanity is a great place to check for extra odds and ends including: bathroom sinks, kitchen counters, paint, hardware, even garage doors!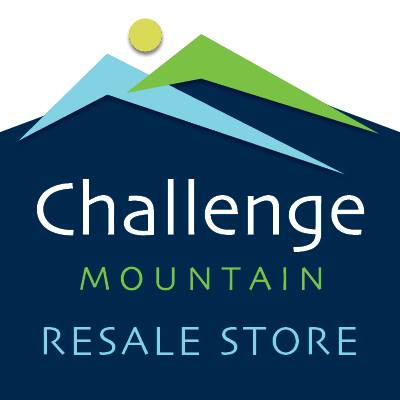 Challenge Mountain, 1100 Boyne Avenue, Boyne City: Having moved into their new location last year, this resale shop has it all! That routinely post sales and new inventory on their Facebook page all proceeds from this shop benefit Challenge Mountain programs!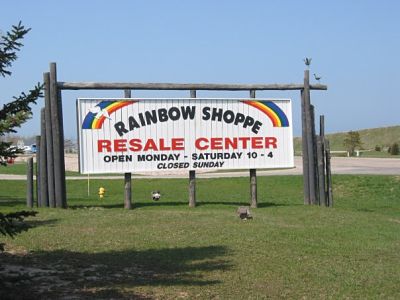 The Rainbow Shoppe, 6480 Old U.S.-31, Charlevoix: This shop is large and laid out well with multiple sections to wander and browse. The last I checked they only took cash (this might have changed, but I'd call a head just in case if need be).
Bergmann Center Thrift Store, 8888 Ance Rd, Charlevoix: This shop sells a variety of gently used items in a massive 1,600 square foot warehouse. The store proceeds benefit the Life Skills Building Center located right next door. The center offers a place for mentally and physically challenged adults to gain life skills and help them further their education.