Northern Michigan Farmers Markets
May 23, 2018
With spring finally here and summer on the horizon, farmers markets across Northern Michigan will soon be moving outside. Farmer markets are a fabulous way to get fresh fruits and vegetables and interact with community members. During the winter months, the Petoskey Farmers market is held at the Crooked Tree Arts Center in the old Petoskey Public Library building. Once the weather warms up the market grows and farmers from every corner of Northern Michigan participate. And, it's not just farmers, you can find vendors selling organic honey, fresh baked goods and more!
I've put together a list of local Northern Michigan Farmers Markets for the 2018 summer season. So, grab your re-useable totes and get ready to grab the freshest produce our local farmers have to offer!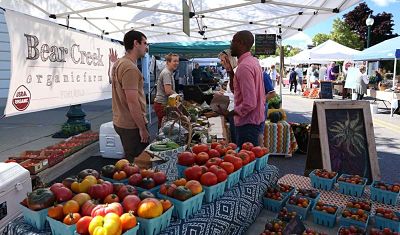 (Photo courtesy of Petoskey Area Visitors Bureau) 
Northern Michigan Farmers Markets
Petoskey Farmers Market: This popular outdoor market moves from Crooked Tree Arts Center to Howard Street Friday June 15th and runs through September 28th. Open every Friday 8:30am – 1pm.
Vendors include:
Alan's Gardens
Bear Creek Organic Farm
Berg Farms
Blackbird Gardens
Coveyou Scenic Farm
Dhaseleer Farm
Duerksen Turkey Farm
Farmer White's
Farmers Daughter of Interwater Farm
Guntzviller's Berry & Vegetable Farm
Half Moon Acres
Maple Moon Sugarbush and Winery
Michigan Mushroom Market
Outback Sugar Shack
Peaceful Valley Farm
Pitchfork Farms
Pond Hill Farm
Siegrist Farm & Greenhouse
Soapbox Kitchen -Homespun Farms
Spirit of Walloon Market Garden
Two Acre Farm
YaYa's Natural Bakery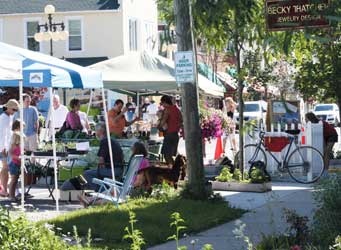 (Photo courtesy of Michigan.org) 
Harbor Springs Farmers Market: Another popular summers farmers market, the Harbor Springs market takes place Wednesdays and Saturdays, 9am – 1pm on Main and State Streets. The market opens Memorial Day weekend through mid-October. Many of the vendors participating in the Petoskey Farmers Market also participate in the Harbor Springs market.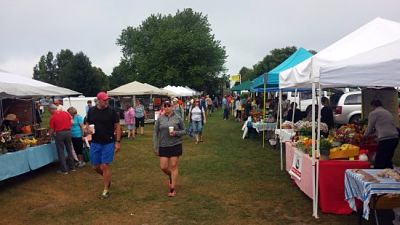 (Photo courtesy of Trip Advisor) 
Boyne City Farmers Market: This farmers market is also open year round. During the summer months it moves to Veterans Park in downtown Boyne City and operates Wednesdays and Saturdays 8am – 12pm.
Vendors include:
Bear Creek Organic Farm
Bluestem Farm
Big Medicine Ranch
Blackbird Gardens
Cook Family Farms
Coveyou Scenic Farm
Dhaseleer Farm
Daybreak Dreamfarm
Farmers Daughter
Korthase Brothers Sugarbush
Pond Hill Farm LLC
Providence Farm & CSA
Spirit of Walloon
Mini Farm
Siegrist Farm & Greenhouse
Beijo deChcolate
Ken's Fresh Fish
Rollin Scone Baking Company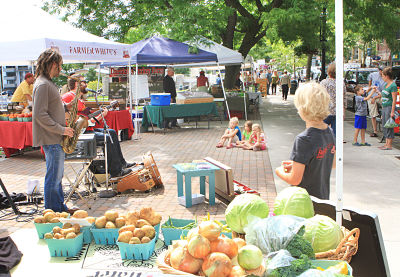 (Photo Courtesy of Petoskey News Review) 
Charlevoix Farmers Market: Every Thursday in East Park May 17th – October 4th, 8am – 1pm. Check the Charlevoix Farmers Market Website for a list of vendors.
East Jordan Farmers Market: Every Thursday from May 18th – June 21st, 8am – 12pm at Sportsman Park. Starting June 28th the market will move over to Memorial Park (near the harbor) and run through October 18th 8am – 12pm.