Old Fashion Sour Cream Cookies
October 1, 2013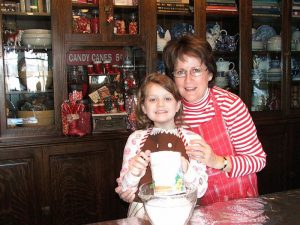 It warms my heart when my daughter Kaitlyn bakes holiday cookies with my mom. Bake a batch with your family and see what happens. It is magic year around.
Old Fashion Sour Cream Cookies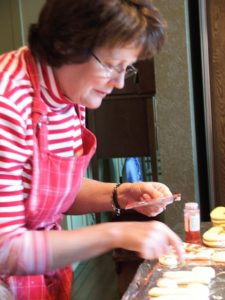 Ingredients:
1/2 cup shortening
1 cup sugar
1 egg
2 tsp. almond flavoring
2 2/3 cups all-purpose flour*
1 tsp. baking powder
1/2 tsp. soda
1/2 tsp. salt
1/4 tsp. nutmeg
1/2 cup sour cream
Directions:
Heat oven to 425 degrees
Mix shortening, sugar, egg, and almond flavoring thoroughly.
Blend dry ingredients: add sugar mixture alternating with sour cream.
Divide dough; roll out to 1/4 inch think on well-floured pastry cloth.
Cut with 2 inch cutter; place on greased baking sheet.
Bake 8-10 minutes or until lightly browned.
Decorate as desired.
*If you use self-rising dough, omit baking powder, soda and salt.
Makes 4 – 5 dozen cookies.
Warning: Baking this recipe with small children may result in outbursts of laughter, contagious giggles, wide grins, dirty chins and many happy memories.