Party like A Dirty Dog When the Party Is On
September 23, 2015
The title of this blog comes from a dear friend of Ryan and mine, AJ Cronk, who loves to throw a party.  He was known in college for his wild costume theme parties where the guest list was envied by all.
For many people parties cause stress and it disables them from entertaining often or at all.  But for some parties hold surprise, excitement and joy in their lives – an event to make their world a little merrier.
"Don't criticize yourself. Own your hard work and be proud of yourself. I am learning that when I cook for a big crowd and say things like, "it's good but I could have done this differently…or that differently" Blah blah. Don't do that! Rock it – people feed off your energy. Stay positive." – Emma Rose, South Bend, Washington
This blog is detected to making parties simpler for you with advice from fellow hosts, Do's of party throwing and theme ideas.
"With resources such as Pinterest it's easy to get a head full of ideas. I like to remind myself to keep it simple. A simple menu, or keeping to a common theme, and not trying to cater to every need of every person attending. Keeps my stress level low, my budget in check, and overall ends up being easier and more fun. It's really all about the people anyway, right?" – Adelae Winters, Wenatchee, Washington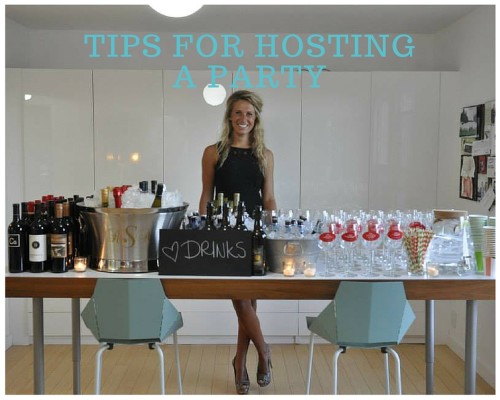 10 Party Do's:
Prep everything you can ahead of time– so you can chat with your guests when the party starts.
Garbage and dishwasher empty– for easy clean-up.
Hire a bartender or designate a friend to be one– if you party requires lots of drinks this frees up the host to be a host and greeter.
Paper Goods are a must– use plates, napkins, and utensils and in some cases cups you can toss to make your clean up easier and your guests more at ease – of course if you are having a dinner party for eight fine china is a must.
Have a Themeand make the party so much easier!  This can include colors, numbers and eras.  Keep it simple and BOLD for a big impact.
Designate jobs and chat ahead of the event – Talk to your spouse or your close friends or staff helping you with your event so you know what everyone is in charge of.  That way when the guests arrive everything is getting done – you can even assign a person as the greeter if you have things that need to get done at the start.
Make a list – Keeping a list and editing it as you move through the party process helps everything get done in an organized way.
Have help – weather it is your mom, spouse, close friend(s) or hired staff be sure you have help so the party is fun for you too.
Designate Spaces for items – have a place for food, drinks, presents and garbage that are obvious so the guests can easily feel at home at your party.
Have enough seating – Make sure to have enough seating, this can be spread out but allows your guests to relax and find places to chat with old and new friends.
"Choose things you can prepare for the most part ahead of time so that you can enjoy your guests!" Dana Powers, Salt Lake City of Utah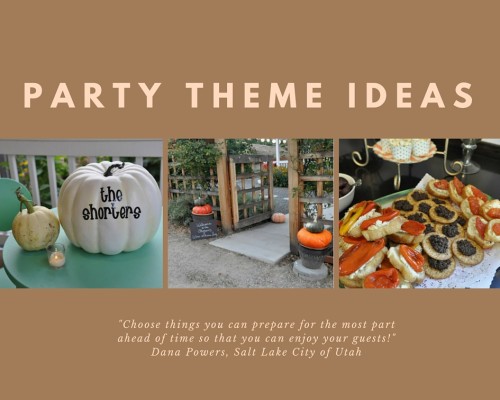 Party Theme Ideas:
Give a mouse a cookie birthday party – have the kids decorate cookies, guests wear overalls and read them the book
Era Party – for a 70th birthday party do a 70s theme or any era is fun and the guest come dressed up
Superhero – kids or adults love this just the same – so fun to decorate for bold and bright
Bunny Party – Hire a bunny lady to bring little fuzz balls for all the kiddos to pet or whatever animal rents in your area
Activity Party – Skiing, Ice-skating, gymnastics, swimming, painting ceramics are always a hit
Retro Ski – wear ski gear from the past – give prizes for the best dressed – you could do this for any sport
Sandwich – make Rubin sandwiches, while guests enjoy salads, chips and everything that pairs well with a yummy sandwich
Game Night – Pick a game or games all your guests will love and bond over food, drink and old fashion fun
Wedding Dress – All the ladies dawn their wedding dresses and wear them out again
Kentucky Derby – Wear sundresses, hats and drink mint juleps
007 – Men dress as their favorite James Bond and ladies have their pick of all the sexy female counterparts
Wine & Cheese – always a crowd favorite
Poker Party for Ladies – where a few husbands deal – ladies play poker and are taught if needed – a party bus brings the guests home at the end of the night
Funky Reggae Party – dress up, fun music and drinks are easy for this one
 Eighties aerobics 
Double Denim 
Rock star
 Redneck 
Ugly Christmas Sweater Soiree – make or get the ugliest sweater at a thrift store
 Tea parties at any age for ladies are always a treat – they are great for little girls parties – princess theme or adult ladies love them too.  They work great for a wedding or baby shower as well.
White Elephant – everyone brings a gift, you draw numbers and steal them from each other – perfect for a compony party and lots of laughs
Golden Birthday – this takes place when the day your birthday is aligns with the year you are old.  So if you are turning 30 and your birthday is on the 30th then that is yours for example.  Decorate everything in GOLD and go crazy.
Tight & Bright – Wear neon clothing
What I want to be when I grow up – Costumes can be serious or a joke
"One thing I try to do is have all of the plates/platters/dishes I'll be serving things on and the right utensils ready to go so that things can come out of the fridge/oven/grill and go right to the appropriate serving dish. Or, in the case of stuff made ahead in the fridge, I have it already on the platter and I put the utensil with it. Seems like a silly thing, but it helps!" – Maureen Duane, Wenatchee, Washington
Always celebrate in style – Grandpa Shorter's Gift stores have everything to help you do so.
Until Next Time – Cheers!
Alex Shorter
West Coast Shorter Wife