Petoskey Fall Fiddle-Faddle
September 20, 2022
From Jeopardy-viewing to trivia night-attending–don't you love a good dose of trivia? And isn't it even better when the facts and frippery pertain to something you're familiar with? Like, oh, say, Harry Potter, the Detroit Red Wings, or even this lovely area of Northern Michigan we call home?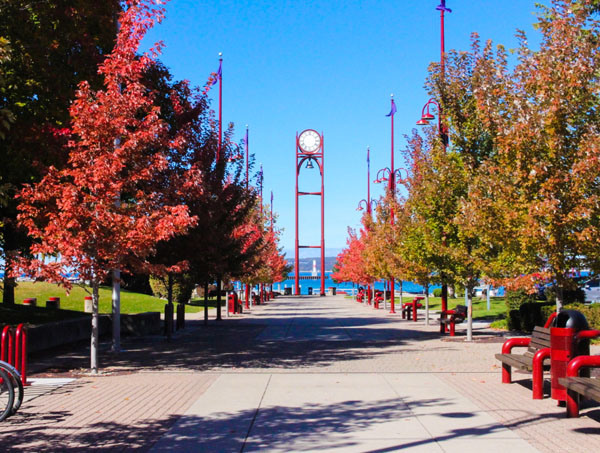 With the fall season freshly upon us, Carlos and the rest of us here at Grandpa Shorter's Gifts thought it might be fun to share some Petoskey-area-specific autumnal trivia. We're confident it'll get us all in the crisp and colorful mood–and inspire you and yours to plan some fall activities!
Population
Let's start simple. Fact: our quaint and much-loved Little Traverse Bay area sees nearly one million visitors during the summer season. But as the cooler weather sets in–balmy temperatures ranging from the 50s to the 70s–summer residents begin traveling south in exodus fashion, allowing Petoskey to resume its usual six-thousand off-season population.
That's a fairly significant drop. But, as surely many of you have noticed, the tapering off of the populace has slowed in recent years. More people are enjoying fall in Northern Michigan than in years passed. Still, it's a bit easier for everyone to make restaurant reservations now (Carlos is available for some nosh & nibble if anyone's looking for a date–he doesn't hibernate!).
Wineries
Our diverse region is home to many wineries, breweries, and cideries, and the Petoskey Wine Region is a great place to start if you want to explore the fruit of the vine. There are 14 unique wineries in the Petoskey Wine Region, with other wine-based establishments scattered around as well.
Why, just a street over from Grandpa Shorter's Gifts, you can check out Thunder Bay Winery's tasting room. Or you can proceed a little into the Petoskey countryside and experience Gabriel Farms & Winery, Petoskey Farms Vineyard & Winery, Mackinaw Trail Winery & Brewery, and even Maple Moon Sugarbush & Winery, to name a few! Be sure you're stocked up on bottle stoppers for the wine and bottle openers for the brews–we've got a few on hand.
Trails
If you want to enjoy the warm sunshine and clear blue skies of fall, you can test your closed-toe shoes and jackets on one of the 18 walking/hiking trails in the vicinity of Petoskey. Immersing yourself in the robust reds, outstanding oranges, yelling yellows, and pretty pinks is just the ticket after the summer craze.
Consider snagging a warm hat or cool socks from Carlos' well-stocked stores for those chillier mornings and afternoons. But sometimes, if you work up a sweat, all you'll require is a nice sweatshirt.
Color Touring
Naturally, while trekking the trails, you'll experience the magical turning leaves. However, if you're not too concerned about getting your steps in–10,000 steps is the recommended number–you can also drive through an enchanting and winding road to get your color fix.
M-119's Tunnel of Trees is a curving 20-mile drive that hugs the Lake Michigan shore from Harbor Springs to Cross Village, and it boasts an ever-stretching canopy of leafy branches that give off major fairy tale vibes. It's almost as if Washington Irving's Ichabod Crane or Charlie Brown's The Great Pumpkin will pop out because you aren't that far away from a pretty cool pumpkin patch…
Pumpkin Patches
With traditional and unconventional farms across Northern Michigan–there are far too many to count–you have your pick of which patch to pick pumpkins at! One directly off M-119 is the popular Pond Hill Farm, where you can partake in a litany of fall-themed activities, including wine tasting, gourd-tossing, trail-walking, and much more! If you want to stay closer to Petoskey, Bill's Farm Market and Coveyou Scenic Farm Market are excellent options for choosing your pre-jack-o-lantern pumpkin.
Then again, if you're up for a bit of a drive, there's also Uncle Frank's Apple Farm of Alanson and Knaebe's Apple Farm & Ciderworks of Rogers City–both offer pumpkins, apples, cider, donuts, and outdoor fall activities for families.
Flavors
Pumpkin (specifically, pumpkin spice) has historically been the top fall flavor. However, according to WGSN, the world's leading consumer trend forecaster, pumpkin spice needs to move over. For their 2022 Autumn Flavours Forecast article, WGSN has collected intel from Instagram influencers, chefs, food media, trend-forward retailers, mass food brands, and chain restaurants to make the following list of 2022 fall flavors:
Apple
Salted maple (Carlos' favorite)
Pecan pie
Cinnamon bun
Pear
Pretzel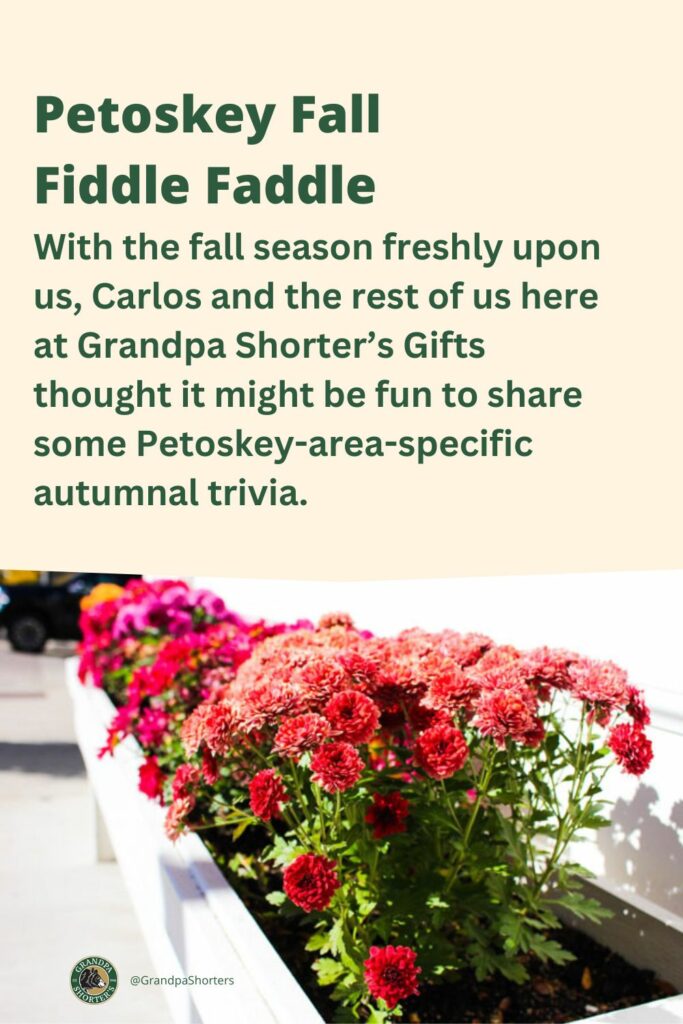 Don't fret; pumpkin spice and your PSL aren't going anywhere, but they'll have to share the spotlight this season. We at Grandpa Shorter's Gifts look forward to the fun fall concoctions from North Perk Coffee, Populace, and Roast & Toast…mmm. And we also happen to stock our shelves with delicious salsas, dips, and jams, ideal for the season at hand!
So, as the weather starts to cool and traffic begins to thin, get ready to partake in a slightly slower Petoskey pace and enjoy the fall season to the fullest!