Petoskey Sidewalk Sales July 31st & August 1st
July 27, 2015
It's almost the end of July here in Northern Michigan. I can't believe it's almost August. It feels like July just started! Back to school sales are already popping up everywhere and the last weekend in July marks a huge weekend for downtown Petoskey: Sidewalk Sales! This year will won't be like any other year either as it's the 50th anniversary of Petoskey's Downtown Sidewalk Sales.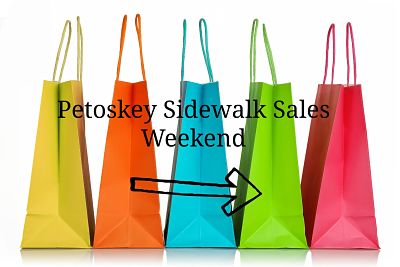 The 50th anniversary of this annual shopping extravaganza is this weekend Friday July 31st & Saturday August 1st. Whether you're looking for some back to school clothes for the kiddos, stocking up on summer apparel or shoes for next year, maybe looking for some early Christmas gifts or a little something for yourself, you are sure to find something at Petoskey's annual sidewalk sales.
I've already been looking a head at the weather and it looks great so far, so why not spend the weekend up north visiting with friends, shopping downtown Petoskey and enjoying a gorgeous weekend away here in Northern Michigan.
The weekend shopping extravaganza kicks off at 9am on Friday July 30th. Howard, Mitchell and Lake Streets will be blocked off to vehicular traffic so park a few blocks off downtown and spend the day perusing sales, checking out local shops and enjoying a meal or two at one of downtown's many restaurants. Want to rest your feet? Grab a snack or beverage at one of the local downtown restaurants. Tired of walking? Grab a ride on the FREE Downtown Trolley.  Today's blog post gives you a quick rundown of this weekend's events and happenings.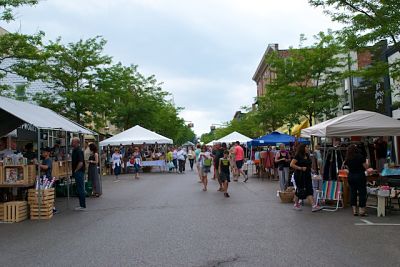 (Photo Credit: Wandering Travelers)
Friday July 31st Events –
Sidewalk Sales 9am-9pm downtown Petoskey
Downtown Farmers Market 8:30am-1pm on Howard Street near JC Penney
St. Francis Child Development Center Rummage Sale at St. Francis School on the corner of Howard and Michigan Street starting Friday morning during Sidewalk Sales
Friends of the Library Used Book Sale 10am-4pm at Petoskey Public Library
FREE ferris wheel rides Friday 11am-9pm at the corner of Mitchell and Waukazoo Streets
Jeff Tucker Band at noon in Pennsylvania Park
Great Lakes Chamber Orchestra Quartet at 2pm at Mitchell and Howard Streets
End the day with Friday night movie in the park: 50th Anniversary Edition of Sleeping Beauty
Saturday August 1st Events –
Sidewalk Sales 9am-9pm
FREE ferris wheel rides Saturday 10am-6pm at the corner of Mitchell and Waukazoo Streets
Old Town Emmet Market 9am-1pm at the corner of Emmet and Fulton Streets where local vendors  sell farm market goods and homemade crafts
While walking around downtown, make sure you stop by Grandpa Shorter's and check out their unique gifts as well as clothing items marked down as much as 70-80% off. Think a head for the holidays and get a head start on holiday shopping. Looking for unique home items? Head over to J.W. & Son's Mercantile. I am loving the unique mugs and scarves I keep spotting when I stop in lately so I know where I'll be headed this weekend!
Even if you're just window shopping, bring the kids into town, walk around and enjoy some ice cream. It's fun to look even if you don't buy.
Need some more ideas on how to spend summer here in Northern Michigan? Check out last weeks post: Northern Michigan Summer Bucket List.