Petoskey Themed Stocking Stuffers for Dad
November 28, 2016
Thanksgiving has come and gone and the 2016 Black Friday frenzy is officially over. Now the real Christmas countdown begins and Christmas shopping continues. This past weekend was the Downtown Petoskey Holiday parade on Saturday morning. My husband and I took the kids to the parade, enjoyed lunch at the Noggin room, visited with Santa at Stafford's Perry Hotel and then shopped Downtown Petoskey for Small Business Saturday. Our favorite stop is always Grandpa Shorter's and the kids just love checking out their unique gifts.
I've begun the majority of of my Christmas shopping but it always seems to be the smaller gifts, such as stocking stuffers, that I get behind on. Today on the blog I'm sharing with you 5 Petoskey Themed Stocking Stuffer Ideas for Dad's. Hopefully these gifts will get your wheels turning and give you some ideas for dad this year and even better, they are all Petoskey themed!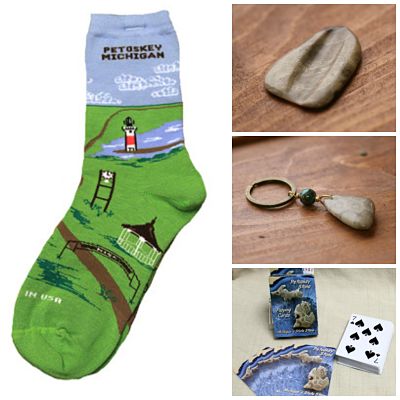 5 Petoskey Themed Stocking Stuffers for Dad:
Petoskey Socks – Fun and unique these socks dress up any outfit. They are also unisex and I even have own pair! What a fun way to show your love of Petoskey and keep your feet toasty warm during Michigan's cold winter months.
Petoskey Playing Cards – This stocking stuffer is great to have on hand at all times. Perfect for family game nights and vacations or camping. We love to keep a deck of cards handy while traveling just in case we need to entertain the kids for a while. My husband and I also enjoy playing cards once the kids go to bed.
Petoskey Stone Keychain – Help dad keep track of his key's using a unique Petoskey Stone Key chain. All of Grandpa Shorter's Petoskey Stones are local to Northern Michigan and the perfect addition to any stocking. Small in size but big in personality.
Petoskey Worry Stone – Small in size but big in character a Petoskey Stone Worry Stone is perfect for busy dads. It's small enough to tuck into his pocket or wallet and easy enough to grab when needed. Worry stones are a great way to help relieve stress oranxiety, and to help you relax!
Petoskey Stone Pocket Knife – This is a great gift for the dad that enjoys being outside. The Petoskey Stone Pocket Knife is small enough to fit in his pocket and handy enough to have on hand for working outside, hunting, fishing, hiking and more.