How to Practice Danish Hygge for a Happier Winter
January 12, 2017
With the snow falling day after day, all week long, in Northern Michigan, it's time to embrace winter with Hygge, the secret the Danes use to endure their long, dark winters. It's a word that doesn't translate easily to English. Pronounced hue-ga, it infers a sense of coziness but goes beyond just snuggling under a fuzzy blanket. It's a feeling that comes not just from physical warmth, but from creating a warm atmosphere of relaxation and community among friends and family.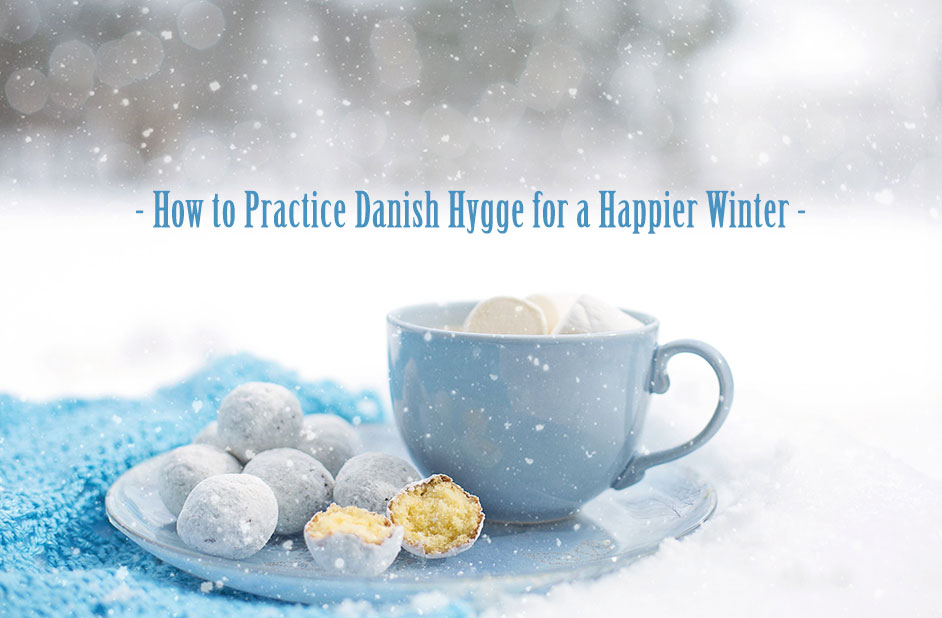 The Danes see winter as a time to slow down and enjoy the finer things in life. They linger over cups of coffee and conversations with friends. Candles, fires, warm socks and soft sweaters make the indoors a sanctuary rather than a prison. Outside, they take advantage of the beauty of the season and the fun of winter activities.
So how can you practice Hygge? Here are a few ideas.
1. Bring extra light into your home. The sun sets early and rises late during Michigan winters, and many days are cloudy and overcast. The soft glow of candles add to the cozy feel of a home. Choose ones with warm scents, like cinnamon for an even cozier feeling. If a room still seems too dark, bring in extra table lamps. Light therapy boxes are also a great way to combat winter blues brought on by a lack of sunlight. These extra-bright lamps help fight off Seasonal Affective Disorder.
2. Have warm drinks on hand. Hot tea, coffee or hot chocolate warms you from the inside out. Holding a steamy mug also does wonders for cold hands. But don't just gulp your drink. Practicing Hygge means savoring the moment. Sip your drink in front of a window with a view of the pretty winter landscape. Use the time to slow down and read a good book. Or better yet, linger over a pot of tea with a friend. Good conversation with other folks is an important part of maintaining a happy spirit.
3. Light a fire. A fire adds heat and light to a room. Sitting in front of it forces you to take a moment, and it also provides a gathering place for everyone in the home. Many people associate the warmth and smell of wood smoke with a feeling of well-being, thanks to all those relaxing nights spent around campfires. If you don't have a fireplace or wood stove in your home, consider inviting friends over to enjoy a bonfire outside. Provide extra blankets and lot of those warm drinks while chatting around the fire.
4. Eat good food. You may want to be bikini-ready come summer, but winter isn't the best time to slack on good flavors or nutrition. Warm, creamy, sweet foods are full of fatty acids which actually help elevate mood. Fish, fruits, and leafy, green vegetables also provide nutrition that gives you an overall sense of well-being. And again, if you're trying to incorporate Hygge into meals, it's always best to share them with loved ones.
5. Gather friends and family. Since community is such a large part of Hygge, finding ways to spend time enjoying the company of others is important. It's tempting to plop down on the couch with a movie, but interaction is key to getting Hygge right. Try gathering a group for game night. That will give plenty of opportunity for conversation and laughter. Light the candles, start a fire, put the cheese plate out and keep the hot cocoa flowing. That long winter night will fly by.
6. Wear warm clothes. Most people don't like winter because they're too cold. Warm clothes are the answer. Indulge in fuzzy sweatshirts and soft sweaters. Lined slippers and knit knee socks will keep toes toasty. Be sure to have a proper coat, hat, and mittens when venturing outside.
7. Get outside. You need good outdoor gear for winter because it's important to get outside. If your coat is warm enough, you can even find Hygge on top of a snow bank. Take a stroll through a beautiful, snowy forest. Venture down to see the frozen lake in all its icy, crystalline glory. Michigan has all kinds of winter sports in which to participate. Skiing, snowmobiling, ice fishing and sledding are just a few. Fresh air and exercise do wonders for elevating your mood. Cold air can even be invigorating. And like everything else when it comes to Hygge, it's best done in a group of two or more.
If winter has you down, give Hygge a try this year. It just might give you a whole new perspective on the season.