Recipe: Easy Caprese Salad
August 15, 2017
Summer has always been one of my favorite seasons here in Northern Michigan. I grew up on a farm and was blessed to have a huge garden and all the fresh fruits and veggies a girl could want. Now that I'm older and have a family, I actually opted not to do a garden this year. Between working from home almost full time and having the kids in camp and just wanting to enjoy the summer I thought it best to just buy all of our fresh fruits and veggies local. I'm a huge propenent of all-natural, non-gmo foods and do everything that I can to shop and support local businesses and farmers. I did a post several months ago here on the blog about local Farm Markets and Community Supported Agriculture here in Northern Michigan and frequent a few of them several times a week. We are lucky enough to live only a few miles away from Bill's Farm Market here in Petoskey so I often stop by there 2-3 times a week. The produce is locally sourced if Bill's crop isn't ready and the staff is fabulous.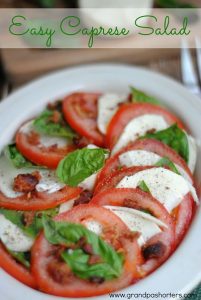 This summer, I've been on a fresh basil kick. Fresh basil in pasta. Fresh basil on margharita pizzas. Frsh basil in salads. If if could have basil in it, I've probably tried it.
This summer, I started buying bunches of fresh basil from Bill's Farm Market a few times a week. The tomatoes aren't quite in season yet, so I grabbed what Bill's had in stock. Then, I stopped by Petoskey Aldi's for some fresh mozzarella cheese (only $2.49 each!). I already had salt, pepper, extra virgin olive oil and balsamic vinegar (pantry staples), on hand.
Caprese Salad Ingredients –
4 large tomatoes, sliced
2 packages of fresh mozzarella, sliced thinly
1 bunch (large handful) of fresh basil leaves
4 tbs extra virgin olive oil
1-2 tbs balsamic vinegar
salt & pepper to taste
Directions –
Simply layer the ingredients on a plate and sprinkle with salt and pepper.
Combine the balsamic vinegar and the olive oil and pour over the salad.
Serve and enjoy.
Simple, easy and delicious! Perfect for using those fresh summer veggies.