Red, White & Blue Mini Trifles
June 12, 2017
School is finally out here in Petoskey and we are super excited! Wednesday June, 14th is National Flag Day and July 4th is less than a month away so the summer season is in full swing. We even best both days at the beach this past weekend! Ask anyone around and you're sure to find that summer's in Northern Michigan are the best. Yes, our summer season is short but we absolutely love it and try to soak up as much of it as we can! With Flag Day being this Wednesday and July 4th already a few weeks away, summer get togethers are a given. Whether it's a potluck, barbecues or a summer camping trip, red, white and blue treats are perfect for this time of year!
What better way to celebrate with friends and show your patriotism than with a delicious red, white and blue trifle recipe. With being outside as much as possible this time of year I love easy and delicious treats that everyone loves and don't take a ton of time to make.
Last year, I wrote a blog post on Flag Day Etiquette, this year I'm sharing an easy recipe that everyone will love and it's simple to throw together a head of time and have ready for your guests.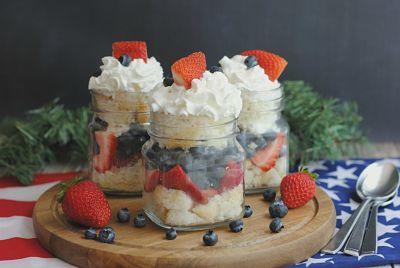 Ingredients –
1 box of white cake mix, any brand
1 C. water
1/4 C. vegetable oil
3 egg whites
1 pint of fresh blueberries
1 lb fresh strawberries, diced
whipped cream
4 oz glass jars
Directions –
Preheat the oven to 350 degrees and line a 12 cupcake muffin tin with liners.
Combine the cake mix, water, vegetable oil and egg whites.
Fill each cupcake well 3/4 full of batter.
Bake 20-25 minutes.
Remove from the oven and let the cupcakes cool and chop into pieces.
Fill each glass jar 1/4 full with cupcake.
Add a layer of diced strawberries.
Add a layer of fresh blueberries.
Top with more cupcake.
Top with whipped cream and extra strawberries and blueberries.
*If not serving immediately, keep the trifles in the fridge minus the whipped cream until ready to serve.