Rockhounds Tips & Tricks: What to take on your Petoskey Stone hunt (like a pro!)
August 4, 2022
You've seen them—the beach walkers with their heads down, completely ignoring the stunning sunset unfolding out over the lake. Why? Because they're rockhounds—and they're always on the hunt, looking for the perfect stone at their feet!
If you find yourself doing the same thing – always on that joyful hunt—perhaps it's time to look into the tools of the trade. We gathered tips from area rockhounds on the gear and gadgets they use in search of everyone's favorite souvenir—the Petoskey stone.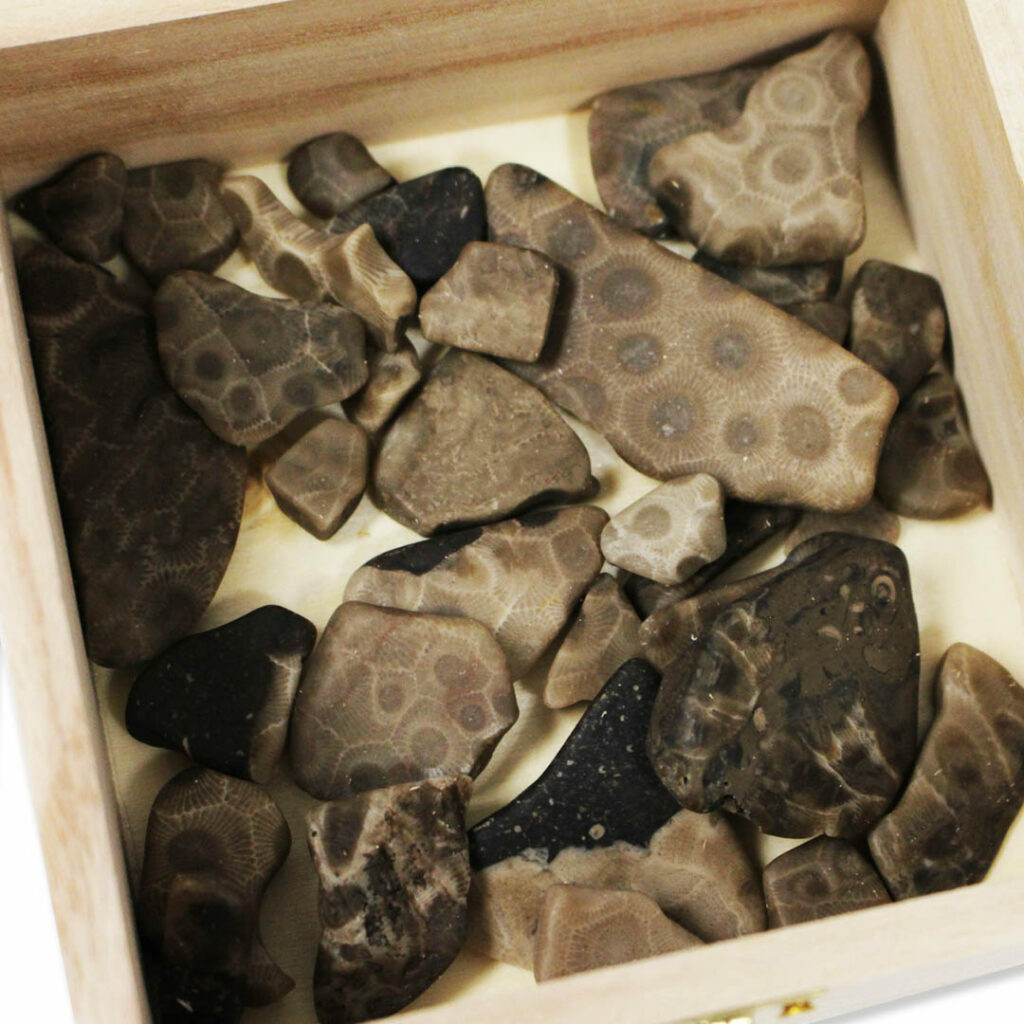 Tools to Take:
A spray bottle. The Petoskey stone's famous hexagon pattern is only visible when the stone is wet (or polished). You can search up higher on the beach, away from the water's edge, with a spray bottle of water. A quick spritz will let you know if that boring old gray stone is Petoskey gold!
Sunhat. It's harder to see rock patterns wearing sunglasses, so wear a wide-brimmed hat while on the hunt. Don't forget sunblock and bug spray, too.
A bag, bucket or fanny pack. You'll need something to carry your goods! A canvas handyman apron is another easy way to carry stones. (Side note: "Fanny packs" are what your mother called them. Nowadays, they're called "belt bags" or "waist packs"!) Remember, state law states that one person can't remove more than 25 lbs. of rock or mineral from state land at one time.
Trowel or rake. Bring a small hand-held garden trowel or rake to unearth those "that might be one!" rocks.
Spaghetti ladle or slotted spoon. A regular old kitchen utensil is an easy way to sift rocks out of the sand. A heavy-duty cat litter scoop works too.
Sand dipper. The granddaddy tool is a long-handled "sand dipper." These are metal scoops, with handles up to 64 inches long with metal mesh scoops at the end around 6 inches in diameter. These prevent having to bend over all the time – buy this for any rockhound on your list over 40! Plus, you can reach a little farther out into the water to scoop up a good-looking find.
Dishwashing gloves or neoprene gloves. If the water is chilly, these waterproof gloves keep your hands dry and in the game longer. You can buy a larger pair to put over winter gloves when it's really cold out.
Hard-soled shoes or boots. Wear crocs, boots or athletic shoes. Water shoes are too thin and you'll feel all the rocks through the soles. A hard sole makes walking over rocks easier.
Raincoat or snowsuit. Seriously! The best time to find rocks is during or after wild weather, when the wind has turned over the floor of Lake Michigan in crashing waves. Rockhounds head out on rainy days because the rocks are wet, and the beaches are empty. The best hunting seasons are spring (when the ice begins to recede to reveal the rocks brought to shore over the winter) and the fall (when the gales of November come early!).
Enthusiasm. You can't find a Petoskey stone without shouting victory, so please do so.
How to Polish:
By hand. Use a piece of corduroy or velvet and a polishing powder or polishing compound to shine up your finds. Many "car finish" rubbing compounds will work for this. This could be the very definition of "elbow grease" and is a labor of love!
In a jar. Keep your rocks in a jar filled with ½ water and ½ rubbing alcohol (at least 70%) to keep the rocks wet and bring out their colors. You can also fill your jar with mineral oil, baby oil, alumilite (found at craft stores) or water with a few drops of bleach in it to help prevent algae.

If you don't find any:
Grandpa Shorter's Gifts has your back if rockhounding doesn't pan out for you. Consider the Petoskey stones polished into a heart shape, a customer favorite. Or the many different Petoskey stone gifts like money clips, key chains, magnets, coasters, worry stones, key chains and pocket knives. All polished already, of course!
Send your family, friend or foe (rockhounding competition can get fierce, let's not forget!) a Petoskey gift basket. These baskets include a Petoskey stone, Petoskey-stone themed gifts, and the book, The Legend of the Petoskey Stone.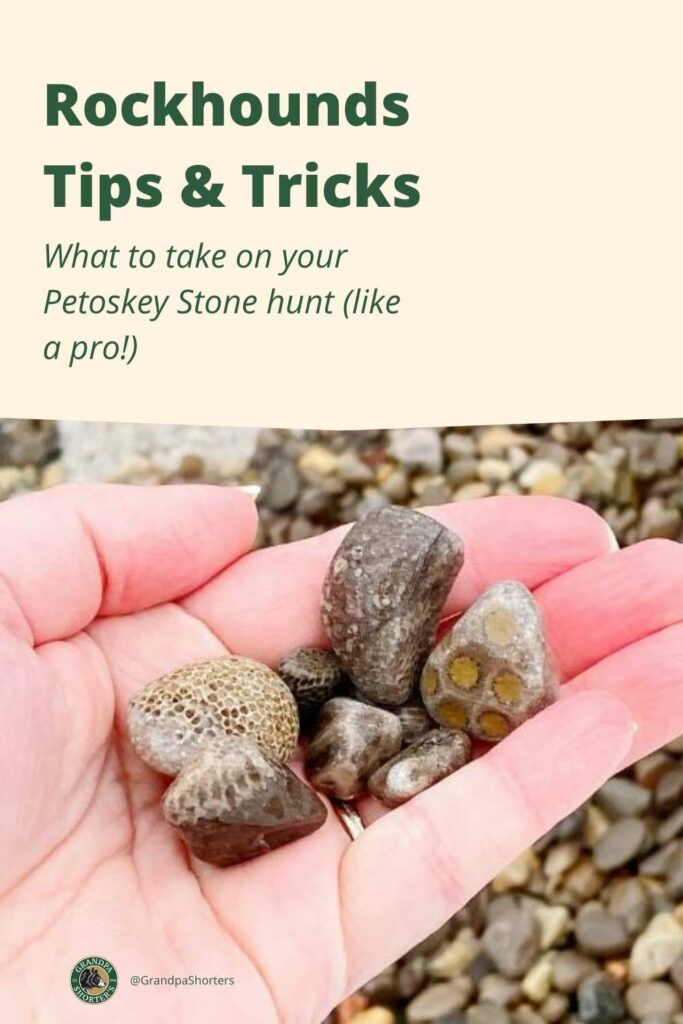 Rockhounding Facebook groups:
Facebook groups are an excellent way to learn more about rockhounding. Some to check out are:
Now you can enjoy your rockhounding hobby—like a pro!