Shop Downtown Petoskey Contest
September 27, 2016
It is officially Fall here in Northern Michigan and it is the perfect time of year to get out of the house and explore Our area. The summer crowds have subsided, kids are in school full time and it's a great time to get out of the house and shop our beautiful downtown. Whether you are just window shopping fun stores such as Grandpa Shorter's or grabbing groceries at The Grain Train, there is something for everyone. While you're out stop by Roast & Toast for lunch and then pop into North Perk or Dripworks for a yummy coffee to enjoy while walking around. Take your time and enjoy your day, taking in all the Downtown Petoskey has to offer.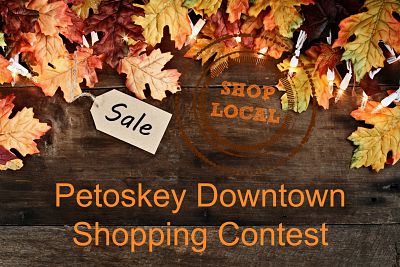 Today on the blog, I am excited to be sharing some information with our readers regarding the Shop Downtown Petoskey Contest. The Treasure Downtown Contest is held twice a year, March through May and then again, September through November 30th and is currently happening right now. What is the Treasure Downtown Contest? Shop ANY store in downtown Petoskey and once you have spent a total of $500, you can enter to win $1,000 worth of Downtown Treasures Certificates and FREE parking for one year in our Downtown!
I had the chance to to chat with Becky Goodman, the Petoskey Downtown Director. I asked her about the contest to get a better idea of what is involved. To be honest, when I think of shopping Downtown I only think of specialty shopping or grabbing Christmas or birthday presents for friends and family. Becky was able to elaborate that ANY Downtown Petoskey business is included in the Treasure Downtown Contest which actually surprised me, in a good way! For example, buying groceries at Grain Train or lunch at Thai Orchid counts as shopping, so make sure to keep those receipts! All receipts must be received by November 30th at 5pm (copies are OK) and can be turned in to the Petoskey Downtown offices located at 216 Park Avenue, here in Petoskey.
Q: Is anything excluded from the content, such as alcohol sales?
A: Nothing is excluded. Anything purchased within the Downtown district, even hotel rooms at the Perry, are included.
Q: How many people have entered in the past.
A: The numbers vary but we always have two or three hundred. When you think about it, that makes the odds for the shopper very high.
Q: What is the value of the free parking pass?
A: The value of the parking pass cannot be measured. It can be used anyplace in Downtown – even on the streets. Normal parking passes can only be used in the parking lots and they cost $200 to $400 annually depending on where they are used.
Q: Do stores have special events or promotions during this time, such as discounts or coupons?
A: Some stores may, but it is not a requirement or even really suggested. The idea is to encourage local shopping. We want the local customer to think of Downtown shopping as a first case solution to their shopping needs.
Q: Is there an indication on the store that the store participates such as a sign or sticker on the door?
A: No. All of the stores are involved whether they even know it or not. But we tell everyone that receipts from all of the businesses listed in the Downtown Shopping Map or on our website at PetoskeyDowntown.com qualify to get to the $500 total.
Q: What prizes are awarded?
A: The prize is $1000 worth of Downtown Dollars that can be spent back in Downtown and the one year VIP parking pass.
Q: How "easy" it is to spend $500 in downtown in a quarter?
A: It is extremely easy. If you work in Downtown you can spend it by simply going to lunch. Shop Downtown for clothes and it adds up even more. We get a lot of people that include receipts from the Grain Train. And then there are people who buy furniture during this time of year. Those receipts add up fast. We have lots of people with multiple entries.
Q: What has been the reaction of some of the past winners?
A: It is one of my favorite things to do to call the person who won and give them the good news. They are always just thrilled. We had a recent winner who entered after being here for a long weekend. She and her family moved to Petoskey a year later and put the money toward furnishing their new home. Another winner was a Downtown employee who did not need the parking pass and she gave it to a co-worker who did drive every day. It saved the co-worker quite a bit of money. That same woman donated the Downtown Dollars to the Women's Resource Center with the instruction that they be given to women who needed to have something pretty in their lives.
It is funny how they spend their Downtown Dollars. Some are hoarders and some are spendthrifts and some just use them when they need them. I think that the person who won the first contest still has some of them out and I remember one famous winner who spent them all in less than a week – maybe even in an afternoon. We give them out in denominations of $5 to $25 so the winner gets quite a little stack of them.
If you have anymore questions regarding The Treasure Downtown Contest, head over to the Petoskey Downtown website. 
Have you participated in the downtown shopping contest? We would love to hear your feedback!