Shorter Family Holiday Traditions & Sour Cream Cookies Recipe
November 24, 2018
This past Saturday was Petoskey's Downtown Holiday Parade. What a great way to get into the holiday spirit! Having rained the night before lost we lost almost all of our snow downtown. The rain held off (for the most part) during the Holiday Parade and it's our family tradition that we attend every year. Right around Thanksgiving my kids always start asking when the parade is and when we are going to visit Santa!
Some years my husband is working and can't join us so I'll take the kids by myself. This year he was off so we made a day of it and even took our newest family member Oreo puppy! We bundled her up and put a reindeer sweater on her and even brought gifts to donate to Toys for Tots during the parade.
Afterward the parade we walked down to The Noggin Room with friends, ate lunch and then the kids got to visit with Santa. My children are 8, 9 and 10 and slowly starting to question Santa so I'm trying to keep the holiday magic alive as long as I can. My 9 year old didn't really want to talk to Santa and I talked her into it. Afterwards she was happy she did and even gave him her Christmas wishlist!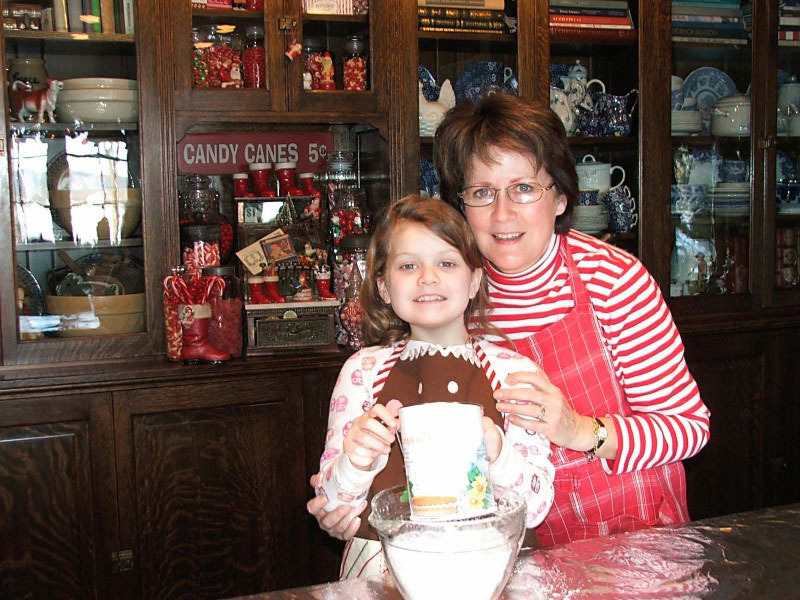 With the it being the holidays we all have traditions we follow whether it's attending the downtown open house with your kids or decorating the tree as a family there is just something special about the holidays that brings us all together. I took a few minutes last week and spoke with Mari Shorter about the Shorter family traditions during the holidays.
Holiday Traditions
Q: What is your favorite holiday tradition with your kids?
A: When they were kids I loved going to visit Santa with them. Now that they are older I enjoy holiday meals with them.
Q: What are you grateful for during the holidays?
A: Family to celebrate with because many people are alone during the holidays. This year Christmas will be huge, my son Ryan and his family are flying in from Steamboat to spend Christmas with us so I'm going all out. Jennifer has said 'it's Christmas on steroids!'
Q: What family tradition brings you joy every year?
A: Making cookies with Jennifer and KK. We get together every year and make over 100 Old Fashioned Sour Cream Cookies.
Q: Is gift giving a part of your holiday traditions?
A: Definitely! Santa comes every Christmas morning and then adults open presents in the afternoon followed by dinner.
Q: Do you have any yearly traditions?
A: Christmas Eve we get together and enjoy food such as Venison appetizers and oyster stew. Jennifer usually hosts Christmas breakfast at her house and then Christmas dinner is usually later in the day at our house. We also celebrate New Years Day. I have a mannequin baby that I dress up in a diaper in the foyer and I make pork (it represents good luck) and serve snacks and appetizers.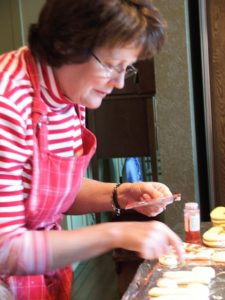 Old Fashion Sour Cream Cookies
Ingredients:
1/2 cup shortening
1 cup sugar
1 egg
2 tsp. almond flavoring
2 2/3 cups all-purpose flour*
1 tsp. baking powder
1/2 tsp. soda
1/2 tsp. salt
1/4 tsp. nutmeg
1/2 cup sour cream
Directions:
Heat oven to 425 degrees.
Mix shortening, sugar, egg, and almond flavoring thoroughly.
Blend dry ingredients: add sugar mixture alternating with sour cream.
Divide dough; roll out to 1/4 inch think on well-floured pastry cloth.
Cut with 2 inch cutter; place on greased baking sheet.
Bake 8-10 minutes or until lightly browned.
Decorate as desired.
*If you use self-rising dough, omit baking powder, soda and salt.
*Makes 4 – 5 dozen cookies.