Simple Morel & Asparagus Pasta
May 31, 2016
I love pasta and fresh veggies. Cold pasta with veggies, hot pasta with veggies, you name it, I just love pasta. I also love wild mushrooms and living in gorgeous Northern Michigan I am lucky enough to be able to find wild mushrooms right outside my doorstep during our various seasons. Fall brings us delicious stumpy mushrooms, found on tree stumps. These mushrooms freeze well and go great with wild game such and venison.
Spring here in Northern Michigan brings us morels. I grew up picking these delicious wild mushrooms along side my father over in the Indian River. Living on a large farm had it perks. At the time I didn't think so but now I love walking our property during the spring and fall looking for mushrooms. My dad taught me what to look for so I could tell a poisonous mushroom from a safe mushroom and that if I ever questioned it, do not eat it. Mushrooms are delicious but you really need to be careful and know what you are looking for.
Luckily, if you don't care to hunt for them but love to eat them, you can usually buy them at local farmer's markets during the spring months. If you're in the Petoskey area, you can still snag some at the Crooked Tree Artisan's & Farmer's Market on Friday's 10am-1pm. I love the natural flavor of morels so when I make them I don't like anything heavy to take away their natural flavor. This pasta is perfect and light. You can also swap out the butter for extra virgin olive oil if you are watching your calorie intake.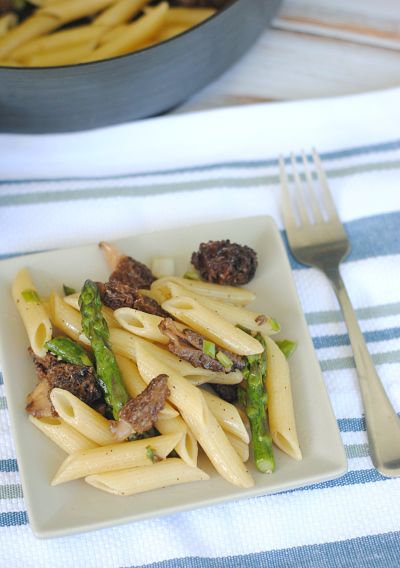 So, let's get started! This pasta is simple, flavorful and only take minutes to make. My kids loved this dish too and devoured the fresh asparagus and morels and fast as they ate the buttery pasta.
Simple Morel & Asparagus Pasta Ingredients –
16 oz box, rotini noodles
1 lb fresh morel mushrooms
4 tbs. butter (can substitute 2 tbs. extra virgin olive oil)
1 lb fresh asparagus, cut into small pieces
1 bunch of green onions, diced
1 tbs. minced garlic
salt & pepper to taste
Directions –
#1. Cook the rotini noodles according to directions. Drain and rinse with cool water. Set aside.
#2. While the pasta is cooking soak the fresh morels in cold water with a few teaspoons of salt. Let sit for 5-10 minutes. Repeat and rinse. Pat dry and slice the mushrooms in half.
#3. Heat the butter and minced garlic in a large saucepan. Add in the green onions, mushrooms and asparagus. Saute until tender 10-15 minutes.
#4. Add in a little bit more butter if you would like. We like butter.
#5. Add in the cooked pasta and saute with the asparagus and morels until heated through.
#6. Serve with a fresh salad OR if you are able to make it down to the Crooked Tree Artisan's & Farmer's Market, Local Eats Herbed Cheese Bread with butter is delicious and perfect on the side of any meal.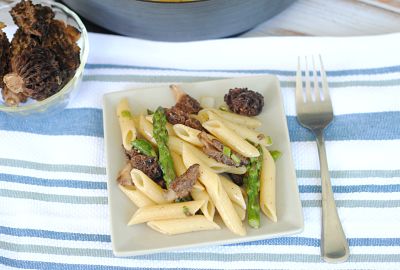 Want to learn more about morel mushrooms? Check out Colleen's recent post, 10 Facts About Morels.