SkyBridge – Michigan's Second Bridge!
March 8, 2023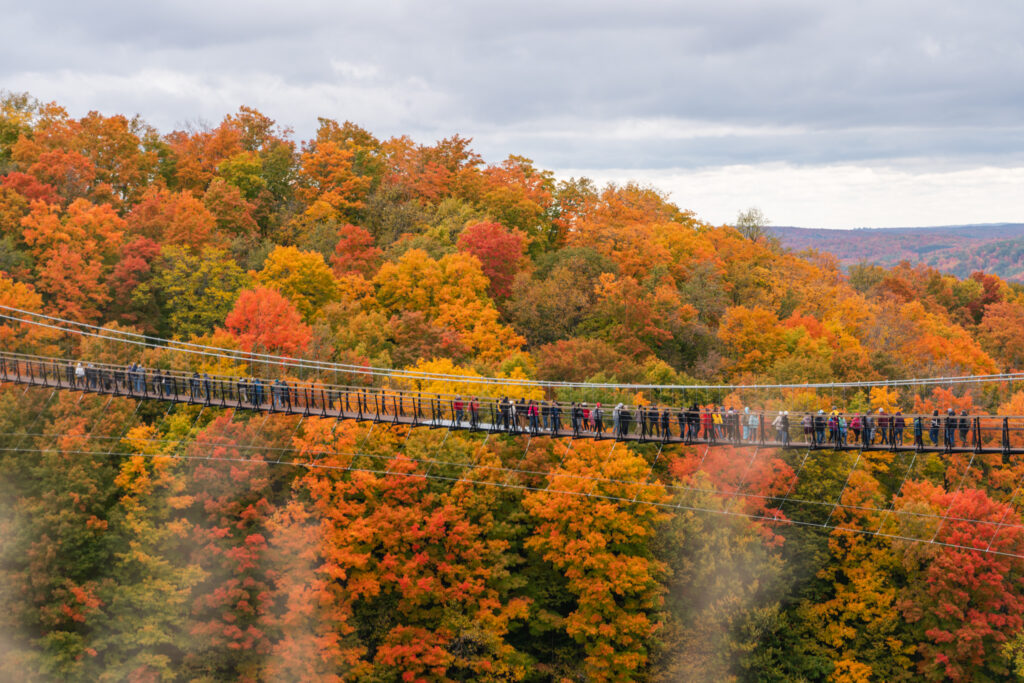 It's been dubbed Michigan's "second bridge" – and we can't argue that! The world's longest timber-towered suspension bridge is now open at Boyne Mountain Resort (just 20 minutes south of Petoskey) and there is no debate that the new Skybridge Michigan is beyond striking!
The bridge spans 1,200 feet in length and is 118 feet high, offering unparalleled views of Northern Michigan. Pedestrians reach the bridge via the historic Hemlock Chairlift and walk the bridge that connects the peaks of McLouth and Disciples Ridge.
So, how big is that? More than three football fields long and about 17 stories above the valley floor!
When the bridge opened last October in the full-on glory of Michigan's autumn colors, the lines were long and the crowds unreal – thousands of visitors came during the peak fall colors (and got the resulting stunning photos). But the good news is that now that it has been open a few months, the visits are more enjoyable because attendees are more spread out. This might be the perfect day trip for staycation Spring Breakers in Michigan this year.
Pedestrians buy tickets, which are good for 3 hours, and take a chairlift to the top. From there, they take an open-air walk across the five-foot-wide bridge above Boyne Valley. But halfway across, things get even more exciting! There, you'll find an unobstructed glimpse of the valley floor below through a 36-foot span of glass flooring! (Incredible and scary all at once!)
Once they reach the other side, pedestrians can stop into Eagle's Nest, the adjacent mountain peak eatery, which offers more panoramic views, historical resort memorabilia, a full bar and a menu of sandwiches, soups and burgers. (And restrooms.)
Or, they can stop into the SkyBridge Michigan food truck for loaded pierogies. What are pierogies? Doughy dumplings filled with savory goodies. In this case, with onions, kielbasa, green onions and sour cream. Don't worry, there are also chicken nuggets for the kiddos.
And if you would like an adult beverage, try a brew from nearby Short's Brewery in Bellaire: Local's Light (which has been described as the closest to a Bud Light you can get for a local beer) or Short's Soft Parade (which is a fav among the ladies).
After all that goodness, cross back and take the lift back down to real life, with no less than a couple dozen new photos on your phone and an unforgettable memory made! Tickets are $25 per adult, with price breaks for children, seniors and toddlers. You can go online to see availability, pick your time slot and buy tickets. SkyBridge hours are weather permitting. You have three hours to explore with your ticket.