Snowshoeing
December 14, 2018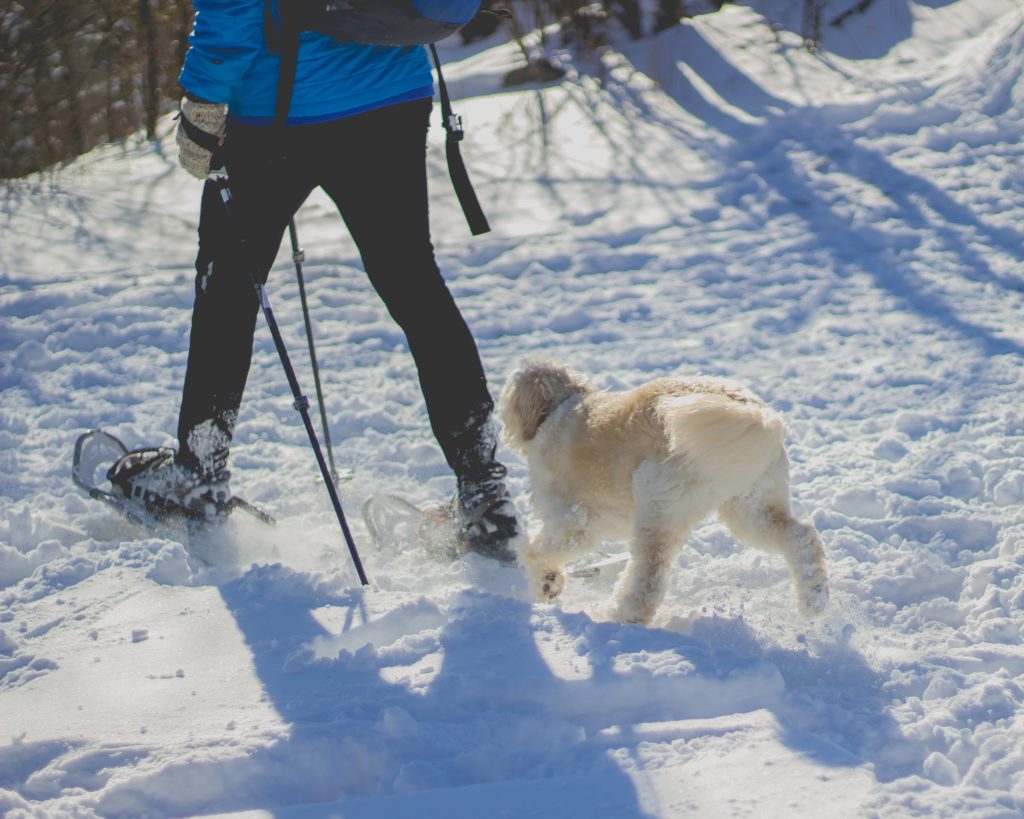 One great feature of Northern Michigan in the winter is snowshoeing. Snowshoeing certainly scores high on the simple scale. It's an easy activity to enjoy alone, or with the entire family, this is one of the reasons we enjoy it so much.
We enjoy the tranquility and peace of being able to elude the crowds and enjoy the woods, whether making our way along the trails behind North Central Michigan College, or through Little Traverse Conservancy property. Our pooches sure enjoy the long winter walk through the woods too.
Snowshoeing allows trekkers to visit and experience places that are harder to reach during the warmer weather. During the summer, some of the rivers and swamps spill over onto the trails causing muddy obstacles during the fall and summer.
Before you hit the trails you should prepare a bit. First, start with a good pair of boots. You are likely to work up a sweat regardless of the cold, and depending on the day and weather you could get wet. Wet feet can be uncomfortable, so choose a boot that is waterproof and at least above the ankles. Look for a boot that also offers a sole that will take well to snowshoe bindings.
Next, pick the right snowshoe. Hiking snowshoes, the most common style, tend to come with web-based bindings, in lengths between 22 inches and 25 inches. Longer lengths support heavier hikers. Many manufacturers like Tubbs or Atlas, make lighter weight and shorter shoes for women and lighter hikers. If you are taking the kids out, there are plenty of snowshoes designed for children based on length, height, and weight.
Many snowshoers also opt to utilize hiking poles or ski poles, mostly to aid balance. Leki, among other brands, offers adjustable length poles to accommodate hikers of varying heights, or due to uneven or changing terrain.
If you aren't sure where to start, local experts in this area are easy to locate. You can stop into Petoskey's Bearcub Outfitter on Lake Street, Latitude 45 on West Mitchell, or at The Outfitter in Harbor Springs. The staff at all of these locations can help you find the right snowshoes, advise you where to go for good hiking boots, and answer other questions about this favorite winter sport.
Now you are more prepared to have fun this winter in Northern Michigan. Grab a friend or enjoy the peace and quiet of the woods while snowshoeing.