Take a Hike in and around Petoskey this Fall
November 13, 2023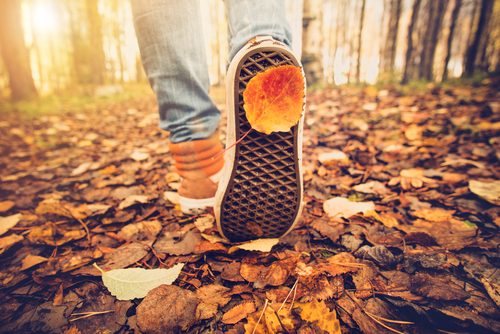 Petoskey, along with its surrounding areas, is full of fun places to go and explore year round. Fall is a great time to go hiking because the trails tend to be less crowded, and there are fewer flies and mosquitos to interfere with your outdoor adventures. Here is a list of my five favorite locations in and around Petoskey for you to get out and take a hike this fall.
One of my favorite places to go hiking that is very close to Petoskey's downtown is the Bear River Valley Recreation Area. This 2.4-mile trail is easy to navigate, and it takes you right along the Bear River. The sound of the river flowing quiets the outside world around you, and you forget that you are a few blocks from the busyness of the downtown streets. Although the main trail is paved, there are unpaved sections that you can explore along your walk. The area is well maintained year-round and is dog friendly.
North Central Michigan College's Natural Area provides hikers and wanderers with 195 acres to explore. There are trails and boardwalks and lots of vegetation for you to enjoy. Part of the looped trail takes you near the Bear River. Due to its diverse and flush habitat, it is also a great area for birders. There is an 80-foot bridge (the Iron Belle Bridge) that was built a few years ago, and it connects the NCMC Natural Area to the River Road Sports Complex. Leashed dogs are welcome here.
Fisherman's Island State Park is one of my absolute favorite places to explore in northern Michigan in the spring, summer, and in the fall. It is located approximately 4 miles south of Charlevoix on Lake Michigan. Whether you like to walk along the beach (this park has more than 6 miles of gorgeous, sandy shoreline) or in the woods (the park is over 2,678 acres of sand dunes and woods covered in maple, aspen, birch, cedar, and spruce trees), this is a beautiful and usually not too crowded place to go. There is a relatively easy to navigate, 2.5-mile hiking trail there. The park is dog friendly as well.
McCune Nature Preserve Trail which is located in the Allan and Virginia McCune Nature Preserve is another beautiful spot to explore in northern Michigan. The preserve is located about 7 miles east of Petoskey. There is a 4.1 miles loop around the preserve, and the highlight of the hiking area is the spring-fed Minnehaha Creek which cuts its way through the preserve and into Crooked Lake. This is a very wooded and peaceful area, but it can sometimes be quite buggy. Leashed dogs are welcome at McCune Nature Preserve.
Oden Island Nature Preserve is a relatively new location. Quick backstory: In the year 2000, a developer wanted to purchase this land, 53 acres on Crooked Lake, and build 34 homes in this small area. Little Traverse Conservancy responded by raising a million dollars in three months to purchase this land and make it into a nature preserve. There is a large tree cover which allows for a great hike even on days when it is raining lightly. When you hike there on a rainy day, you can enjoy the scent of the cedar trees. There are two trails that when combined form a loop that is just under a mile long. This area is also dog friendly.
We are very fortunate to live in an area that is beautiful year round, so make it a point to get outside this fall and take advantage of the well-maintained trails in and around Petoskey. For more ideas of where to hike in the fall and all year round, visit Little Traverse Conservancy or AllTrails web sites.