Take a Northern Michigan Adventure on the Inland Waterway
July 20, 2022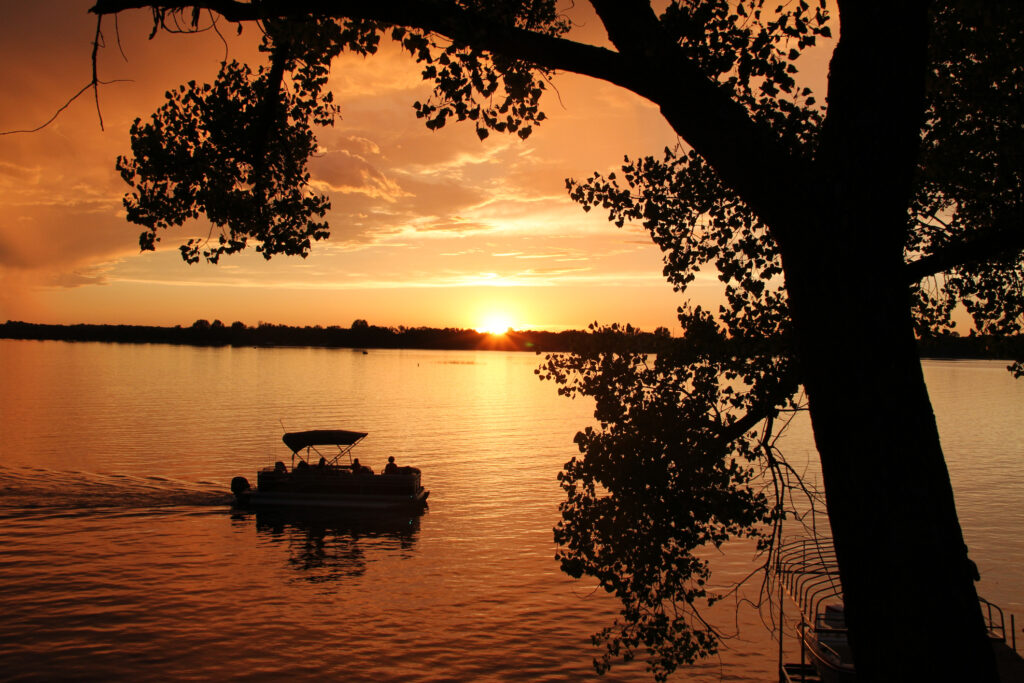 Traveling Northern Michigan's Inland Waterway is a summer boating adventure you won't forget.
The Inland Waterway is a series of interconnected inland lakes that make up a route over 38 miles long. It begins just outside Petoskey on the west side of Michigan's lower peninsula. Travel the entire route, and you'll end where the Cheboygan River meets Lake Huron in the east. You can fish, swim, take in the beautiful scenery and even stop at restaurants along the way. Travel in your own boat or rent a boat from one of the many marinas on the Inland Waterway. Each lake has boat ramp access, so you can travel the entire waterway or spend the day on just one of the lakes.
Round Lake
Round Lake is considered the head of the Inland Waterway. It's only about a quarter-mile inland from Lake Michigan. It is a good spot for fishing, home to bass, pike, and bluegill, as well as many other warm water fish. You'll find two nature preserves with trails on its shore as well as a small park. While a creek does connect Round Lake to Crooked Lake and the Inland Waterway, the creek is no longer navigable.
Pickerel Lake
If you want to travel the entire navigable route of the Inland Waterway, Pickerel Lake at the far west end of the waterway is the ideal location to launch. You'll find a cement boat ramp and a few parking spots. Pickerel Lake is known for great pike and walleye fishing. The all-sports lake is large enough to enjoy water skiing. The sandy bottom also makes it ideal for swimming. Camp Petosega has a beach and playground along the shore where families can stop. The channel that takes you into Crooked Lake from Pickerel Lake is a nice spot to drop your anchor, relax in the sun and view wildlife like cranes, ducks, and deer.
Crooked Lake
There's good walleye and perch fishing at the east end of Crooked Lake. It's also an all-sports lake. Another channel will take you around Oden Island into west Crooked Lake. A sandbar in the shallow channel makes for a good place to put your anchor down if you want to swim. The town of Conway is at the far west end of Crooked Lake. There is a township park with a beach and a playground.
At the north end of the lake, you'll enter Crooked River through a locks system. After going through the locks you'll arrive at Alanson. There you pass through the World's Shortest Swing Bridge. The locks and swing bridge make it a unique experience. A city park north of the swing bridge has a free dock. From there you can walk downtown where there are several restaurants. Outside of Alanson, you pass through a small, shallow lake called Hay Lake, then continue on the Crooked River.
Burt Lake
The Crooked River ends at Burt Lake. Burt Lake is also a good location for water sports, fishing, and swimming. Maple Bay Campground has a boat launch on Burt Lake as well as space for mooring boats near the beach. Burt Lake State Park sits at the south end of the lake. It has a boat ramp and a large beach area with 2,000 feet of sand.
From Burt Lake, you'll enter the Indian River. DeVoe Park is on the south end of the channel. It has a walkway, benches, and a public beach. The river runs right through the town of Indian River. A public dock gives you easy access to many restaurants and shops downtown. You'll also find marinas where you can stop for gas.
Mullett Lake
From the Indian River, you'll enter Mullett Lake. There are several resorts and campgrounds along this lake. Topinabee is on the south end of the lake where you'll find a small public beach and dock. There are a few restaurants and shops in town. Aloha State Park is also on Mullett Lake. The park has two swimming areas and several play areas. A protected boating basin provides a place for campers to leave their boats overnight. Located near the east end of the Inland Waterway, the campground at this park is a good place to make your home base if you want to camp and spend several days exploring the waterway.
Lake Huron
Leaving Mullett Lake, you'll enter the Cheboygan River where you'll pass under a historic railroad bridge. You'll arrive at the Cheboygan lock that lowers you down to the level of Lake Huron. After the lock, you'll arrive at the Cheboygan City Marina. The marina provides full-service docks with electrical hook-up, showers, and even grocery delivery. You'll also be within walking distance of restaurants and shops downtown. As you continue down the Cheboygan River you'll pass by the Cheboygan Crib Light, an historic lighthouse, then you'll enter Lake Huron. There's also a public beach and park near the lighthouse.
Whether you travel the entire Inland Waterway or just visit one of its beautiful lakes, it's a uniquely Northern Michigan experience that should be on every boating enthusiast's bucket list.