Ten Michigan Islands You can Visit on Your Next Vacation
August 20, 2015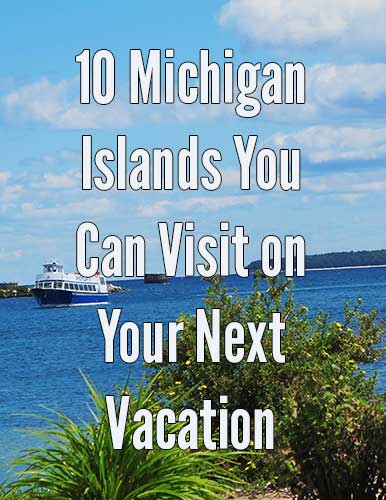 Islands are scattered throughout Michigan's Great Lakes, but only a few are accessible and provide amenities for visitors. Most of the islands below are accessible by ferry, and many of the ferries will even transport your vehicle and RV. Whether you're looking for a unique day trip or a quiet, week-long vacation, visiting one of these ten islands will be an experience you'll never forget.
1. Mackinac Island – Mackinac is Michigan's most famous island. Located in the Straits of Mackinac where Lake Michigan and Lake Huron meet, you arrive by ferry from either Mackinaw City or St. Ignace. Lost in time, transportation on the island is either by foot, bicycle or horse and carriage, since motorized vehicles are banned. The slower pace of life, Victorian architecture and historical buildings take you back to another century. Enjoy restaurants, shopping and exploring the unique landscape in a relaxing atmosphere. The island has almost 500 year round residents and even has a public school and library.
2. Drummond Island – Drummond Island is the largest freshwater island in the United States. It sits a mile off the shore of the eastern part of Michigan's Upper Peninsula. It's also inhabited year round. Much of the island is state land, so outdoor activities are a popular draw. You can reach the island by airplane or ferry from DeTour Village. Cars are allowed on the island, and you can bring your car over on the ferry. There are a few restaurants and lodging is available at B&Bs and vacation rentals.
3. Isle Royale National Park – This wilderness island is located in Lake Superior. It's popular with hikers and boaters. Boat and seaplane are the only ways to reach Isle Royale. Boats depart from both Houghton and Copper Harbor and seaplanes from Houghton. Wheeled vehicles are forbidden in the park, so be prepared to walk or paddle everywhere. Rustic camping is allowed on the island and a lodge provides rooms and meals for visitors as well.
4. Grand Island – Grand Island is also in Lake Superior, and it's a national recreation area. It can be reached by ferry from Munising, and is just a half mile off shore. Visitors enjoy biking, hiking and relaxing on the beach. Rustic campsites are available.
5. Manitou Islands – North and South Manitou islands are part of Sleeping Bear Dunes National Lakeshore. They're located in Lake Michigan off the shores of the Leelanau Peninsula. The islands are accessible by ferry from Leland, and reservations are recommended. Only foot travel is allowed, and hiking and camping are the main activities. There is no lodging, stores or restaurants on the islands. The north island features abandoned homes and buildings from when it once was inhabited, while there is a lighthouse on the south island. A motorized tour of the south island is available. There are also shipwrecks located off shore.
6. Beaver Island – Beaver Island is the largest island in Lake Michigan. You can catch the boat in Charlevoix, and the ferry will also deliver your car. Rooms are available at hotels, B&Bs and lodges. Private homes and cottages are also for rent. Everything from local fast food to family dining to upscale restaurants will keep you from going hungry during your visit. The island offers hunting, fishing, camping, hiking and water activities as well as shopping at studios and gift shops. Visitors are welcome year round.
7. Bois Blanc – Less that 50 permanent residents live on this island in the Straits. Visitors can arrive by ferry or plane from Cheboygan. The island is much less well-known than its neighbor, Mackinac. Outdoor activities as well as golf are enjoyed by visitors. A few private vacations rentals and B&Bs provide lodging, and there are a couple restaurants as well.
8. Lime Island – This island is one of three open to visitors in the St. Mary's river in the Upper Peninsula. The state recreation area on the island offers tent camping and rustic cottages. Cottages do not have running water or indoor bathrooms. Electricity is limited. Bears inhabit the island, so visitors should take caution. The island can only be reached by chartered boat or your own personal craft.
9. Neebish Island – Neebish is also located in the St. Mary's river. A ferry from Barbeau take visitors and their vehicles as well as RVs to the island. Fishing is a popular pastime on this island where anglers catch Northern Pike, Muskie, Small Mouth Bass, Walleye and Perch. Besides camping, a resort and vacation rentals provide accommodations. About 90 people live on the island year round.
10. Sugar Island – The Sugar Island ferry departs from Sault Ste. Marie. It also sits in the St. Mary's River. Moose and wolves inhabit this largely wilderness island though there are a few permanent residents. Vacation rentals provide accommodations.