Thankful for Thanksgiving in Northern Michigan
November 16, 2023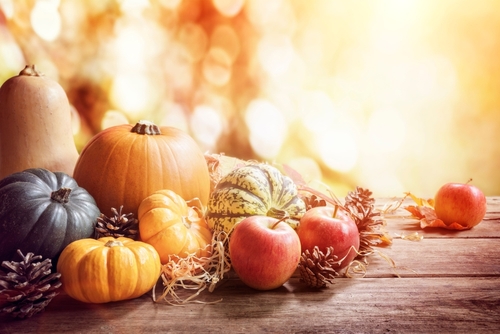 The Thanksgiving season is upon us, and this means different things to different people. For some it is a time to be grateful for the things that we have. For some it is a day or weekend of well-deserved rest and relaxation. For some it means hours of travel by car or plane to be with loved ones. For me and for my family it was always a time to be together. It was a time to watch the Detroit Lions football game and a time to eat lots and lots of delicious food.
Thanksgiving is one of the busiest travel times of the year. Last year roughly 54.6 million people traveled to their destinations, and this year it is expected that the number will be even larger. For those who choose to stay in northern Michigan for this year's holiday, Thanksgiving weekend is full of fun activities. Many people start their holiday shopping on Black Friday, which is the colloquial term for the day after Thanksgiving, or on Small Business Saturday, which is the day following that. A majority of the stores in Petoskey open early on both days and offer sales and special deals for those who choose to stay in town to shop. The Downtown Petoskey Holiday Parade always takes place the Saturday after Thanksgiving, and includes the Petoskey High School marching band as well as fun and festive floats featuring area businesses and nonprofits, plus Santa Claus.
For those who do not want to spend the day cooking and baking, but still want to enjoy the delicious delicacies that Thanksgiving brings, there are a handful of restaurants in and around Petoskey that offer various dining options. You can enjoy a takeout Thanksgiving meal at Julienne Tomatoes, Stafford's Bay View Inn and Pier, Bob Evans, and Vienna. Or, if you would prefer to dine in, you can head to the Sagamore Room, Chandlers, Sage, Vienna, Perry Hotel, Pier, or the Weathervane for your Thanksgiving meal.
Although Thanksgiving for most is a time of happiness and family gatherings, for some it is a time that highlights struggles. Sometimes it can bring to the surface those who we have lost or that which we do not have. Not everyone in northern Michigan can afford a turkey dinner with all of the fixings, but fortunately, we have giving people and organizations to help provide for those who are in need. Through the Neighbors in Need program, Stafford's Hospitality each year provides around 100 turkey dinners to local families in need. In addition, they raise money that is then donated to local food pantries. Their goal this year is to raise $14,000. Click here to find out how you can help them reach that goal.
This Thanksgiving, whether you are cheering on your team during the big game, stuffing your face with delicious foods, or enjoying some quiet time away from work, don't forget to reflect on the beauty and the charm that is northern Michigan, and take time to remember those things for which you are thankful. Northern Michigan is truly a beautiful place to be and to call home, and the older I get, the more I appreciate what it means to be a part of such a beautiful community. Be sure to get lots of rest this Thanksgiving, so you can get up early and support the local businesses in downtown Petoskey on Black Friday and Small Business Saturday.