The Katydid Rock Painting Class!
October 7, 2022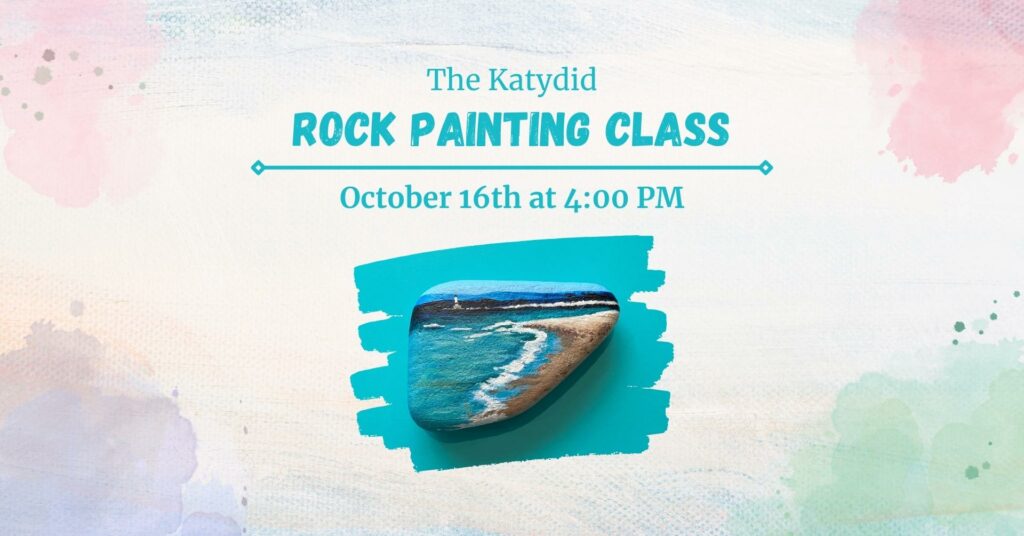 October 16th Rock Painting Class With Karen Mazzoline at 4:00 PM: $35 Tickets
There are only 12 spots available, so buy your ticket today to save your spot!
Reservations can be made by clicking here or by calling us during store hours at (231) 758-1030.
What is this class?
For those of you who wish to keep summer alive in your hearts, this rock painting class is for you! With materials, guidance, and encouragement, you will be capturing the most iconic view of Petoskey-the break wall! Your rock can be used in many ways from a paperweight to home decor. Come enjoy the process and the company as you paint Little Traverse Bay!
Who is teaching it?
Newly retired from teaching elementary music and middle school art/music in the Public Schools of Petoskey, Karen Mazzoline is putting on her "teacher hat" to continue her love of sharing art with others! Nature and People are her two favorite things to draw inspiration from when creating. Mrs. Mazzoline has been involved in the arts most of her life and she continues to develop her skills through participation and experimentation. Karen lives with her husband, Dale, and has three grown daughters, three son-in-loves, and three beautiful granddaughters. Even though she is still adjusting to retired life, Karen is excited to share the importance of the artistic journey with you!
Where and when?
The class will be held at The Katydid at 4:00 PM. The street address is 305 E Lake St, Petoskey, MI 49770.
Refund Policy:
Due to artist preparation and limited seating, we do not provide refunds or ticket transfers to another class. In the event we have to cancel a class, we will issue a refund and you will have the first opportunity to sign up for another class. If you cannot attend for any reason, we recommend gifting your ticket to a friend or family member.