Four Unique Ways to Display Petoskey Stones Around Your Home
March 30, 2016
Four Unique Ways to Display Petoskey Stones Around Your Home
Have you ever wondered what you could do to your home to add some Northern Michigan pizzazz or even just how to uniquely display that collection of Petoskey Stones that you've been adding to for years? Well, if you have, then great! I have a few ideas I've picked up around the area just for you. If you haven't, well, that's okay. Maybe these ideas will inspire you to start your own collection!
A Petoskey Stone Candle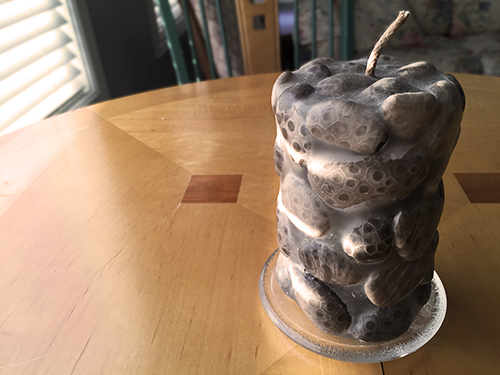 Just sitting at my Grandmother's dining room table, I noticed this very rare Petoskey Stone Candle. It had always been at her house and in the same spot for years. I guess I had just never noticed it until I had "Petoskey Stones" on the brain. But, what an amazing piece it is! I have scoured Petoskey, MI numerous times trying to find any stone that even resembles the ones that were used to create it, but my collection is no where near the same quality. When I asked my grandmother where she had gotten the candle, she said that a friend had it made for her. I was intrigued. I thought surely I could figure out how to make a candle like this of my own… Turns out, I can't! I've searched and searched to find a "How To" on making Petoskey Stone candles, and have only come up short. So, if you decide to tackle this project, let me know how it turns out!
A Petoskey Stone Filled Flower Vase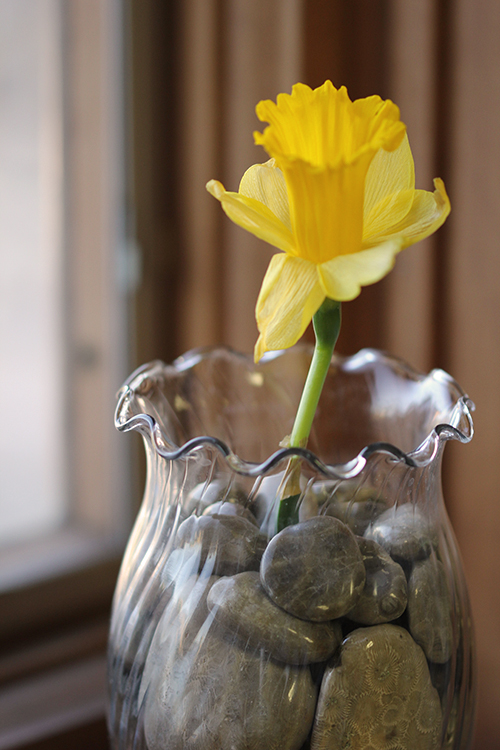 Taking the concept of using a collection of Petoskey Stones, I decided to try something of my own and create something a lot less permanent of a decor piece- A Petoskey Stone Flower Vase. I had one yellow daffodil in bloom and I wanted a creative way to display it, so I thought why not put it in a vase surrounded by Petoskey Stones? It worked great! Not only did I receive a lot of compliments on my collection, but also what a creative way it was to display them. I certainly wish I would have had more than one daffodil to put inside the vase, but there are plenty more flowers to bloom yet this Spring.
A Petoskey Stone Picture Frame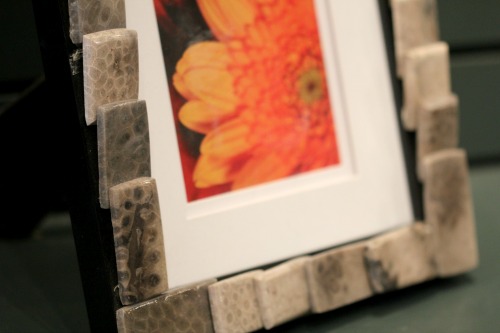 I admittedly, did not create this piece. But, what a great concept! Plenty of times when I have visited the beach, I've seen frames covered in seashells in souvenir shops, but I've never considered the fact that I could do the same with my collection of Petoskey Stones. I found this Petoskey Stone Picture Frame at Grandpa Shorter's Gifts just strolling through one day. It has encouraged me to keep collecting! How awesome of a decor piece would that be in my living room? I could even put my favorite picture of the beach or the Waterfront inside and really show off my Northern  Michigan pride!
Petoskey Stone Door Knobs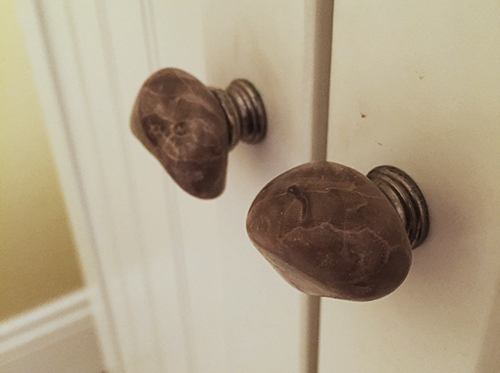 This is one of my favorite ways that I've seen to display Petoskey Stones. These Petoskey Stone Door Knobs were found in my Aunt's bathroom, but I have seen them all around town and in numerous different places! They can be used on kitchen cabinets, bathroom cabinets, dresser drawers, used as coat hangers, etc. This display option wouldn't necessarily be for someone who wanted to display a large collection of Petoskey Stones, but maybe just a few that they truly treasure and want to be seen. Grandpa Shorter's has many great looking Petoskey Stones to make into knobs if you like this idea, but don't have the right looking stones to create them too.
These are just a few of my favorites that I've picked up around town, and I'm sure there are even more to be discovered!
If you have any unique ways to display Petoskey Stones, I'd love to hear them! Just simply comment below.
Continuing this Northern Michigan Journey,
Megan Fluharty
Petoskey Through the Eyes of a Newbie