Visiting Vancouver with Kid's
November 18, 2015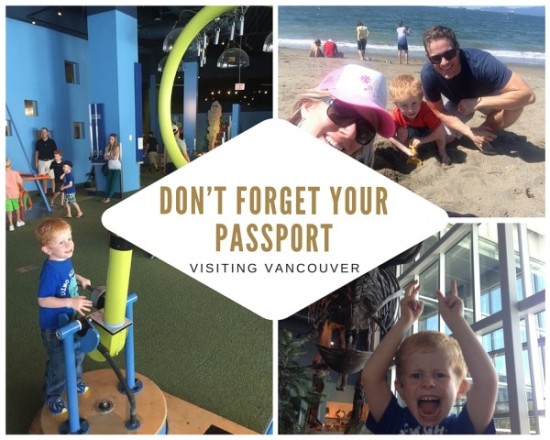 Recently Ryan, Carl and I met my sister-in-law, Jennifer Shorter and her family in Vancouver, BC for the weekend.  Jenn as many of you may know is the Owner of Grandpa Shorter's gift stores.  In our group we had 6 parents, 2 grandparents and 5 children ages 4 to 13 years old.  Vancouver is located about 2.5 hours away from Seattle, WA so if you are ever there and have time – shoot up to Canada it is worth the trip.
Remember to check travel info and make sure you have your Passport or enhanced driver's license – for kids you will at least need a birth certificate.  Check travel requirements as it varies by age and how you are traveling – air and car are different.  We were actually in Seattle ready to go and realized that Ryan had forgotten his passport which added 5 hours onto the trip that day – once I got over my 5 stages of grief we actually had some good family car time.  But, not something we would want to forget again.
Alex's Top 8 Vancouver, BC Must-Dos for the whole family: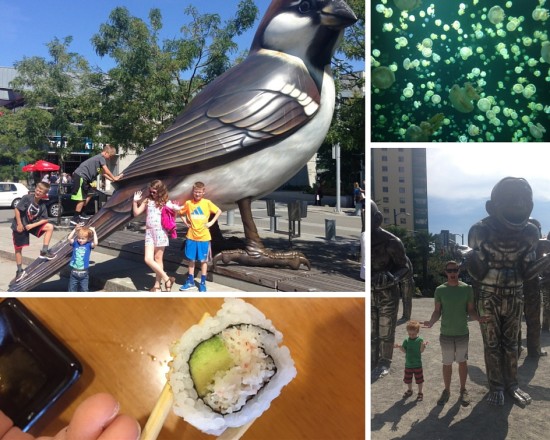 Vancouver Aquarium – They have Whales – need I say more!  It is quite the amazing experience for any age – they have all kinds of exhibits from beautiful jelly fish to tiny monkeys.  They also do shows daily and have a schedule of feedings which are all very exciting to watch.  I would schedule 3 to 4 hours there depending on the age of your kids and go in the morning to beat most of the crowds.
Science World – was beyond fantastic – we could have spent the entire day there.  It was super interactive for all ages.  We did not even get through all the sections as our 4 year old did not want to leave any of the exhibits. All the ages in our group from 4 to 13 were fully entertained.
Lulu Lemon– let's just say the exchange rate right now is awesome so take advantage.  Lulu lemon was founded in 1998 in Vancouver, BC so their store has the biggest selection and is worth setting aside an hour or more for mom there.
Japanese Food– is reasonable priced and super tasty.  We had it for two meals and they were very memorable and my personal favorite.  The bubble tea is always fun to get as well.
Stanley Park– has a beach, tide pools, fun restaurants, a sculpture park and more.  Our family had the best time there.
Hotel & Places to eat – the best 3 locations for both that I saw were Stanley Park, Waterfront area and Downtown.  They were beautiful and perfect locations to go places.  We stayed at Sutton Place Downtown and it was gorgeous and we actually spotted 2 stars while we were there and heard of many others.  We found our deal on hotwire.com.  I would avoid staying near the airport as it is super far away from the city and it would take you awhile to get in and out with traffic etc.
Hotel Pool– If possible I recommend staying in a hotel with a pool when traveling with kids.  It gives you something to do with them in downtime, burns off energy and makes great memories.  Our group of 5 kids of varying ages had a blast in the pool while the parents watched.
Kinder eggs– these can be found at any drug store or toy store in BC.  They are so fun for the kids as each one is a chocolate egg covered in foil with a surprise toy inside.  We took a bunch home as little presents for friends – they would be fabulous in stockings or Easter baskets too.  Jenn, her sister-in-law Amy and mother-in-law Phillis had the best time at the drug store looking at different kinds of candy they stock in Canada.
What are your favorite things to do in Vancouver, BC?  We would love to hear as we plan to go back.