A Way to Refresh This Spring
March 23, 2016
A Way to Refresh This Spring: Shower Therapy Tabs
I don't know about you, but this constant change in climate from warm-and-sunny to cold-and-wet really does not play nicely with my sinuses/allergies. Often I walk into work dragging because I can barely breathe out of my nose. Like most, I have medication for these seasonal symptoms, but I am too stubborn to take it. However, while walking around J.W. Shorter & Son Mercantile, I stumbled upon "Shower Therapy Tabs". The one in particular that caught my eye was the one labeled- Sinus. I have always been skeptical about Aromatherapy and I'm not much of a "scent" person, but Jenn Shorter even recommended it, so I had to give it a shot.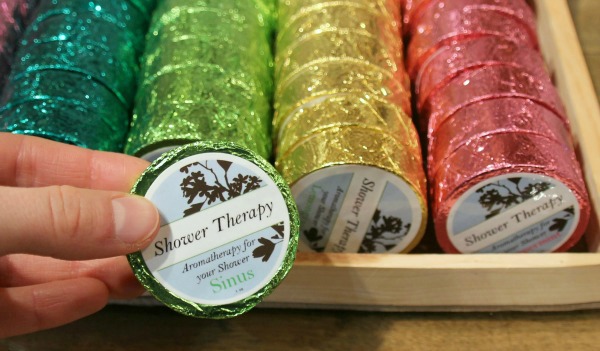 As soon as I opened the package, my senses were tingled by the tab's calming and soothing fragrance of mint and eucalyptus. The directions are also extremely simple to follow. Once you unwrap the tab, you place it in your shower where it cannot get wet, but can still be activated by the steam. The back of the package suggests on the shower floor, but away from the stream of water for best results. My personal shower that I used for this experiment is quite small, so there really isn't a place on the floor of the shower that is out of reach of the streaming water. Because of this, I set my shower tab on a shelf directly across from my shower head where it would not get wet, but could certainly be activated by steam. It worked wonderfully!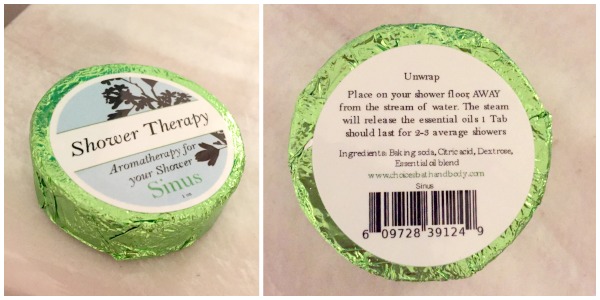 Within minutes I could breathe slightly better, so much so that I could actually smell the essential oils releasing from the tab. I instantly felt calm, relaxed, and surprisingly, more energized! Not only could I smell the tab working, but I could also see it! Once the tab is activated by the steam, the tab fizzles and bubbles around the outer edges showing the chemical reaction taking place. Which, I thought was pretty intriguing as well. After one shower, the tab had barely faded. I was able to keep my tab for another 3 days before it completely disintegrated in the hot steam of the shower.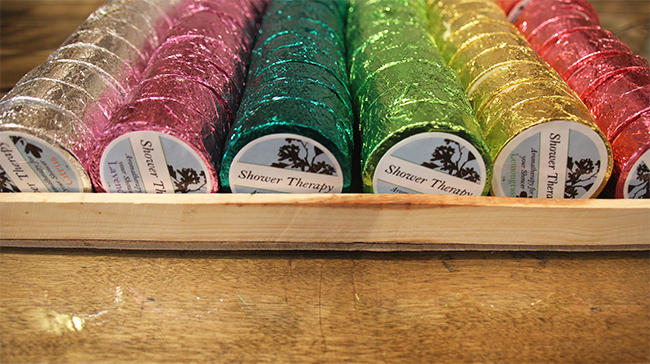 I already enjoyed my showers, but with the Shower Therapy Tab, I looked forward to them even more. I felt even more refreshed after my sinuses had been opened up and I was then ready to take on the day! Now that the life of my tab has diminished, I can't wait to try a new one. At J.W. Shorter & Son Mercantile they have quite the assortment of scents to choose from: Sinus, Peppermint, Lemon Grass, Citrus, Eucalyptus, and Lavender.
I might even buy 2 or 3 to last me a few weeks, or as gifts because they're less than $3.00 a piece! My grandma loves the lavender scent… Now I know just what to add to her package!
Want a glimpse of even more J.W. products? Check out our recent blog post: A Look Inside J.W. with pics of their new merchandise!
Thankful for Recommendations like this,
Petoskey Through the Eyes of a Newbie
Megan Fluharty