What Makes Our Polished Petoskey Stones Unique?
October 5, 2021
Named after the small town in Northern Michigan, the Petoskey stone has become a popular keepsake for people who live or are visiting Michigan. Petoskey is a small town on the coast of Lake Michigan known for its beautiful beaches and the home of the late Ernest Hemingway. Besides its history and beaches, Petoskey is also a popular place to search for Petoskey stones.
What is a Petoskey stone?
The Petoskey stone is a petrified fossil coral of the genus hexagonaria. Hexagonaria are tightly packed, six-sided corallites, which are skeletons of the once-living coral polyps. Over 350 million years ago, a warm, saltwater sea covered Michigan. The bottom of the waters is where you would find these corals. As time marched on, mud covered the bottom of the waters and covered the corals. Eventually, the corals were petrified, and we now have the Petoskey stone!
What makes our Petoskey stones so unique?
If you have ever seen a Petoskey stone at Grandpa Shorter's Gifts, you know that just the look of them is eye-catching. Here are some of the reasons why we think our polished Petoskey stones are so unique:
Every stone is one of a kind.
You will never find two stones that look exactly alike. Every stone has its unique pattern, size, color, shape, and even meaning!
All of Grandpa Shorter's Petoskey stones are found right here in Petoskey.
If you purchase a stone from Grandpa Shorter's Gifts, you can feel confident in knowing that the stone is genuine and straight from Petoskey, Michigan! They are even polished right here in Petoskey.
Take home a piece of Petoskey history.
And by history, we mean 350 million years ago! That's before the dinosaurs roamed the earth!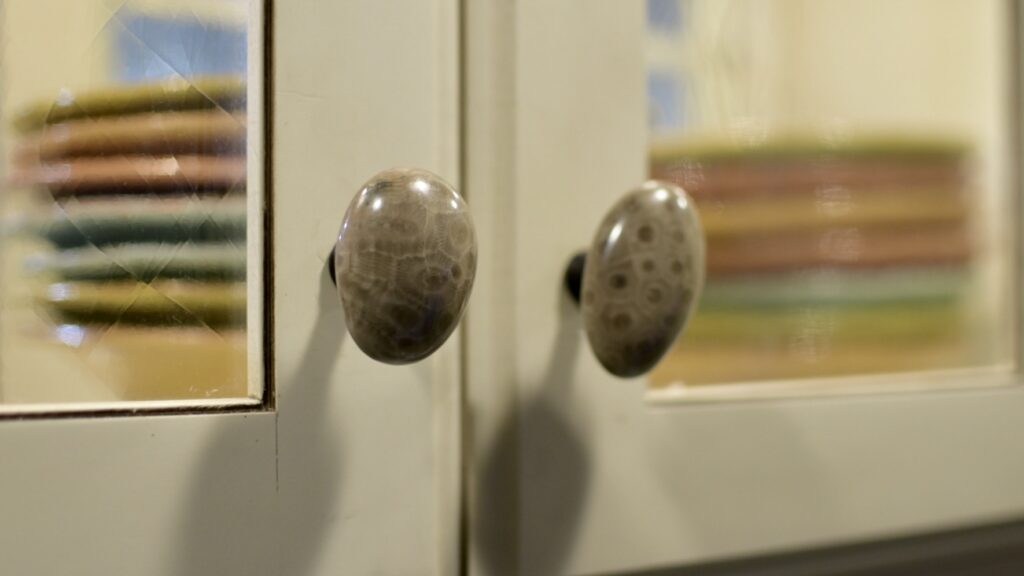 Petoskey stones can help dress up your house.
Put some polished stones at the bottom of a vase of flowers, or just set them on your shelf above your fireplace to remind you of Petoskey! Use them as a paper holder or part of your dinner place settings. Purchase a Petoskey stone clock from Grandpa Shorter's Gifts or check out some of our other Petoskey stone home gift ideas, such as clocks or wine stoppers.
Petoskey stones can help dress YOU up!
Grandpa Shorter's Gifts has a large variety of Petoskey stone jewelry. Choose from a variety of Petoskey stone earrings and necklaces. Petoskey stone jewelry is sure to be a conversation starter at your next party!
There are plenty of ways to show off your Petoskey stones, and you can feel confident if you purchased your stones from Grandpa Shorter's Gifts that you have a one-of-a-kind original stone straight out of Petoskey, Michigan!