What to Consider When Choosing a Campsite
April 2, 2015
Camping is increasing in popularity as families discover it is not only a great way to spend time together, but also an affordable way to travel. A lot of folks will set up camp for the first time this summer. If you haven't camped with your family before, I encourage you to give it a try. One lazy summer night sitting around the campfire eating S'mores, and you'll be hooked!
Michigan is a camper's paradise. Our state parks boast over 13,500 campsites located in 142 different parks. There are thousands more campsites in private campgrounds. If you have a tent to pitch or a camper to park, you'll find a place for it here.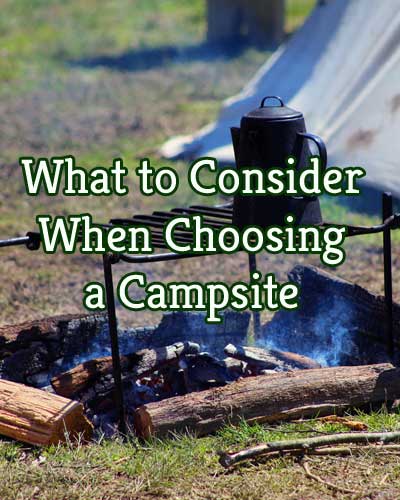 If you are planning an upcoming camping trip, here are some tips to help you find the campsite that is right for you.
1. Decide on your shelter: tent, RV or cabin. On-site cabins may be simple bunk houses with nothing but a roof over your head and cots for sleeping, or they may come fully outfitted with furnishings, a bathroom and even a kitchen with cooking utensils.
2. Consider your utility needs.
Electricity – If you're totally roughing it, you won't need any. However, many tent sites come with basic electricity that is handy if you want to use small appliances like a coffeemaker or fan on a warm night.  If you have an RV, you need to know if your rig uses 20, 30 or 50 amp electric. Be sure to choose a site that offers the appropriate hook up.
Water – You also want to know if water is available at your site. If you're tent camping at a rustic site, you may need to bring your water with you to the campground. Many modern campgrounds have a central location where you can fill water jugs. If you have an RV, it's convenient to book a site with a water hook-up.
Sewer – While RVs have self-contained systems, if you have a bathroom in your camper, you may also want a site with sewer hook-up.
WI-FI & Cable – Camping has come into the 21st Century, and some campgrounds even have WI-FI and Cable TV available. I encourage you to spend more time outdoors and less time using devices, but if you plan on working remotely while on vacation WI-FI availability may be something you need. If you have a TV in your camper, cable will come in handy on a rainy night.
3. Restrooms – If you're tent or RV camping and don't have your own toilet, you want to consider the proximity of the campsite to the bathrooms. Especially if you have small children, it's helpful to be close by, or it can be a long walk in the middle of the night. Don't just assume there are bathrooms at the campground. Rustic campgrounds may offer vault toilets only, or you may find nothing but a bush and the great outdoors.
4. Showers – Most modern campgrounds offer bathhouses with showers, but again this is something you won't find at a rustic site. If a daily shower is important, be sure to check that your campground has the necessary facilities. Don't be surprised if you have to pay for a hot shower. Some places, especially National Parks, have coin-operated showers, so bring your quarters!
5. Campsite location and terrain – When selecting a campsite, look at a map of the campground. Campsites near the entrance to the park will have more traffic pass by than sites at the back of the park. Is there a playground? If you have children, you may want to be close. On the other hand, it will be noisier the closer your are to the play area. Is the site shady? Tree cover will keep your tent or camper cooler on a sunny day. Is the site level? You don't want to pitch your tent on a slope. An RV can be leveled, but it's easier to start out with flat ground. If you have a tent, is the site in a low-lying area that will fill up with water when it rains? Is the ground dirt, gravel, sandy or grassy? You may want a tarp or outdoor rug to put down if it's anything other than thick grass.
6. Are you bringing your dog? Be sure the campground allows dogs, and that you comply with their rules. Most require dogs to be leashed at all times and always in the immediate care of the owner. Some campgrounds restrict size and breed of dogs allowed.
7. Does the campground have quiet hours? Many campgrounds ask campers to be quiet during overnight hours. If you're concerned about young children getting enough sleep, a place that enforces quiet hours is probably a good idea.
8. What amenities are available at the campground? A swimming beach, boat launch, fishing pier, volleyball and basketball courts and a swimming pool are just a few things you might find at a campground. Consider what will best serve your interests.
9. Is there a camp store on site? Is there shopping near by? If not, you want to double and triple check that you bring all your needed supplies with you. Hot dogs without the ketchup just aren't the same.
10. Can you bring in firewood? Many campgrounds don't allow you to bring your own firewood. This is to help prevent the spread of  invasive species like the Emerald Ash Borer. Firewood should be for sale at the campground or from a local retailer.
Planning ahead and carefully choosing the campground and campsite that is right for you will ensure you have a hassle free trip and a wonderful time with your family and friends. Happy Camping!