Wheels on Rails
April 24, 2023
There's a new ride in town – and it's the only one of its kind anywhere in Michigan!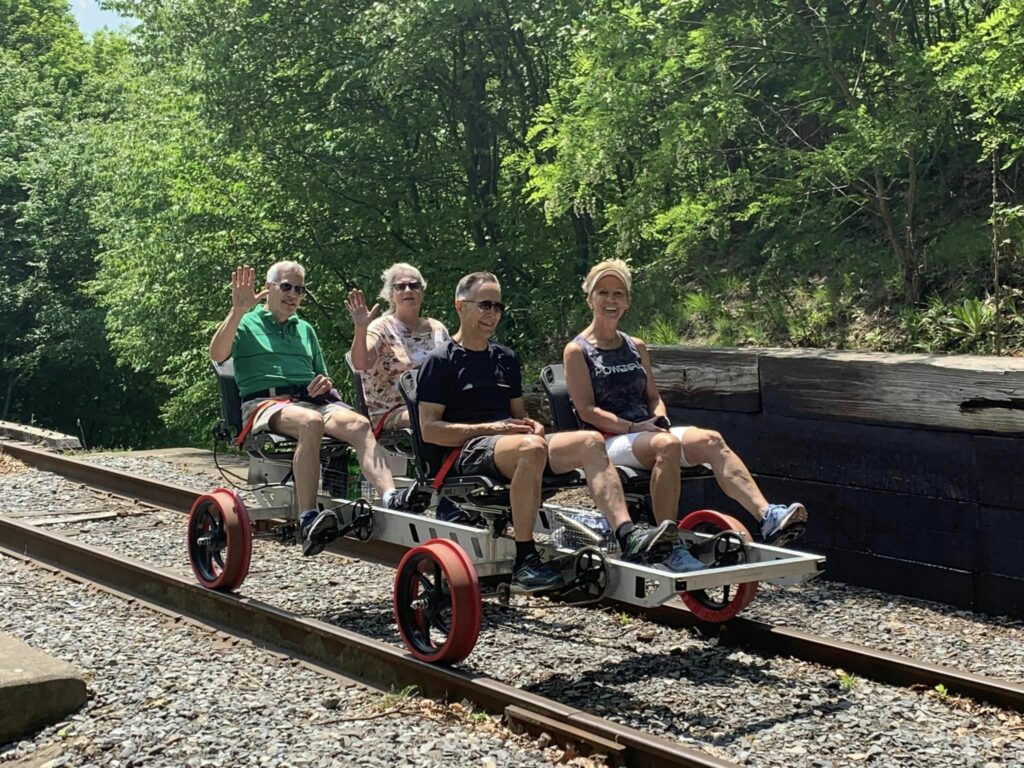 Wheels on Rails opens this May in Grawn, Mich., (about 1.5 hours south of Petoskey) and offers a 6-mile, roundtrip, 1-hour ride by railbike along a (non-active) railroad through beautiful forests outside of Traverse City.
Yes, railbikes have arrived in Northern Michigan and it is causing quite a stir – as they are the only ones to be found between Pennsylvania and Colorado! Owner Macie Hefron says the tours are selling out quickly and she's already looking into adding additional locations in Michigan for her new business.
"The response has been amazing," she said. "We are booking so fast, as people are hearing about it and wanting to add it to their trip to Michigan!"
Passengers can rent a tandem bike (2 passengers) or a quad bike (4 passengers). The 3-mile stretch goes through a valley, through forests, along spring-fed creeks and under a bridge. At Beitner Road, the bikes turn around and return on the same stretch for a total of 6 miles.
Railbikes offer a fun, carefree novel way to pedal – and best of all, anyone can do it! The lightweight bikes are easy to pedal and there's no steering involved. Young children who can't reach the pedals can go along with adults in their own seat and just enjoy the ride. Groups can book several bikes if they want to go together. (A quick but important note – pets and alcohol are not allowed!)
Macie says her love for the outdoors, cycling, and railroads led her to rail biking. Her original goal was to open a railbike business wherever she could find tracks, but she soon realized that many Michigan railroads had been removed and made into bike paths. Her choices were extremely limited. After countless months of research, phone calls, trips and perseverance, she was finally able to secure the permits and logistics to open the brand-new railbike business along the stretch of tracks in Grawn (just outside of Traverse City). To the delight of many!
Wheels on Rails operates 5 days a week (Thursday to Monday), May 25-Sept 10 (including the week of July 4). Choose from four 1-hour guided tours a day: 9 a.m., 11 a.m., 1 p.m. and 3 p.m. The Tandem Bike (seats up to 2 guests) books for $89 and the Quad Bike (seats up to 4 guests) books for $159.
If you're headed north this summer, you might want to consider stopping in for a novel ride in the heart of Michigan! Visit their website for info and to book.