Who Knew that Sock Infatuation Was a Real Thing?
January 20, 2016
Yes, that's correct. This winter, all the buzz is around socks. However, not just any socks, but Blue Q socks.
What are Blue Q socks? Well, funny you should ask, because until recently, I didnt have a clue either. Blue Q socks are carried at J.W. Shorter & Son Mercantile in Downtown Petoskey, MI.
In order to get a good taste of just what makes these socks so popular, I went straight to the woman that introduced me to these smile spreading, toe-warming sensations – Erica Flock, Store Manager of Grandpa Shorter's Gifts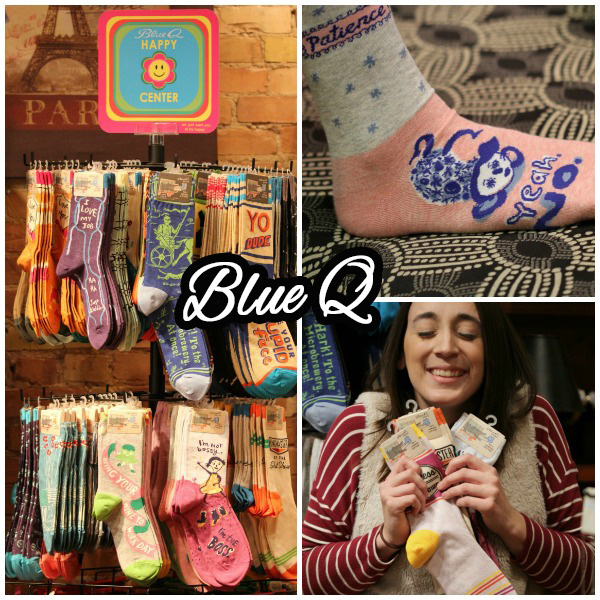 Erica's family of two doesnt own a pair of Blue Q socks, but… 28 pairs!
They're just socks, what's the big deal?
When I asked Erica why she chose Blue Q over any other sock brand, she simply stated, "They bring me joy."
However, she went on to say that the reason that she is so overwhelmed with joy everytime she puts on her Blue Q socks is not due to their comfort (most sock wearers would find this most important), but the laughter that they envoke. Each pair of socks is designed with a different, humorous, and overally sarcastic saying. Some of her favorites for women include: "Patience… Yeah, No" and "Duchess of Sassy Town". However, men enjoy them just the same! Erica says that some of her husband's favorites are "Yo, Dude. Put Some Pants On" and "Sunday Socks. Football. Nothing Else Matters".
Okay, so they're funny and..?
Blue Q socks are fun to share with others as well. Another reason why Mrs. Flock enjoys wearing these particular socks is because she likes to share the happiness that they bring her. "I can't tell you how many times I've made someone laugh just by showing them my socks", she adds. She also includes that they are great gifts for others and that there is a sock that pertains to everyones' sarcastic side- even if they dont like to admit it. Not only do Blue Q socks make an enjoyable gift, but they are also practical too! Erica adds, "With their lightweight and warm material, you'll never want to take them off".
Where do I find them?
If you want your own pair of Blue Q "joy-makers" J.W. Shorter & Son Mercantile has an incredible selection ranging of Men's Crew Socks, Women's Crew Socks, and Women's Ankle Socks. You can also find Blue Q Socks at Grandpa Shorter's Gifts online.
I can't wait to get my own! I'm thinking.. "Super Star Reporting for Duty".
More to come,
Megan Fluharty
Petoskey in the Eyes of a Newbie