Why Michigan Inland Lakes are Perfect for Your Next Vacation
June 3, 2016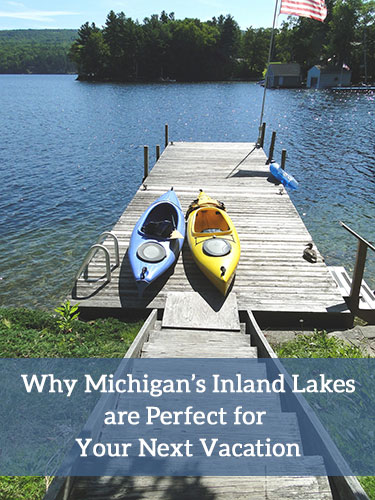 We're famous here in Michigan for our Great Lakes. They're huge, gorgeous and provide a wealth of recreational activities. But I'm going to share some insider information with you. If you really want a fantastic beach vacation, you should consider making one of our 11,000 inland lakes your home base for the week.
Many of the smaller lakes are just a few miles from a Great Lake, so you won't miss out on The Big Lakes. You can have the best of both worlds. Here are a few reasons why I think you should choose an inland lake this summer:
Why Choose Michigan's Inland Lakes
1. They're often better for swimming. The truth is the Great Lakes never get that warm. Even in August when the water has had all summer to warm up, it doesn't get much above the high 60s, low 70s, if we're lucky. I can think of only one year I thought Lake Michigan was warm enough, and that was when we consistently had air temperatures over 100 degrees, which doesn't happen very often up here. The smaller lakes warm up a lot more. So, if you prefer warm water, I think inland lakes are the way to go.
2. Inland lakes are safer. They don't have the big waves and the undertow you'll find on the Great Lakes on a windy day. As much as I love to visit Lake Michigan, I didn't like taking my children there when they were small and couldn't swim. It just made me too nervous. So we spent most of our summer afternoons at the smaller lake near our house. The water is always calm, and it has a nice, shallow area for swimming.
3. You can rent an affordable beachfront cottage. Sure there are beachfront cottages and houses for rent on the Great Lakes, but you'll need a big, big budget to afford a week in one. Cottages on the inland lakes can be found for as little as $500 a week. Of course, the time of year and size of the cottage affects the price, but your money will definitely go further at a smaller lake. Many inland lakes also have beach-side campgrounds for a really affordable option.
4. They're great for fishing, especially for the less experienced. A lot of fishing on the Great Lakes is sport fishing for large fish. You need a good size boat and some quality gear. You're not going to catch a 100 lb. sturgeon in a rowboat with a basic pole. But just about anybody can try their hand at fishing in an inland lake. You'll be able to find a marina where you can rent a boat, if you don't have your own. Sometimes the rental cottage will even come with a boat. You can catch good size walleye, perch and smallmouth bass in our smaller lakes.
5. They're great for relaxed boating. If your idea of boating is floating around in a pontoon all day with no worries, head for a smaller lake. The Great Lakes can be unpredictable and require more attention at the helm. Just like fishing, you don't need as much experience to pilot a boat on a small lake.
6. Smaller crowds. Some of the most popular inland lakes do draw big crowds, especially on holidays. But most of the time I find that the beaches aren't as crowded as the popular tourist beaches on the Great Lakes. If you rent a cottage on an inland lake, you'll likely have private access to a section of beach and won't have to share at all.
Five Michigan Inland Lakes to Check Out
Now that I've convinced you to consider an inland lake, here are five to check out:
Torch Lake – This is Michigan's largest inland lake, and probably its most popular. The shores are lined with vacation rentals and private lake homes. It does have public access as well. Boating is huge on this lake. In fact, on Fourth of July weekend there's almost bumper-to-bumper boat traffic on the lake. If you want to be where the party is, Torch Lake is the place. If you don't like crowds, this place may not be for you. Fishing, swimming, and kayaking also take place on this all-sports lake. It's just 17 miles from Traverse City and 60 miles from Sleeping Bear Dunes National Lakeshore on Lake Michigan.
Lake Charlevoix – This lake in Northern Michigan is close to Petoskey, Charlevoix and Boyne City. It's a little over an hour to Mackinaw City where you can catch a ferry to Mackinac Island for a day trip. It's almost right on the shore of Lake Michigan too. So it's a great place to set up camp if you want to explore Northern Michigan. It's also an all-sports lake.
Gun Lake – Gun Lake is an all-sports lake in West Michigan, about 45 minutes from Lake Michigan and Grand Rapids. It's about 30 minutes from Kalamazoo. You'll find private rentals on this lake. Part of Gun Lake is also inside Yankee Springs State Park where you can camp. The state park has a large, clean beach with a shallow swimming area that's perfect for children. It also has a public boat launch. Most of the time the park is quiet and uncrowded. I'm partial to this lake, because it's right down the road from my house.
Houghton Lake – If you hold up your right hand, palm facing you, you have a basic map of Michigan's Lower Peninsula. Houghton Lake is right about in the center of your middle finger. Surrounded by woods, it feels a bit more secluded and rustic than lakes closer to the Great Lakes. You'll really feel like you're away from it all. Fishing is a big pastime on this all-sports lake. Lake Michigan and Lake Huron are both about two hours away from Houghton Lake.
Lake Gogebic – This pristine all-sports lake in the far western Upper Peninsula is a fisherman's dream. It's teeming with walleye, small mouth bass, northern pike, jumbo perch and whitefish. Nature-lovers will find lots to explore in this rugged part of the U.P. Hike to waterfalls, visit the Porcupine Mountains and walk the shores of nearby Lake Superior. Private rentals are available, and part of this lake is also within a state park with a campground.