Homemade Winter Sparkly Playdough Recipe
December 23, 2015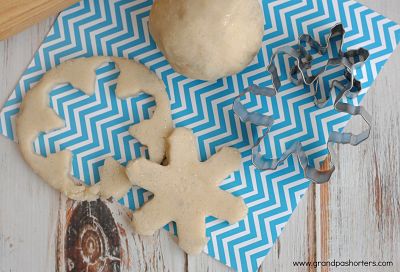 Christmas break equals a lot of time with the kids out of school. Let me preface this by saying, I love my children dearly, I really do. That being said, I also relish the time they are in school that allows me to work (quietly) from home and keep my sanity in check. The first week of Christmas break for us is always the easiest and the most fun. I try to plan a few activities outside the house and then have a few days of down time to play with all the new toys as well as visiting with friends and family.
The last few days of break, on the other hand sometimes get really out of control; the 'we're bored's!!' often show up and because I don't get a vacation from work my sanity is sometimes lacking. The good thing, is that now that our kids are a little bit older they are good about sitting for a few crafts and activities and don't need my constant attention.
This past weekend was a good time to try out an easy Homemade Winter Sparkly Playdough recipe. Yes, I could have probably ran to the store and grabbed a few cans but I had all the ingredients on hand and it took about 10 minutes to make. Easy. Plus, if you're into using essential oils, you can also make it smell really yummy and way better than the store bought kind.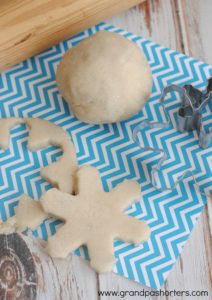 Homemade Winter Sparkly Playdough Ingredients –
1 C. flour
1 C. water
1/2 C. salt
2 tbs. vegetable oil
glitter
food coloring (optional)
Directions –
#1. Combine the flour, water, salt and oil in a small saucepan (also add in a few drops of food coloring, if using)
#2. Heat on medium heat for 3-5 minutes. Add in the glitter – I honestly didn't measure I added probably 1/2 a tablespoon if I had to guess. Enough to make it sparkle.
#3. After 3-5 minutes to mixture will become doughy and start to pull away from the edges of the pan.
#4. Remove from heat and allow it to cool prior to playing with it.
My kids LOVE playdough and this is a great, inexpensive alternative. My kids also always forget to put the lids on the store bought playdough and then it turns into a dried out mess that I have to throw away. Save your money and try making your own! Give each child a few cookies cutters, some plastic butter knives and a rolling pin and voila; a fun and inexpensive indoor activity.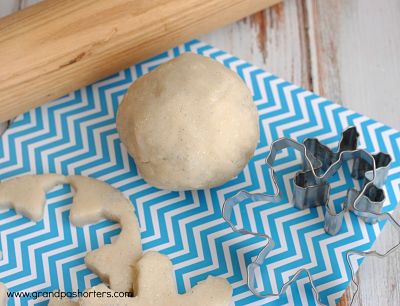 Looking for other Winter activities for the kids? Check out these ideas –
#1. How cute is this Snowman Factory Activity from Buggy and Buddy?
#2. Cardboard Tube Olaf from Crafts by Amanda
#3. Coloured Coffee Filter Snowflakes from Happy Hooligans
#4. Snow Slime from Growing a Jeweled Rose
#5. Make your own Play Snow from Huckle Berry Love