13 Michigan State Park Campgrounds Right on Lake Michigan
May 26, 2017
Every summer, Lake Michigan's beautiful shoreline draws crowds of visitors to the western side of the Mitten State. If you want to stay lakeside, you can spend thousands of dollars on private cottage rentals or resorts. Or you can get a million dollar view for just a fraction of that, and take advantage of some of the best beaches in the state by camping in a Michigan State Park. These 13 Michigan State Parks sit along Lake Michigan, putting you just steps away from the water.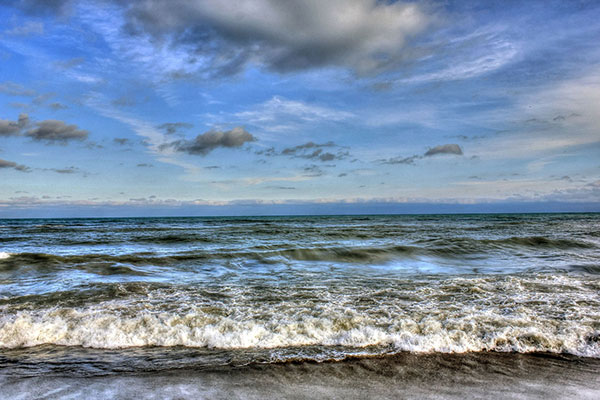 1. Wilderness State Park – Located a few miles west of Mackinaw City, Wilderness State Park has 26 miles of shoreline with amazing views of the Straits of Mackinac. The park offers rustic cabins and modern campsites. You'll be just minutes from the Mackinaw City, St. Ignace, the Mackinac Bridge and the ferries that take visitors to Mackinac Island.
2. Petoskey State Park – This park sits right on sparkling Little Traverse Bay. It's the perfect place to search the shoreline for the coveted Petoskey Stone, Michigan's most famous souvenir. You'll also enjoy the mile-long golden sand beach and hiking trails. The park sits between the lakeside cities of Petoskey and Harbor Springs. It's just a short drive to their unique restaurants and shops. The park has modern campsites.
3. Leelanau State Park – Located on the tip of the gorgeous Leelanau Peninsula that juts out into the Big Lake, it's one of Michigan's most unique park locations. Leelanau State Park is home to the Grand Traverse Lighthouse Museum. You can tour the lighthouse and even climb inside the light tower. You'll also find 8 and ½ miles of hiking trails. The park is close to Sleeping Bear Dunes National Lakeshore and about an hour from Traverse City via M22, one of Michigan's most scenic highways. You'll also find yourself close to the cherry orchards and vineyards the area is so well known for.
4. Orchard Beach State Park – This park sits on bluff overlooking Lake Michigan, making it an ideal spot to catch one of our spectacular summer sunsets. A stairway takes you down to the beach. You can catch a trolley from the park to the city of Manistee, a historic, Victorian lumber town. The nearby harbor is a popular place to fish. The park has modern campsites and a few cabins.
5. Ludington State Park – One of the most popular state parks in Michigan, you'll want to make reservations early if you want a spot at Ludington State Park. It features beaches on both Lake Michigan and inland Lake Hamblin. The scenery includes sand dunes, shoreline, marshland and forest. It's also home to Big Sale Lighthouse which is still used for navigation today. The swimming beach is perfect for families. You'll be close to downtown Ludington with dining and shopping options. With modern campsites, cabins, rustic camping and backpacking campsites, this park has something for almost every type of camper.
6. Mears State Park – Mears is on Lake Michigan next to tiny village of Pentwater. Paved campsites are surrounded by sand and just steps from the water. It also has a well-maintained swimming beach. The village holds events throughout the season, including a popular Fourth of July celebration.
7. Silver Lake State Park – Silver Lake State Park is the go-to destination for anyone with an Off Road Vehicle. It's the only state park that allows ORVs to drive up and down Lake Michigan's giant sand dunes. The 450-acre vehicle area has wind-swept sand dunes that are free of brush and scrub grass. To drive your ORV there, you'll need a permit, and you must adhere to a special set of rules to ensure everyone's safety. You can camp at the park's 200-site modern campground that sits along Lake Michigan. This is another park where the spots fill up quickly.
8. Muskegon State Park – This park has two miles of shoreline along Lake Michigan and a mile along Muskegon Lake. It has modern campsites, mini cabins and a yurt for overnight accommodations. Fishing, boating and swimming are just few of the many outdoor activities available at the park. Michigan's Adventure Amusement Park is just a short drive away.
9. Grand Haven State Park – Another popular park, this one has paved modern campsites with a view of the beach and Lake Michigan. You'll also have a view of the famous lighthouse and pier. It's a great place to catch a sunset. You are within walking distance of the beach side town of Grand Haven and The Musical Fountain that puts on nightly performances.
10. P.J. Hoffmaster State Park – You'll find miles of hiking trails at this state park that features 3 miles of Lake Michigan shoreline. It has a Dune Climb Stairway which takes you to the top of one of the park's tallest dunes. The view at the top provides  panoramic view of the dunes and lake. The park has modern and semi-modern campsites.
11. Holland State Park – At Holland State Park, you can camp along Lake Michigan or along the inland Lake Macatawa. The parks popular, large, sandy swimming beaches are a summer destination for both campers and day-use visitors. You're also close to the city of Holland, known for its proud Dutch heritage. You can camp at the park's modern sites or reserve one of their camper cabins.
12. Van Buren State Park – This park has a mile of sandy beach on Lake Michigan as well as an almost new bathhouse and concession stand. It's just outside of the city of South Haven, a popular lakeside resort town, famous for its lighthouse and multiple summer festivals. The park has modern campsites.
13. Warren Dunes State Park – Located on the southern end of Lake Michigan, it's close enough to Chicago for a day trip. This park is famous for is 260 foot high dune formation. It also features a swimming beach and hiking trails. It has modern and semi-modern campsites.
You can find more information about all these parks on the Michigan DNR website.