8 Michigander Tips for Staying Warm This Winter
January 9, 2018
I've lived in Northern Michigan my entire life. I grew up in Indian River, went to college in Sault Ste. Marie and now currently reside in Petoskey. To be honest, I'm not a huge fan of cold weather but honestly, I've grown used too it and I've come to expect it. I often see posts on social media of Michiganders complaining of the cold (I'm guilty too), but we should be used to it and honestly our brutal winters make our gorgeous summers totally worth it!
Here in Northern Michigan, temperatures often begin dropping in early to mid-fall amid the color change. Fall is one of my favorite seasons and I love digging out my favorite cozy sweaters and boots. Taking a ride up M-119 to Pond Hill Farm or purchasing pumpkins and cornstalks at Bill's Farm Market are some of our favorite fall past times. Mid-November through December we usually see temps dipping down into the 30's and the occasional 20's, but usually no snow in sight. Heck, Christmas 2017 was a green Christmas for us. We didn't get snow until after the new year.
This past December we watched the temps drop into the teens and 20's and then it began to snow. Snow in December is not unusual for us by any means, but the snow didn't seem to want to stop. It blanketed all of Northern Michigan and schools around the area were closed several days in a row.
Fast forward into the beginning of January and it's still snowing and blowing. It's actually been unseasonably cold the last few weeks. Petoskey has been in the -20 range and local schools have been closed for good reason. Today is a little bit warmer at 28 degrees here in Petoskey. I joked on social media this morning how 'warm' it feels but it really does feel warm after last weeks -20's and -30's!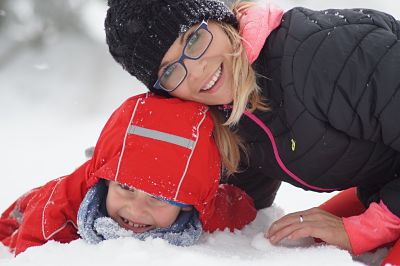 8 Michigander Tips for Staying Warm This Winter
Warm Yourself. I am one of those people that is always cold. Seriously. Once I'm chilled I just cannot seem to warm up. It's much easier to stay warm longer if you already warm to begin with. An easy way to warm up quickly is drinking a warm beverage such as coffee or tea or enjoying a warm bowl of soup. If you have a pellet stove or a fireplace go sit near it for a few minutes.
Wear Layers. This goes back to warming yourself up first. I am a diehard layer wearer. I always have on a t-shirt or tank under my top layer and occasionally a third fleece layer prior to putting my actual coat on. If you truly want to stay warm you will want to put on 3 layers of clothes: bottom, middle and a top layer. They don't necessarily need to be heavy layers but material that wicks moisture away is best.
Wear a Hat. Ever heard of the old saying you lose 90% of your body heat from your head? Well, that's actually false. However, wear a warm hat will still help keep you much warmer than not wearing one. Stop into Grandpa Shorter's Gifts and we have adorable hats that will keep you warm.
Block Drafts. Pool noodles are great for wrapping in fabric and then sliding it under coldy, drafty doors.
Be Prepared. We live in a cold climate state. Our summers are what keep me going through the winter months but I know, come November it's going to get cold and stay cold for a good 6 months. Stay prepared by keeping an extra blanket and hand warmers in the back of the car. Even carry a dry coat, hat and gloves with you so you can swap them out when needed. And always have wool socks on hand.
Stay Active. It's so much easier to keep warm and STAY warm in the winter when you're active. I'm not a fan of hanging out in the cold but when I take the kids sledding, ice skating or snowboarding I like to participate too. I bundle up, wear lots of layers and because I'm being active I don't notice the cold as much.
Keep the Fire Burning. Have a fire place or pellet stove? Keep them stoked. Have furnace? Keep the temperature set wear you are comfortable.
Run a Humidifier. A humidifier not only keeps the winter dryness at bay, it also makes your rooms feel much warmer. Growing up we only had wood heat and my dad would always keep pots of water on top of both our wood stoves.