Stocking Stuffer Boxes (Free Stockings!)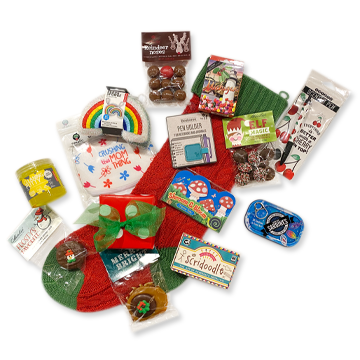 It is a busy time of year, so let our personal shoppers help make things easier! You give us the details, and we'll do the shopping. We're the gift-giving specialists and we're ready to help you fill a stocking for your gift recipients with items chosen just for them!
Fill out our short questionnaire to help our personal shopping elves fill the stocking. Stockings contain product specially chosen with your answers in mind. Once the shopping is completed, tags will be removed, and items will be carefully wrapped up and tucked into the complimentary stocking to be on its way to your friend or loved one!
Note: The higher the price of the stocking, the more goodies there will be inside!
These stockings are perfect for college students, grandchildren, teachers, or anyone that loves the holiday season!
Shipping is $8.95 per household. That means if you would like to send multiple stockings to one household, you will only be charged the original $8.95! All orders will be delivered within 7 days from when you placed them.
Additional Information about your gift box order
What Our Customers Say about our Gift Baskets
A New Christmas Tradition

In the past, I enjoyed putting together cute fun stockings for my family every year. Last year due to the pandemic, I decided to order pre-made custom stockings. The stockings were beautiful. Each son received quality knitted stockings filled with fun, exciting items and just the right amount of candy. My sons are in college and enjoyed their stockings as much or more than they have any year before. This year I'm looking forward to my new Christmas tradition, ordering stockings from Grandpa Shorter's.
A Christmas Gift to Myself

"I trust your judgement picking out items. I am a single mom with a preteen so I am just looking forward to having a stocking that I didn't fill. Stockings are my favorite Christmas memory and you always do such a nice job. This is my Christmas gift to myself."
Making Christmas Memories

"I am ordering this for myself. I am 29 years old. I ordered one for my daughter last year and it was so fun! I wanted to get us both one to have from Santa on Christmas morning. You do such a wonderful job making Christmas memories with these stuffings. Thank you!"
Thank you for making our Christmas so special!

Thank you so much to you and your team for selecting the most wonderful stocking gifts! It's one thing to see young kids get excited about gifts, but it is really special when a 16-year-old and a 20-year-old are jumping for joy over things in their stockings. That kind of excitement doesn't happen every day. The stockings have things I would never have thought to get them, or for them to try and explore. Thank you, thank you, thank you for making our Christmas so special.
Elaine

Perfect for College Students

"Hey Friends with College Students — this is a PERFECT holiday gift to deliver to your favorite student during finals week!! AND you will be supporting a fantastic local shop in Northern Michigan, Grandpa Shorter's! They will pick custom items for whatever age/interest to delight the receiver. #shoplocal #shoponline #staysafe"