What You Need in Your Summer Survival Kit in Michigan
June 26, 2019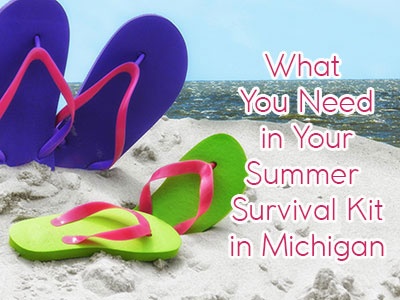 Much is said and written about how to survive winter in Michigan. Online you can find lengthy lists of the winter gear you need, like long underwear, snow shovels and rock salt. It's suggested you keep those and a few other survival items in your car in case you end up stranded in a snow bank. But not much is said about summer survival in Michigan.
The truth is, around here the livin' is pretty easy in the good ol' summertime. It's something to be enjoyed rather than survived. But there are a few pieces of gear I recommend having on hand to help you make the most of your Michigan summer. So take that snow brush out of the car, replace it with these, and you'll always be ready for an impromptu stop at the beach.
1. Mosquito spray – Let's just get this one out of the way first. It's really the only item on the list that's not all fun and sun. Unfortunately, the warmer temperatures bring out the skeeters, especially at night. As long as you arm yourself with bug spray, the critters won't put a damper on your summer.
2. Bathing Suit – In a state where you're never more than six miles away from a body of water, a swimsuit is a must in the summer. If you think one of our four Great Lakes are too chilly, you can always take a dip in one of our 11,000 inland lakes. The smaller lakes warm up nicely in the summer.
3. Sunscreen – Forget everything you know about winter in Michigan. Summer brings with it lots of warm, sunny days. So you'll need that sunscreen to protect your skin from damage while you work on your tan.
4. Flip-flops – If you plan on taking a stroll on the beach, don't wear your loafers. You'll just fill them up with sand. You might not want to walk on the sand barefoot though. That sun I mentioned above makes our fine, white sand hot enough to make your feet sizzle. A pair of flip-flops keep your feet cool, and prevents you from tracking a mountain of sand home with you.
5. Towel – Of course, a towel comes in handy for drying off after a swim. But it's also great to spread on the beach if you want to sit and watch the sunset or for a spur of the moment picnic at the park.
6. A good book – One of my favorite ways to relax in the summer is sitting on that towel at the beach with a good book in my hands. Make a summer reading list, then head to your local bookstore or library to stock up on a few good reads.
7. Hiking boots – We have thousands of miles of hiking trails in the Mitten State. If you want to take a walk in the woods, you should probably switch out those flip-flops for a pair of hiking boots or some sturdy gym shoes at least. If you're not sure where to find a trail, try one of our many state parks.
8. A sense of adventure – Summer is best enjoyed in Michigan with a sense of adventure. You can climb a sand dune, cast a fishing line, kayak a river and so much more. The possibilities for finding outdoor adventure here are as endless as Lake Michigan's horizon.
9. GPS or a map – If you plan on getting in the car and seeing where adventure takes you, a good GPS app on your phone or an old-fashioned map will make sure you wander without getting lost. Even if you have GPS on your smart phone, a paper map is probably a good idea. We still have wilderness in Michigan where you won't get a phone signal no matter what carrier you have.
Throw all this stuff in your car, and you're ready to have an epic Michigan summer!
Be sure to also check out these great summer posts: