Seven Unique Places to Spend the Night in Michigan
July 3, 2019
Tired of the same ole resting spots in Michigan? You have got to check out these seven unique places to spend the night in Michigan. Submarine, teepee, yurt, boat house. We've got it all here!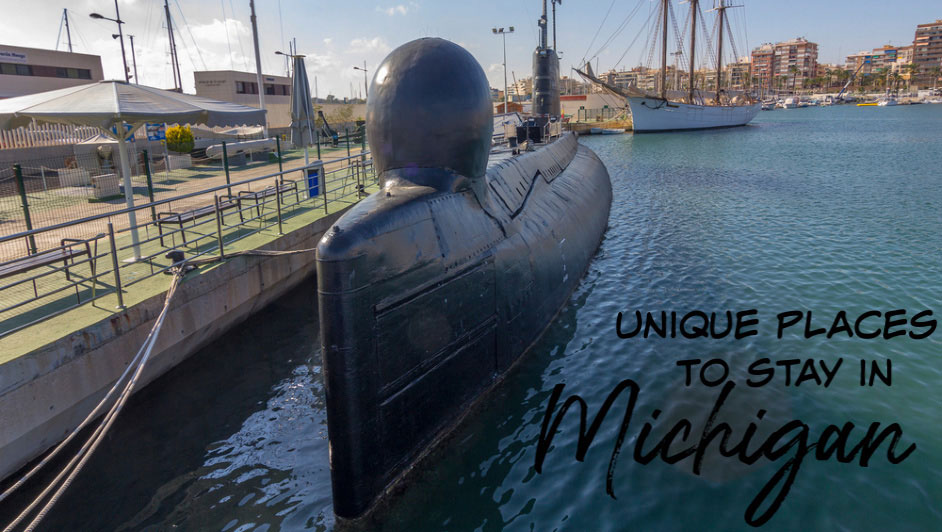 1. Submarine – Spend the night in the USS Sliversides, a WWII era submarine in Muskegon. Sleep in the same place as her brave crew members, who helped defend the United States, and completed 14 successful missions during the war. Walk the deck, explore the sub, and imagine what it was like to be a member of the navy over 70 years ago. You can bring the whole family or your Boy Scout troop. The sub accommodates up to 72 guests. Now that's some close quarters!
Photo credit: SpringChick
2. Castle – Henderson Castle in Kalamazoo was built by a local, prominent business man in 1895. The Queen-Ann style house has 25 rooms, including a ballroom and turret which earns it castle status. Marble floors, crystal chandeliers and stained glass windows lend to the home's grandeur. Today the castle is an elegant bed and breakfast as well as French restaurant serving an 11 course meal fit for a king.
3. Lighthouse – Have you always dreamed of spending the night in a lighthouse? Three privately owned lighthouses in the Upper Peninsula offer bed and breakfast accommodations: Jacobsonville Lighthouse Inn, Big Bay Point Lighthouse Bed and Breakfast and Sand Hills Lighthouse Inn. All the lighthouses offer tours and access to the tower to view the water. It's a unique way to enjoy the Michigan lake shore.
Photo credit: cmh2315fl
4. Train – Railroad buffs will love the opportunity to stay in a historic 1920s caboose in South Haven. The Caboose Inn is located at the site of the town's original train depot. Guests are close to the Lake Michigan beach and the downtown shopping district.
5. Yurts and Tepees – Several Michigan State Parks offer yurts and teepees for nightly rental. They're a nice upgrade from a nylon tent, but more primitive than a cabin. Some are in modern campgrounds with bathhouses, while others are more rustic with few amenities. Many yurts have propane heaters, making them habitable even in the winter. Check availability and make reservations online at the Michigan DNR website.
6. Where Hemingway Slept – Northern Michigan is known to Hemingway fans as his summer stomping grounds growing up. His experiences there later influenced his writing. Several Michigan places even get a mention in his works. You can spend the night at Stafford's Perry Hotel in Petoskey where Hemingway once slept. The elegant hotel, built in 1899, will transport you back to another time. While in town, serious fans will want to tour Hemingway's other local haunts as well.
7. Boat – Sea Suites Bed and Breakfast in Saugatuck calls itself the first boat and breakfast in Michigan. Docked and floating quietly on the Kalamazoo River, Lake Michigan beaches as well a galleries and restaurants are all conveniently located nearby. Four well-appointed staterooms provide privacy and relaxation. You can also enjoy the view from the common area on the 105 foot deck.
You may also want to check out: