10 Essential Michigan Summer Activities
June 2, 2017
We know how to do summer really well here in Michigan. In fact, if you ask me, there's no better place to be June through August. Our clear, blue waters and sandy, white beaches were made for summertime.  Ask a few Michiganders how they spend their summers, and you'll soon realize there are certain activities that almost everyone here considers basic and essential.
1. Swim in a Great Lake – No one in Michigan is more than a couple hours by car from one of our four Great Lakes: Superior, Michigan, Huron, and Erie. Taking a dip in one of the Big Lakes on a hot day is standard fare for Michiganders. The beach towns along Lake Michigan are especially popular destinations. Everyone loves the soft, white sand, and cool clear water in the bays. If you really want the quintessential lake experience, head to Petoskey in Northern Michigan where jumping of the breakwall and plunging into Little Traverse Bay is a rite-of-passage for kids growing up there.
2. Petoskey Stone hunting – Speaking of Petoskey, you can't visit Northern Michigan without going on a Petoskey Stone hunt. These unique rocks are fossilized coral and feature a hexagon shaped pattern you can only see if the stone is wet or polished. What makes the stones so special is that they aren't found anywhere else in the world except along the Lake Michigan shoreline in Northern Michigan. You're allowed to keep any stones you find, up to 25 lbs worth. They're a favorite souvenir for beach goers. Most Michiganders have a few Petoskey stones at home.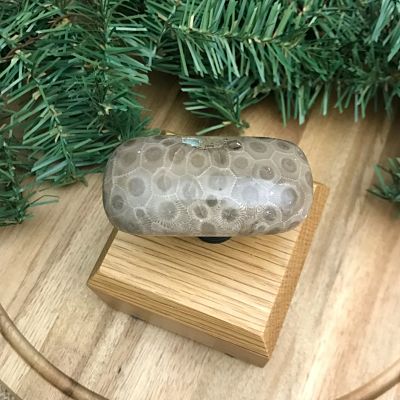 3. Climb to the top of a lighthouse – Michigan's Great Lakes afford us the second most shoreline in the U.S. Only Alaska has more. With all that coast, it makes sense that we have the most lighthouses. At one time, there were close to 250. About 124 still remain. Most lighthouses are no longer used for navigation purposes, but many have been restored and opened to the public for tours. There's something magical about standing inside a lighthouse tower and seeing the open water. Mission Point Lighthouse, located near Traverse City, is open for tours all summer.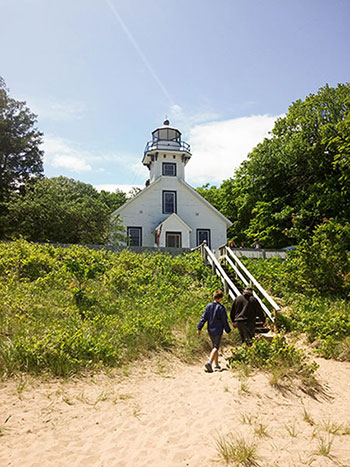 4. Watch a sunset on the beach – If you're in a Lake Michigan beach town as dusk starts to fall, you'll notice the crowd gathered near the water watching the sunset. The west-facing, wide vistas of the lake make it the perfect location for watching the sun sink below the horizon. Almost every summer night, the sky turns shades of orange, yellow, pink and purple as the lake shimmers below. The aptly named Sunset Park in Petoskey just happens to be one of the many great places to watch the day come to a close.
5. Paddle a river – Something has to keep all those Great Lakes full. Our 51,000 miles of river certainly do their share. Those rivers are also great destinations for putting your kayak or canoe in the water. From wild rapids to slow, meandering streams, we have something for any skill level. If you're in Northern Michigan, the Bear River Canoe Livery outside of Petoskey can outfit you for a day of easy paddling and wildlife viewing on the river.
6. Fish in an inland lake – One in ten Michiganders own a boat, and a lot of them are using their boats to fish on our many inland lakes. Drop your line in the water and your catch-of-the-day may include  walleye, steelhead, perch, trout, bass, bluegill, crappie and many more species. You can bring your own boat or rent one from a local marina.
7. Go camping – Look at what's parked in Michiganders driveways as you travel down any residential street, and you're sure to see quite a few travel trailers and other RVs. And then there are all the folks who prefer to sleep in a tent. The Great Outdoors is abundant here, and we love to enjoy it by camping under the stars. You can camp in the woods or lakeside on a beach. Michiganders know there's nothing quite like sitting around a campfire on one of our long, summer nights.
8. Spend the day on an island – Yep, we have islands too, and many of them are easy to get to by ferry in the summer. Mackinac Island, sandwiched between Michigan's Upper and Lower Peninsulas, is the most famous. You can catch a boat from Mackinaw City or St. Ignace to this island where bicycles and horses replace automobiles. The Victorian architecture and slower pace of life takes you back to the summers of a different era.
9. Climb a sand dune – Winds blowing in from the Great Plains for several millennia have piled up massive sand dunes along Lake Michigan's western shoreline. Today they are a summer playground for people seeking adventure and beautiful views. The steep Dune Climb at Sleeping Bear National Lakeshore is a favorite, and something many folks who grew up in Michigan remember doing as a kid. If you make the climb all the way to the water, you'll find yourself towering 450 feet above Lake Michigan. It's a 3.5 mile round-trip hike that takes three to four hours.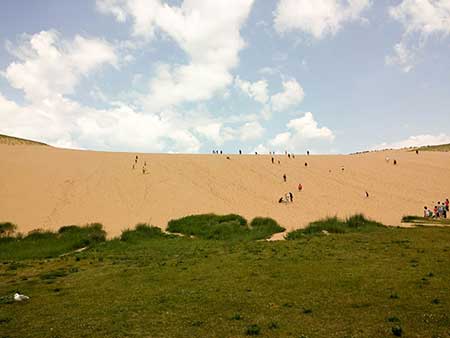 10. Go Up North – Most Michiganders agree Up North starts at Cadillac in the Lower Peninsula. But it can be anywhere north or where you live, probably on the water, in the woods or both. Really, Up North is a state of mind where you know you're going to relax and enjoy all Michigan's amazing outdoors has to offer. For Michiganders, it's our favorite place.